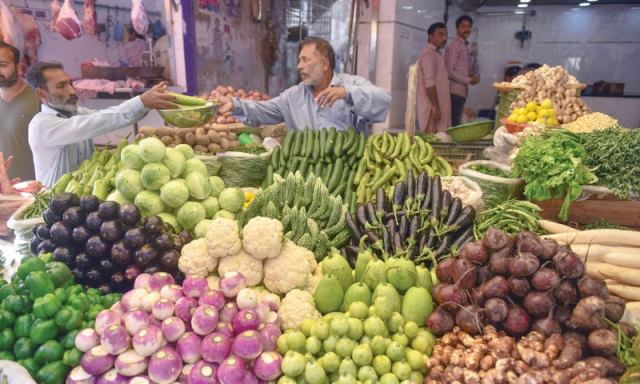 LM NEWS 24
LM NEWS 24
Food Inflation Rate In Pakistan Reaches Record High In May
The inflation rate soared to a new all-time high in Pakistan to 38 per cent in May, making it the highest in the region, according to The News International.
It is pertinent to mention that this record is the remarkable level that has been witnessed n the nation since the commencement of comparable records in 1957.
The inflationary surge, which escalated from the previous month's rate of 36.4 per cent, can largely be attributed to an unprecedented increase in food prices.
Last year, in May, the inflation was 13.76 per cent. The official monthly inflation bulletin said that there was a 1.6 per cent increase in the consumer price index (CPI) compared to the previous month.
The cash-strapped nation holds the unfortunate distinction of having the highest inflationary pressure in Asia. Earlier, this distinction belonged to Sri Lanka but now Pakistan is ahead of this.
On one hand, where Pakistani inflation is rising, Sri Lanka has experienced a consistent decline in inflation over the past eight months. In May, it recorded an inflation rate of 25.2 per cent, a significant decrease from the 35.3 per cent rate observed in April. Owing to taming inflation, this South Asian country cut its policy rate by 250 basis points to 14 per cent, reported The News International.
Surging inflation poses risks to the economy and individuals, reducing purchasing power, undermining consumer confidence, and acting as an "invisible tax" on cash holders, eroding the value of money.
The sharp increase in prices has sparked concern among economists regarding its potential impact on the welfare of Pakistani citizens and the overall economic stability of the nation and further create political unrest.
Pakistan's ongoing political and economic instability, combined with the devaluation of the rupee against global currencies, is a significant factor contributing to the rising prices. The increased expenses of imported goods, specifically petroleum products, have led to imported inflation. Amidst months of economic turmoil, the country faces a pressing balance of payments crisis and a looming deadline to meet IMF requirements before the conclusion of its support program. Failure to satisfy these conditions raises the risk of a sovereign default.
In May 2023, core inflation in Pakistan, which excludes food and energy components, hit its highest level since 2010, rising from 19.5 per cent in April to 20 per cent. This is the indicator sensitizing the State Bank on whether to increase the discount rate. The current policy rate is 21 per cent.
The inflation bulletin also pinpoints that inflation was considerably higher in rural Pakistan than in urban centres, The News International reported.
The Wholesale Price Index (WPI) or producer price also increased by 32.8 per cent in May 2023, against the same level in April 2023, and 29.6 per cent in May 2022.
Since April 2022, inflation has shown a continuous upward trend. (ANI)
Read More: lokmarg.com