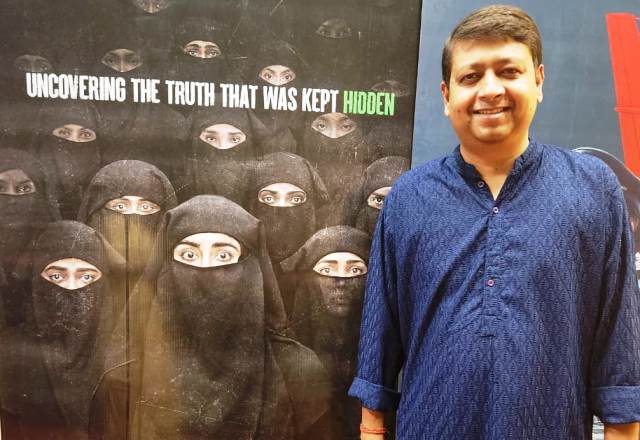 LOK ISSUES
LOK ISSUES
'Forced Conversion Is A Bitter Truth But Kerala Story Weaponises The Issue'
Mitin Raj Singh, a movie buff who works with a reputed MNC at Banglore, says the movie merely seeks to pit one community against another. His views
Recently I watched the much-hyped movie The Kerala Story with my wife and friends. I am a well-informed citizen and proud Hindu and I am happy about the fact that someone came forward and made a movie about forced religious conversions in the country.
The movie has been at the center of controversy ever since the teaser of the film dropped and that had made me curious to watch it. The Kerala Story claims to be based on forceful conversion of 32,000-plus women in Kerala to Islam (I believe the actual number is more than this) out of which many of them were taken to ISIS-ruled-Syria as 'brides of the Islamic State'.
Having said this, frankly speaking, The Kerala Story does little justice to the subject at hand, Instead, it seeks to pit one religion against the other and that is where the problem with the film lies. Sure, it does not want to malign Islam as a whole, but it definitely tries to provoke Hindus and poke at their sentiments. For Islamists, this movie hits where it hurts the most. It brings out the fact that promoting conversion to Islam is an organized and well networked activity. But the handling of such an importan subject leaves much to be desired.
The movie, attempting to capture the ambience of Kerala, falls short in its portrayal. In addition, the acting fails to communicate any feeling of authenticity or true connection to the inhabitants and culture of Kerala. The movie additionally incorporates a forced and unappealing Malayali accent and the dialogues are quite artificial-sounding. Over all, it is a half-baked venture.
ALSO READ: 'We Must Counter Propaganda Films Instead of Banning Them'
The Kerala Story claims to be based on "many true stories." However it lacks a sincere concern for the whole truth. The film constructs a narrative that tries to portray Kerala which is said to be God's own country as a breeding ground for ISIS recruitment, implying that hundreds of people had joined the organization from the region highlighting a few events of missing females.
The whole controversy over the movie was triggered when our Prime Minister endorsed the film during the recent Karnataka election campaign and really escalated with Mamata Banerjee's ban of the film in West Bengal.
Politicians have clearly used this movie to whip up anti-Muslim hate and violence. Already love jihad has been weaponised to allow horrific crimes. More people choosing to act on such a wrong belief will only worsen things. Before jumping into any conclusion, one should first be well read and aware of what actually happened and how easily religion is used for voting politics.
At the same time, we cannot bury our heads in sand, like an ostrich. Even if one single family has been destroyed by ISIS, their story must be told. But such an exercise must be undertaken without stoking hatred through propaganda films.
It is an irresponsible movie for sure. The Kerala Story is not The Kashmir Files when it comes to execution. However, it does, unfortunately, have the capability to stir communal tension. It could have been better and more responsibly made, for sure.
Read More: lokmarg.com
As told to Deepti Sharma