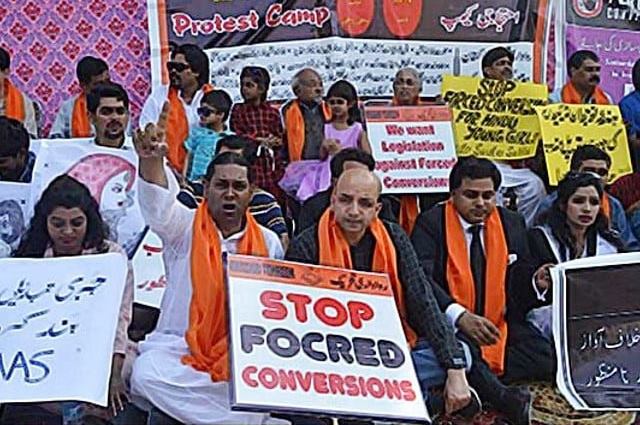 LM NEWS 24
LM NEWS 24
Forced Conversions, Marriages Common In Pakistan: Report
Pakistan is already struggling with the adverse political and economic situation and continues to bear the brunt of forced marriages and conversions, Human Rights Without Frontiers reported.
Human Rights Without Frontiers is a Europe-based organization that tracks incidents worldwide where people are imprisoned for exercising their right to freedom of religion or belief.
According to the data compiled by one of Christian Solidarity Worldwide's (CSW) local partners in Pakistan, the Centre for Social Justice, 202 incidents were recorded and documented between 2021 and 2022. Almost all of them took place within the Sindh and Punjab provinces.
Out of 202 cases, 120 Hindu women and girls, 80 Christians and 2 Sikhs. The figures show that girls from "low" caste Hindu communities are the most at-risk group. And among those figures, only 20 were confirmed to be over 18 years old and 133 were under 18 (including 55 under 14 years old). In the remaining 49 cases, the age was unknown or unconfirmed.
In the data, CSW said that a Hindu woman named Pooja Kumari was 18-years-old, when on March 21, 2022, three men made intrusion into her home, near the Chhuahra Mandi area of Sukkur in Sindh. One of the men is said to have asked Kumari to marry him but when she refused, he and the others attempted to abduct her. As she resisted, they shot her, according to Human Rights Without Frontiers.
Earlier, on October 26, 2022, six UN Special Rapporteurs, including the Special Rapporteur on Freedom of Religion or Belief, and the Working Group on the discrimination against women and girls released a common statement from which Jonathan de Leyser excluded qualifying words such as "allegedly" and "reportedly" when he quoted a part of it "because these are all facts that CSW could confirm."
"These women and girls are then (reportedly) forced by their abductors to appear before courts and give testimony and/or sign official documents which attest to their being of age and having married and converted to Islam of their own free will. This coercion (reportedly) takes place under the threat of violence against them or their families. Perpetrators of these offences (are alleged to) enjoy a significant degree of impunity, enabled in part by the actions of the security forces and the justice system," Jonathan de Leyser said. (ANI)
Read More: lokmarg.com