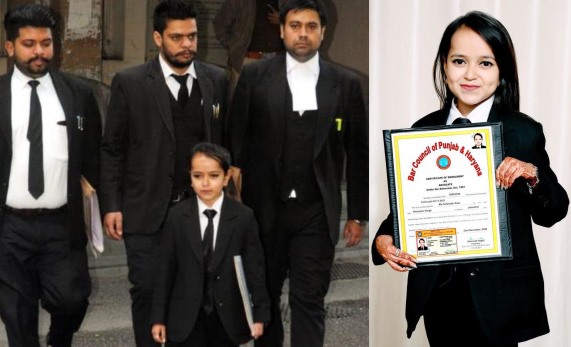 LOK ISSUES
LOK ISSUES
'From Self-Pity In School To Self-Confidence In Law College'
Once bullied and jeered at in school for being vertically challenged, Harwinder Kaur, 24, from Jalandhar, Punjab, is today an inspiration for countless people for her grit and positivity
As a growing child in Rama Mandi, Jalandhar (Punjab), I had similar dreams and aspirations as of any small town girl my age. I was a promising child of doting parents. But soon I started realising that I was different in my physical appearance; my height stopped increasing and I drew curious looks. It hurt. I withdrew from public gaze and started taking a step back in life.
After my admission to Police DAV Public School, I faced new challenges. There was much bullying. Junior students would measure up their height with me and made disparaging remarks. There was support from many friends too, who were ready to fight for me but I would step in to avoid a scene.
Once I was denied participation at a school dance event due to my short height. I love dancing, especially bhangra. But the teacher in-charge didn't even see how I performed or what my talent was. That incident left a humiliating imprint on my memory. I stopped participating in any co-curricular activities thereto.
At family gatherings, several relatives showed mock concern. Some elders were protective, some would pass snide comments while a few showed sympathy. But no one treated me normally. I wouldn't react but it pinched. I began to avoid family events too.
While I would put up a brave face in public before other students and relatives, I cried secretly at home. I would curse myself and question God why he made me like this. I asked my mother about my condition and she would always say the Lord has reasons to make someone in a particular way and that if I was born like this I must be special and gifted with some other virtue. I could hardly understand her reasoning.
After passing out Class 12, I felt relieved that I would not have to attend the school again. I hadn't even thought of pursuing higher studies. I thought I will now spend rest of my time in the comfort of my family.
A turning point came when I overheard a conversation between my father and brother about his future plans. In our society we are well aware that the plans for a male child are given more importance than a girl child. I realized that my parents had anyways never spoken to me about my future. Possibly, they knew that I was scared of stepping out for further studies. I too had never discussed about my future ever with them.
I realized that even my parents do not expect anything from me. At night, I could not sleep and kept brooding over my future. I could have taken the conversation between my father and brother negatively as well but I decided to do something worthwhile in life. I didn't want to be a burden on my family. I felt I needed to participate in supporting my family ahead of my brother.
As a child, I had thought of becoming an airhostess but I now realized that my career choice must help me grow and match my strength and capabilities.
A major flaw of my personality was lack of confidence. Thus to build that confidence, I decided a Law degree will come handy as an instrument of knowledge. In the field of law, your physical appearance doesn't matter; I would not be judged there by my height if my argument was strong enough to hold.
I took admission in KCL Institute of Laws, Jalandhar. I have to tell you here that everything that I missed out in my school days was duly compensated in the law college. The five years of law were full of good times, like a balm for the bitter memories, thanks to my friends and teachers there.
My parents were proud of my law degree. I felt fulfilled. It was an answer to everyone who doubted my capabilities due to my height. Even before I became an advocate and joined the Jalandhar court for practice, I had become known amongst my colleagues and seniors there because of several appearances in the media. My dreams have changed too. I now want to handle cases related to women and child issues, because they are the ones who cannot stand for themselves. I also wish to crack Judicial services and become a judge.
Meanwhile, joining social media platforms brought further positive changes in my life. I got recognition and much love from people across the country and social spectrum (she has more than 1.12 lakh followers on social media). I love stitching and wearing ethnic salwar suits. During lockdown, I would stitch suits for myself, wear it, make a video and post it. Soon, my videos started getting viral.
At one point in time I didn't even like getting a photo clicked. All that has changed. I merely enjoy my life and share my joyful times in random posts on social media. That sends a positive message to people that even with a short height she is enjoying her life so much. People who would earlier laugh at me today send me messages asking for solutions to their problems.
Earlier I would look at myself through the eyes of others and cursed myself. Now that I have perfectly accepted myself I am fully enjoying my life. My mother has been my biggest support and strength. My father being a policeman had less time to spend with us due to call of duty but my mom has given her 100 percent. My friends and family always pamper me and because of my short height they find me cute and I do take advantage for that too.
As Told To Mamta Sharma