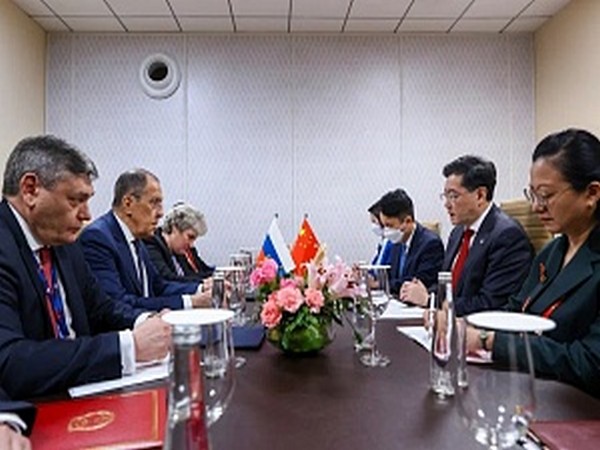 LM NEWS 24
LM NEWS 24
G20: Russia, China reject Attempts At Foreign Meddling Into Domestic Affairs
Russian Foreign Minister Sergey Lavrov and his Chinese counterpart Qin Gang on Thursday unanimously rejected attempts to interfere in the internal affairs of other countries, Sputnik News reported.
According to the Russian News Agency, the Russian Foreign Minister met his Chinese counterpart on the sidelines of the G20 Foreign Ministers' Meeting (G20FMM) in New Delhi on Thursday.
According to the Russian Foreign Ministry, the top diplomats also reaffirmed the importance of continuing the practice of regular contacts in order to further deepen interaction between the two countries.
Both the leaders discussed the situation around Ukraine, including Beijing's position on a political settlement, Sputnik reported.
During the meeting, Lavrov and Gang reaffirmed their shared commitment to these agreements and the overall policy line traced by our leaders during the visit to the Russian Federation by Member of the Political Bureau of the CPC Central Committee, Director of the Office of the CPC Central Foreign Affairs Commission Wang Yi in late February 2023, as per the Russian Foreign Ministry's statement.
"Once again, please accept my congratulations on your appointment as Foreign Minister of the People's Republic of China. I am certain that by working together we will be able to ensure continuity and steady progress in all areas, as agreed by our leaders, including during their February 4, 2022, summit in Beijing," Lavrov said in the meeting, according to Russian Foreign Ministry.
The far-reaching plans for developing bilateral cooperation in all spheres and a packed foreign policy agenda, considering the overall stabilising role Russia and China play in international relation, Lavrov said.
The meeting comes amidst the ongoing conflict between Russia and Ukraine.
During the meeting, the Chinese Foreign Minister told his Russian counterpart that during a visit to Moscow in late February by Wang Yi, both Russia and China reached broad agreements.
"Thanks to the strategic guiding role of our leaders, our relations continue to develop steadily and healthily, setting a positive example of bilateral relations between major powers," TASS quoted Qin Gang as saying.
"Recently Comrade Wang Yi successfully visited Russia, where he exchanged views with you personally and the rest of his Russian colleagues, and [they] reached broad agreements. We took the opportunity to talk with you on all issues of mutual interest," he added.
Wang Yi visited Russia on February 21-22 and met with Russian President Vladimir Putin, Security Council Secretary Nikolay Patrushev and Lavrov. (ANI)
Read More:http://13.232.95.176/