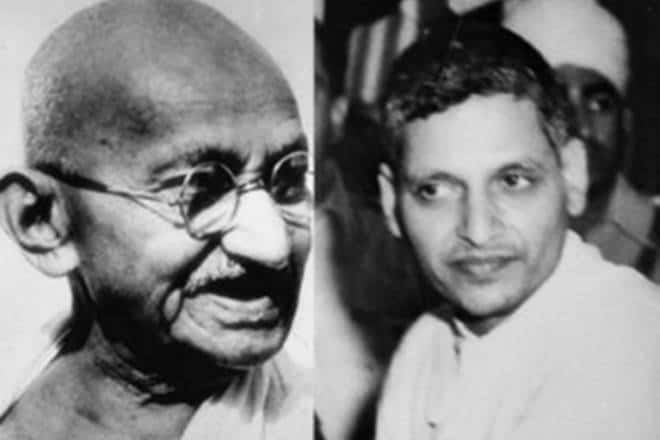 OPINION
OPINION
Gandhi Or Godse – Kindly Choose One
<![CDATA[
The BJP leadership has to make a clear choice between Mahatma Gandhi and Nathuram Godse because the two are mutually incompatible
Now that dust has settled on the most contentious election India has ever had, it is time to look at a sensitive issue that cropped up during the campaign: demonization of Mahatma Gandhi and deification of his assassin, Nathuram Godse.
It is important because it has figured in public discourse in the past, even before the election and will likely recur since there seems no last word on it. It is even more important since some of the Gandhi-baiters and Godse acolytes (not necessarily the same lot) have won in the election and all belong to the party that has received an overwhelming popular mandate.
It is nobody's case that there should be no debate on the respective roles the two played and their place in India's contemporary history. What one would hope is a bit of perspective and a semblance of grace, since Gandhi is acknowledged as the Father of independent India.
An alternative view on Gandhi's role has always existed. His portrait in Indian Parliament's Central Hall sits next to that of V D Savarkar, the foremost Hindutva proponent, who was tried for conspiring Gandhi's murder, but was eventually acquitted for want of evidence.
Gandhi has been criticized for various things he did or did not, said or left unsaid during his half-a-century long public life. A decade back, for instance, then Uttar Pradesh Chief Minister Mayawati had derided him as a "natakbaaz" who was insincere about improving the lot of the Dalits. For her, Gandhi was and perhaps remains, a 'manuvadi' who only paid lip service to the Dalits' cause.
More recently, Malawi rejected installing a Gandhi statue. In Ghana, another African nation, the one unveiled by then President Pranab Mukherjee was removed some months later because a part of the Ghanaian academia felt that Gandhi was a 'racist' who worked for the European colonizers and had no empathy for the black Africans.
If he can be criticized abroad, viewing him critically at home is fine. But the recent criticism has come couched with praise for Godse.  It is much more than just offering the other cheek for a slap as Gandhi would have advocated.
Contesting the Lok Sabha polls as a Bharatiya Janata Party (BJP) nominee, Pragya Singh Thakur, who has since won, triggered a firestorm when she praised the man who murdered the founder of free and democratic India. She called Godse a "deshbhakt (patriot) and will remain so forever." Supportive statements came from more BJP candidates and members, including union minister Ananth Kumar Hegde and lawmaker Nalin Kateel. 
A hassled BJP asked Pragya to apologize which she did. It followed up by initiating disciplinary steps against other as well. Hegde claimed that he had been misquoted and that his social media handle had been hacked.
However, there's a larger problem here pertaining to Pragya. She is currently on trial in a terrorist bombing case, on bail on health grounds. Her nomination for the election was vociferously endorsed by Prime Minister Narendra Modi and BJP chief Amit Shah. The latter called it 'satyagrha' against Pragya's branding as a "Hindu terrorist" as a result of cases pending against her.
Subsequently, Modi criticised her view and said he would not be able to forgive her for it. ("Dil se kabhi kshama nahin kar paunga"). This was his rare criticism of a party nominee, and that too, during the election campaign.
But politics is not about personal sentiment. There can be two ways of looking at Modi's action. It could be construed as an attempt at damage control to quell protests. But Modi must also be credited with adopting during his first tenure as the prime minister some significant Gandhian ideas in the shape of "Clean India", advocacy of toilets for everyone and protection and education for girl child. Not paying mere lip service, from his powerful office, he initiated several measures to push the schemes nationwide.  The extent of success of the two campaigns (most likely to continue in the Modi 2.0) can be debated, but not the intent behind them.  
However, Thakur is known to hold radical views. She had courted controversy earlier during the campaign by claiming that her 'curse' had led to the killing of Hemant Karkare, the police officer who had been interrogating her and had allegedly tortured her. Karkare was gunned down by Pakistani terrorists who stormed Mumbai in November 2008. He has since been feted and awarded and is avowedly viewed by the society as a hero. Pragya's remarks caused universal revulsion.  
Therefore, it was untenable for Modi and Shah to defend her candidature. But then, in an election many wrongs do get righted and vice versa. One can only pose the question at this stage if Pragya will go through the trial process.
But the larger question is for the BJP to make a clear choice between Gandhi and Godse. The two are simply incompatible – which is why Godse murdered Gandhi in the first place. This is a fact of history that is recorded, investigated, tried and concluded in conviction and punishment. Nobody, not even the BJP leadership can change this since it was confessed by Godse himself, as also others who were part of the murder conspiracy.
Pragya's candour has opened up a vital debate on the core values of Indian polity. This puts BJP in a tricky position.  Thakur has won and so have others who are part of the parliamentary party that Modi leads. Will the party act against Pragya and like-minded others?
The issue received further currency when actor-politician Kamal Haasan called Godse "independent India's first terrorist, who was a Hindu." It invited protests and a Tamil Nadu minister threatened to gouge Kamal's eyes. Undoubtedly, the issue raises extreme reactions. The threatened actions go well beyond civilized discourse.
BJP is today India's most dominant political party having just won a huge mandate to govern the nation. Its members and affiliate organisations have political beliefs. Hence, it is both important and essential for Modi and Shah to clarify the position on Gandhi and Godse, and not leave an obvious conflict hanging and festering. Doing that would stretch the thinking in opposite directions, harming both the party and the nation as a whole.
The writer can be reached at mahendraved07@gmail.com