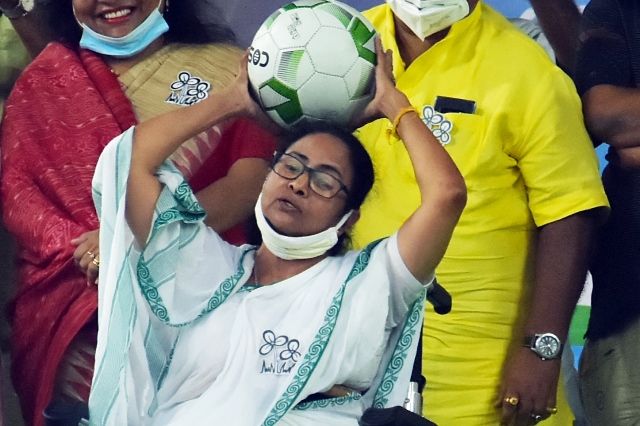 OPINION
OPINION
Gandhian simplicity and canny strategy is the right mix for giant-slayer Mamata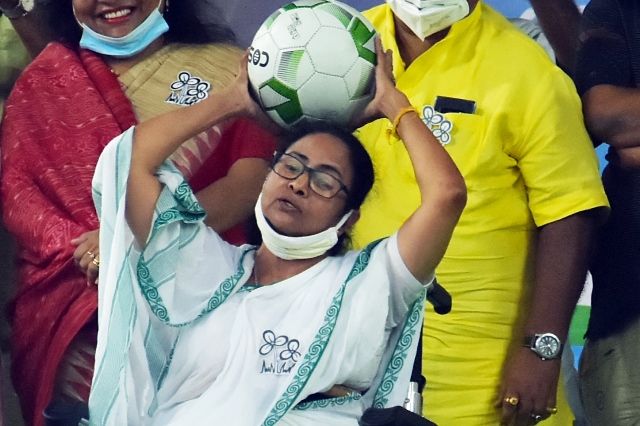 Whatever the occasion, one will invariably see the country's only woman chief minister Mamata Banerjee in a simple handloom white saree with either a black or blue border striding at a pace that is more than a match for her male associates. But why does she, since her joining politics, dress in such a Spartan way that has become a motif? Her uncanniness continues to befuddle many. Not least the way she continues to live in a place that is an apology for a house, not at all befitting the office she holds or the way she will dress. 
A close associate of her once told this reporter that Mamata saw great virtues in the simplicity that defined the shrivelled little man whose presence would fill a room with an extraordinary spiritual force. Winston Churchill must be regretting in his grave that in his follies he described the man as a seditious half naked Fakir and also as a "malignant subversive fanatic." Mamata, according to the associate, would wonder about the way he could unite a nation of such diversity in terms of religions, languages and social practices against British rule. Mahatma Gandhi no living Indian politician could aspire to be. But it does not call for great sacrifices for politicians to relate themselves to the masses in the way they live, dress and eat.
Mamata might have told herself at the very start of her political career that she would do well to present herself in public like Manuben and Abhaben, the walking sticks of Gandhi. This is remarkable because in her formative years she saw her idol Indira Gandhi immaculately dressed in sarees curated from all parts of the country. Mamata's repartees, her sudden outburst of temper and her powerful walking stride no doubt resemble that of Indira Gandhi. But she never wavered from her conscious decision not to seek any of Gandhi's glamour quotients. Mamata wanted to be minimalist in dressing to stay close to the middle class to poor Bengalis. No wonder then, Mamata with one fractured leg heavily plastered for most of the West Bengal Assembly election campaign proved more than a match for the impeccably dressed politicians from Delhi and other BJP ruled states. Sartorially upstaging the opponents did help her, but the work that the Trinamool Congress did in the past ten years, particularly for empowerment and economic welfare of women, progress in agriculture and general improvement in rural economy (both higher than national average) would mostly explain the party surprising BJP and psephologists to win 213 of 292 seats (election to two seats were postponed due to death of candidates) with a vote share of 48 per cent.
West Bengal is predominantly an agrarian state owning only 2.7 per cent of the country's geographical space but supporting approximately 8 per cent of its population. What further adds to the challenge of making the farm sector vibrant and value creating is the very low average agrarian family land holding of 0.77 hectare, much lower than national average. Marginal and small growers constitute 96 per cent of the state's farm community. Since close to 70 per cent of the state population lives in rural areas and secures sustenance principally from agriculture sector, the administration headed by Mamata doubled down on extending support to farming in more ways than one. But let this be said that land reforms that Benoy Chaudhury during the Left Front rule brought about and which became the model for many other states came to the present administration's aid. West Bengal leads the country in production of rice, vegetables and potato. But in times of surplus production, the state is found wanting in ensuring fair and remunerative prices to growers. While that naturally puts TMC on the back foot, works leading to strengthening of district road infrastructure and setting up of schools and health care centres have helped the party to win an impressively large vote share in rural Bengal.
BJP went about town saying if the party were voted to power, then it had plans ready to create a 'Sonar Bangla' and bring about true, meaningful 'Paribartan, 'that is, change. This, however, did not cut ice with the people here since they were fed at the same time by TMC that while in the country some more had joined the ranks of below the poverty line (BPL), West Bengal had been able to lift some above BPL. As is the rule, the party in power at the centre with massive majority thought the anti-incumbency factor would work against TMC being in power over two terms. Even diehard TMC supporters would be at pain to deny corruption in project execution and relief distribution at the grassroots level. Maladroitness in distribution of relief among the people made homeless by cyclone Amphan in May 2020 was subsequently admitted by the state government and many of TMC local leaders were made to return the relief money they embezzled. Then, there is the phenomenon called 'syndicate' whose members all owing allegiance to TMC would forcibly secure orders for any kind of construction in their respective areas. This gave a handle to BJP to berate TMC during election campaign. But the state will have to live with the menace till enough gainful employment is created in cities and semi-urban areas. Even after all the fusillades, some real and some imaginary, BJP campaign didn't get the kind of traction the party was expecting, especially during the last four of the eight phases. This was because the party had little to show in terms of national economic progress ahead of Covid-19 pandemic. Moreover, people in the state also questioned the justifiability of the prime minister and home minister spending so much time in state election campaign when the second wave of virus had started raging.
The much discussed two girl-oriented schemes in West Bengal are pivoted on conditional cash transfer (CCT), namely, Kanyashree and Rupashree for providing financial support to female children of stressed families first to enable them to complete school education and then help parents to settle their daughters in marriages but at the right age. By offering an annual grant of ₹1,000 to school going girls of 13 to 18 and then a one-time grant of ₹25,000 to 18-year-olds if they are still at school and not married, the state is attempting to curb school dropouts and curb at the same time the menace of child marriage. The girl beneficiaries number over 6 million. Having won the UN recognition in 2017 for being the most socially relevant of the 552 schemes from 62 countries and talked about all over the country since, it was only to be expected that TMC leaders would try to make the most of it as they sought votes for their candidates. Unlike the universally acclaimed Kanyashree, Rupashree, which is believed to be an idea borrowed from Tamil Nadu, may be faulted because the ₹25,000 grant could be used as dowry. There is no way to check that.
Soon before the election campaign was launched, Mamata served two aces. First, she said instead of people crowding government offices for seeking benefits and relief under as many as 11 schemes, including 'Khadya Sathi' (public food distribution scheme) and 'Swasthya Sathi' (health benefit programme) the government will be at their doorsteps (in Bengali 'Duare Sarkar'). Whether this promise is at all redeemable didn't bother the voters, so happy they were with the announcement. Second, Mamata's declaration that free medical benefits up to a limit will be provided to every family in the state was universally welcomed. Moreover, her government has promised to ensure that private hospitals and nursing homes do not overcharge patients, which many of them still continue to do with impunity. Mamata was acutely aware that she had the disadvantage of anti-incumbency and therefore, she held out the prospect of greater relief for the disadvantaged and better governance in future. The election results are a proof that her strategy worked.