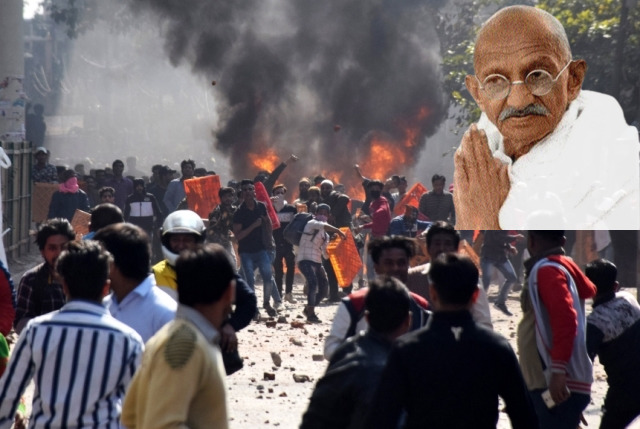 OPINION
OPINION
Gandhigiri to Push Back Goondagiri
Specially invited to participate in Mahatma Gandhi's birth centenary celebrations in 1969, 'Frontier Gandhi' Khan Abdul Ghaffar Khan went on an indefinite fast to protest sectarian violence in Gujrat, till Prime Minister Indira Gandhi apologized on behalf of a distraught nation.
Not that communal violence has ebbed. Over 58 major communal riots are estimated to have occurred in 47 places since 1967. They have taken more collective and diabolical dimensions in recent years if you follow the aftermath of Indira's 1984 assassination, Babri Masjid's demolition in 1992, across Gujarat again in 2002, and many more.
Both the Gandhis would have strongly disapproved of this trend. If around today, they would have fasted to protest the numerous incidents of violence. While not always taking the form of a communal riot as understood in the last century, it nevertheless has political content and overtones that are concealed by authorities and overlooked by the mainstream media. But since a smartphone allows for pictures/clips these days, they get amplified on social media platforms. It doesn't require great research or insight to see through these persistent trends.
Thus we had "Nathuram Godse Zindabad" trending in cyberspace to mark this year's Gandhi anniversary. A "Gandhi look-alike" was displayed as Mahishasura, the demon, at a Durga Puja pandal in Kolkata, hosted by the Hindu Maha Sabha (HMS). Public outrage ensured that the asura got a new look; a wig was added, and the spectacles were removed.
This is precisely how the message is driven home — take a resolute, mischievous step forward, and then step back if things get hot.
Keeping silent on acts that encourage hatred is as bad as voicing support. The complicity is not veiled. For the fading HMS, the pandal episode could well be an attention-grabbing bid to remain in the public consciousness.
The HMS is known for its right-wing stance that is more radical than that of the Rashtriya Swayamsewak Sangh (RSS), the ideological mentor of the country's current political dispensation. Interestingly, the latter's proponents who point this difference out, on social media again, did not disapprove or distance themselves from the HMS's Kolkata act. The organisation's branches in parts of the country have set up Godse shrines in the recent past, till they gather protests or till the police booked those responsible.
The Union Government's unwillingness to tackle fringe elements, and asking the state administrations to do the same, has facilitated their exponential rise. Their clout has grown. Their capacity and ability to create public disorder and take the law into their own hands assume newer, disconcerting forms daily.
Across the country, however, there is no dearth of such hotheads eager to leave their imprint and be noticed, even if for all the wrong reasons. To be sure, some of them are MPs and MLAs, even ministers.
Officially called "fringe elements" when criticized by the governments and rights bodies abroad, a motley crowd of ill-read, jobless, systematically filled with hatred people is being motivated to run riot. Not reining them in is fraught with serious consequences. The blame would lie not with the fringe players, but those who choose to let them thrive.
ALSO READ: Tiranga Nationalism in The Shadow of French Revolution
These are but tips of the proverbial iceberg that those in power tacitly condone and even promote. In the given discourse among the urban middle classes that are gaining increasing strength and voice in the media, not surprisingly, children have begun to question the wisdom and the need of having the Mahatma's photograph on currency notes.
The elders who ought to reason with the young are not doing their part. They are too squeamish to ween the latter away and are okay swimming with the 'young' tide. It's the "khao-piyo-aish-karo" culture.
This attitude of the old and the young alike, history books warn, is precisely what promoted extreme right-wing ideas – fascism and Nazism — in the name of nationalism in Europe in the last century between the two World Wars. Significantly, among the afflicted are several countries that claim to practice liberal democracy and preach the same to others.
Parties propagating right-wing ideas are on the rise across Europe and as in Italy's case, have captured power. The fascist leader Benito Mussolini's granddaughter is a star in the party of Prime Minister Georgia Meloni. In France, Marin Le Pen has gathered more votes than before. In Germany, although not moved far-right, much of the good work that Angela Merkel did during her long years in office, is being undone. In distant Brazil, former president Luiz Inácio Lula is engaged in a see-saw electoral battle with the foul-mouth, army-backed President Jared Bolsonaro.
The wheels of history appear to have come full circle and there are legitimate worries if India is following the global trends. It is worrying because time was when India, despite being poor, provided the moral compass to the world in the last century. Non-violence was a noble goal, whether or not a people actively pursued it.
India's concrete contribution – although in celluloid form — was facilitating the making of the film Gandhi. This is the fortieth anniversary of the film that revived global interest in Gandhi, and through him, India.
It was made in 1982. Part-financed by the National Film Development Corporation (NFDC), it had a distinct India stamp, even if it was produced and directed by Sir Richard Attenborough, a Briton to boot, with no commitment to non-violence. Indira Gandhi braved domestic protests from the filmmakers' community that boasted numerous names with global standing. Even Gandhi was played by a Briton with part-Indian parentage.
Acknowledged as a classic, the film bagged Oscars and several other awards. Indira had taken risks, and India won. Pakistan, by contrast, made a film on its founder, Mohammed Ali Jinnah, in a copycat act, but failed to make an impact.
The intervening years have seen many films featuring Gandhi, some even critical of Gandhi, like Gandhi, My Father, on his deeply flawed relationship with his eldest son. But the theme of truth, love, non-violence, and communal harmony have been the same. Even Munnabhai's "Gandhigiri" spread that universal message amidst laughter and entertainment.
The man and his message are intensely relevant to the present times. As India aspires to play the Vishwaguru, the global teacher, it needs to curb sniping at the Mahatma who has close proximity to what the world thinks India is and should be.
The writer can be reached at mahendraved07@gmail.com