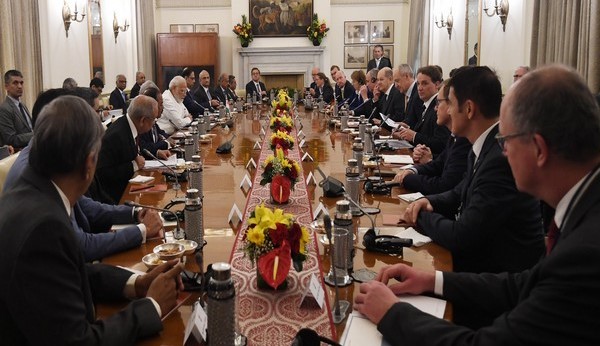 LM NEWS 24
LM NEWS 24
German CEOs Meet Modi, Double Down on India Growth Story
German-based companies' CEOs doubled down on the Indian growth story after meeting with Prime Minister Narendra Modi.
Under the 'Make in India' initiative, Chief Executive Officers (CEOs) of German companies had a meeting with Prime Minister Narendra Modi on Saturday and discussed new opportunities for the German Companies to expand education and business opportunities in India.
German CEOs eulogise the meeting with Prime Minister Modi. Chairman of the Management Board of TUV NORD, Dirk Stenkamp on Saturday said that India is at forefront of leading nations with increased self-confidence and is at the point where it can take off.
While talking with ANI, Stenkamp said, "The meeting with the Prime Minister was very impressive, I think India is at the forefront of leading nations and there has been an increase in self-confidence in the last two years. "I think India is at the point where it really starts to take off."
Speaking on the 'Make in India' initiative he said, "I know about Make in India since the beginning and we're supporting many German companies to come to India and start producing in India. Currently, there's an initiative going on in German Mittelstand invited by India to come and become part of Make in India".
Currently, an initiative is going on in German small and medium-sized enterprises where they are asked to come to India and become part of the make-in-India initiative, he informed.
Regarding growth and expansion, he said that the opportunities in India are tremendous.
"We are very active in energy transition, which means turning fossils to watts, wind and so on," he added.
Other than Stenkamp, there was three more companies delegation that participated in the meeting with PM Modi.
One of them was Klemens Rethmann, CEO of the German-based Rethmann company, who stated that India has skill and talent and it's a "privilege to use those resources," and added that "India will become bigger in the production world."
"You've got the workforce here. So, Germany is lacking in the workforce. You've got such wealth and skilled work and so many intelligent young people who wanted to do something. This is a privilege to use those resources. And therefore, PM Modi asked us to produce in India but for us, it's not only because he asked us because this is where the resources are and we see our chances," Rethmann told ANI.
Meanwhile, CEO of Renk, Susanne Weigand stated that they are proud to be here, a trusted partner of the Indian government. The company are supplying the Indian armed forces and Navy with drive solutions. We also actively supply the Indian energy market with our high-speed gears.
"India is also a booming fast growing cement market," she added.
"We are based in Bengaluru with our team and we are expanding a lot, we honour the 'Make in India' initiative which is important for us also as India is a high-speed going market, a key market in Asia," The CEO of Renk said while appreciating the 'Make in India' initiative of the Modi Government.
Not only Weigand, but CEO of the Software company SAP, Christian Klein also participated in the meeting with PM Modi. After the meeting, he said that India has high aspirations for sustainability and wanted to use technology to decarbonize supply chains and produce green hydrogen which goes hand in hand with technology.
He also said that he is happy to be a partner of India.
While talking to ANI, Klein said, "The country (India) has high aspirations for sustainability and wants to use technology to achieve that, to decarbonize supply chains, to move to the circular economy, to produce green hydrogen. And that goes hand in hand with technology. And India has a very strong agenda for both topics."
All CEOs are a part of the delegation visiting India along with the German chancellor Olaf Scholz. Olaf Scholz is on a two-day visit to India from February 25-26. (ANI)
Read More:http://13.232.95.176/