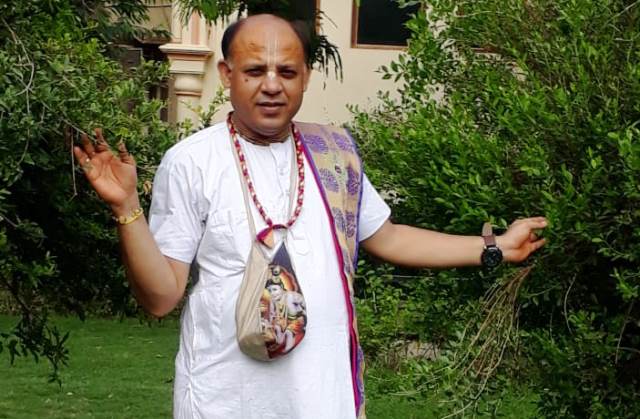 LOK ISSUES
LOK ISSUES
'Glad That Muslims Have Accepted SC Verdict On Ayodhya'
Dheer Shant Das, 50, a katha vachak (religious narrator) at ISKCON in Uttar Pradesh, a temple for Ram at his birthplace holds great value for the practicing Hindu
At ISKCON, we routinely conducts kathas (religious discourse) both on Lord Krishna as well as Lord Ram. I am deeply attached to the virtues of Ram and Krishna, and therefore I am happy with the Supreme Court verdict on Ram Janmbhoomi-Babri Masjid dispute. The Bench said in its judgement that Babri Masjid was not constructed on vacant land. There was a structure underlying the Babri Masjid which was not an Islamic structure. After a long legal journey, the foundation for a Ram temple at his birthplace has been laid.
I am also happy that by and large our Muslim brothers have also accepted the court's decision. Many Muslim organisations have in fact welcomed the judgement. They see in the verdict an end to the acrimony between two largest communities of the country.
The birthplace of Ram holds great value for the practising Hindu. Even though Hinduism speaks about both sagun upasana (idol worship) and nirgun upasana (worship of the formless), the former is seen as a stepping stone towards the latter. For the layman, grasping the intellectual concepts of formlessness isn't an easy task and thus temples and idols are important for the peace of mind of the common man.
It wouldn't be wrong to call Ayodhya the kendra bindu (centre point) of the Hindu sentiment. Ram as human incarnationset down the rules or laws for how a state should be efficiently run and taught us that one should have a balanced personality. One should never go and hurt another without reason, but one should not tolerate injustice too.
We read so often about Muslim rulers in the past who destroyed or desecrated Hindu temples and people let go of many temples. And even though I believe the demolition of the Babri Masjid in 1992 was a violent act and unlawful yet, I feel it was an outburst of people who were angry with subsequent governments ignoring the sentiments of the Hindu population. I know human feelings and faith don't abide by the rules of law, they just exist. I am a Law graduate. And before my spiritual journey began, I had wanted to be a lawyer. Good jurisprudence can differentiate between matters of faith and law.
If we take the story of Ram into consideration, he waged a war on Ravan only as a last resort and then asked his brother Lakshman to sit at Ravan's feet and seek gyan. Ram would never cross the line or act in rage without a valid cause. Similarly, his followers or bhakts must also imbibe such values and work towards a system that ensures justice for all.
A good politician or party should take care of everyone in the country. It cannot discriminate on the basis of religion. I am not a BJP supporter. But I am happy that there is finally a government that isn't afraid to take tough call and skirt important issues.