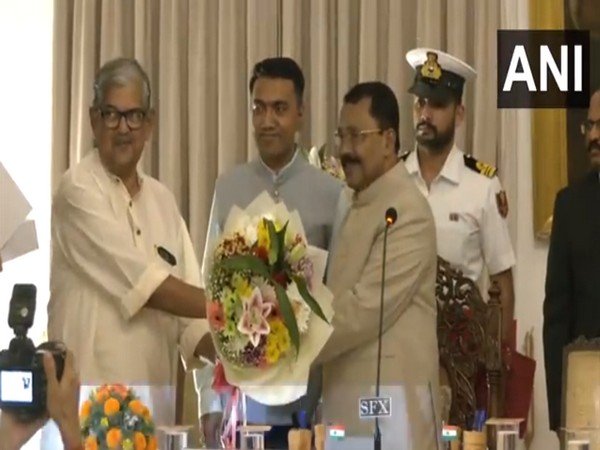 LM NEWS 24
LM NEWS 24
Goa: Ex-Cong Leader Sequeira Takes Oath As Cabinet Min Replacing Carbal
Aleixo Sequeira, former Congress leader who joined Bharatiya Janata Party (BJP) last year took oath as Cabinet minister of Goa on Sunday replacing Nilesh Carbal.
Former cabinet minister Nilesh Carbal, in his resignation letter, explained that he decided to step down to uphold the commitment made by senior leaders to Congress members who had joined the BJP. He expressed that senior party leaders requested him to honor the commitment, and thus, he sacrificed his ministerial position for the party's interests.
Earlier today, Public Works Department (PWD) Minister Nilesh Cabral tendered his resignation from the cabinet led by Chief Minister Pramod Sawant to make way for the induction of Sequeira.
Nuvem MLA Aleixo Sequeira was among the eight 'turncoat' MLAs who switched over to the BJP from Congress in September last year.
In a letter dated November 19 to the Office of the Chief Minister, Nilesh Cabral stated that he tendered his resignation on request by the senior members of the party, including the Chief Minister.
"It is with a heavy heart that I resign from the esteemed position of Minister in the departments of PWD, Environment, Legislative Affairs, Law and Judiciary. I thank you for the continuous support and confidence you have entrusted in me," said Cabral in the letter.
The letter further mentioned, "It is the decision of the party asking me to step down. I have performed as a minister. Some Congress leaders merged into the BJP, there was a commitment by the senior leaders. I was called by the leaders and they requested that to keep the commitment I have to sacrifice. Based on their request, I have resigned."
He further said that he was immensely grateful for the invaluable opportunities and support provided to him during his tenure serving the people of this beautiful state.
Cabral, while speaking to ANI on his stepping down as minister, said that he resigned "out of compulsion" adding that the party "must have something in mind".
"It is out of compulsion, where BJP had made a commitment to some Congress MLAs who had merged into the BJP. When senior and tall leaders of the BJP are making the statement I don't see why I should not listen to it. I am a senior BJP leader, there is no doubt about my seniority. I am sure the party must have something in mind & in the interest of the party they asked me to resign," he said.
Speaking on Cabral's resignation from the state cabinet, Goa Chief Minister Pramod Sawant said that Cabral resigned in the party's interests and the Governor has accepted his resignation.
"We requested PWD Minister Nilesh Cabral to resign in the interest of the party. That's why he resigned. Governor has accepted Nilesh Cabral's resignation from the Council of Ministers," he said.
Cabral, who represents the Curchorem Assembly constituency, also held the portfolios of Law and Judiciary, Environment and Climate Change, and Legislative Affairs. (ANI)
For more details visit us: https://lokmarg.com/