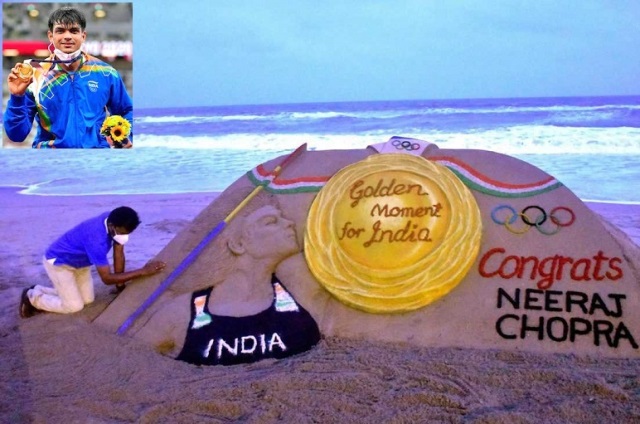 OPINION
OPINION
Going Gaga Over Sole Gold
I wanted an escape from my life; from the electricity shortages, to the mosquitoes buzzing in our ear when we slept, from barely having two square meals, to seeing our home getting flooded when it rained… My parents tried their best, but there was only so much they could do — Papa was a cart-puller and Ma worked as a maid
— Rani Rampal, Captain, Indian Women's Hockey Team
Let us not even look at the medal tally of the other countries, including the stupendous achievements of our 'oriental neighbour', China, now flexing its muscles so brazenly for a long time in Ladakh. For just about the time needed for 'instant gratification' amidst the isolating phobia of a deathly pandemic, with thousands of people still mourning the loss of their loved ones, India exploded at the gold medal won by Neeraj Chopra, the son of a farmer in Haryana and a 'Subedar' in the Indian army. The media went gaga. It was once again like that old Rafi song: 'Japan, Love in Tokyo'!
'Achche din' were finally here. The 'javelin gold' seemed sweeter. It was cool, and cacophonic, this collective catharsis! After all, it was the first athletics gold 'the Vishwaguru' has won in the entire history of Olympics!
Indeed, it was an ecstatic moment for an eternally 'frustrated nation' starved of great ecstasies, great victories, great success and great landmarks at the international level, while stuck with the pathetic long-playing record of the fake glory of a mythical past, and the equally fake illusion that 'India is a super power'. It's a rat-trap, this patriotic chest-thumping, with no solid substance or evidence to show. And it arrives with a sorry taste in the mouth, this anti-catharsis of an unrequited dream sequence of a nation-state in bad faith.
When Abhinav Bindra got the gold in shooting, perhaps completely driven by his own drive and dedication, and with basically little or no backing from the Indian government or sports establishment, it was almost an action-replay of the same scenario. An entire nation rejoiced; it was back to lala… land.
And that is how this fantasy unfolds like a once-upon-a-time fairy tale with that once-in-a-blue-moon happy ending. While it's the same old sad story yet again, repeated a million times, across the tough and tragic terrain of invisible India, where thousands of talented, dedicated, idealistic and brilliant young girls and boys, are decisively left to their fate.
This is part of a predictable pattern. This rags-to-riches story, with a rare finale! Compulsively looking for a happy ending, it seems India has become a sucker for this fantasy, as and when it arrives. We shall wait for a shining star to emerge from the dingy margins — who will suddenly turn India luminescent. Then we shall burst many more patriotic crackers! After that it be will be back to square one.
For one, let us talk of Vandana Katariya, the first Indian woman hockey player to score a hat trick in the Olympics. Her Dalit family faced a barrage of the choicest casteist abuses in her village Roshnabad in Haridwar by upper caste goons condemning her for India losing to Argentina in the semi finals in a hard-fought game. No Dalit should be allowed inside any sports team of India, they shouted, dancing and bursting crackers. By any social indication, undoubtedly, these two evil and vile men are not alone in holding such views.
Let us also talk of Rani Rampal, the captain of the Indian women's hockey team. Rani came from a terribly poor family. As a kid, she played with a broken hockey stick because she loved the game. The coaching academy in Shahabad, Haryana, had no space for her raw talent or her mad dreams.
Finally, when she was accepted due to her sheer tenacity and persistence, like the other children, she too was asked to fetch 500ml of milk every day. "My family could only afford milk worth 200 ml. Without telling anyone, I would mix the milk with water and drink it because I wanted to play," she has said. She had no sports gear to show: shoes, dress, diet, hockey stick. Rani remembers her childhood with its meticulous details. Anyway, who can ever forget a childhood lived in such difficult conditions!
She joined the Indian team at the age of 14 in 2008, an extraordinary feat and culmination of sheer hard work, amazing motivation, and extraordinary talent. In 2017, Rani bought her family a 'home' – it was a promise she had kept. "I finally fulfilled the promise I made to my family and bought them a home. We cried together and held each other tightly," she said.
Briefly, this brilliant hockey player has scored 117 goals for India, earned as many as 241 international caps, and was part of the team which went to Rio – the first time the Indian women's hockey team qualified for the Olympics in 36 years. Indeed, the caption scored the goal that clinched India's berth for the Olympics in Tokyo — in the final qualification match against the United States in Bhubaneswar.
This incredible story of success against all odds went viral as her team outclassed other teams in Tokyo; this will continue to float until the next rags-to-success fairy tale arrives from the remote, unknown interiors of Manipur, Assam, Jharkhand, Western UP or Haryana.
In the same vein, shall we also talk of Dutee Chand, Deepa Karmakar, Hima Das, among others, from across the most deprived, difficult and hard life stories ever lived in a starkly unequal India, where they chased their sporting dreams against all odds in the most primitive, impossible and pathetic conditions?
A country of winners is clear-headed. It chooses to nourish, sustain and celebrate talent across the social and economic spectrum since day one. This is a synthesis of skills and praxis at Ground Zero. The State and society becomes the mentor where talented children and teenagers are given the space to learn, grow and spread their wings. This is called a great sporting culture and this is not based on the theory of bursting crackers and dancing one day with laddoos, going gaga all over in a patriotic outburst, and then getting back to the usual rut, waiting for the next solo by another javelin gold medalist.
This is what China did much before it hosted the Olympics in 2008 – this reporter witnessed a great sports revolution emerging across its villages, schools and campuses, with every Chinese child wanting to become an Olympic gold medalist. That is how they beat the Americans in 2008 in terms of gold medals, and almost did that again in Tokyo.
This is the disciplined and dedicated sporting culture built by a world champion like Pullela Gopichand in India, along with his family, who would get up in the dark to coach raw and unknown youngsters. It is Gopichand's Badminton Academy in Hyderabad which has trained Indian women players to achieve the impossible – break the stronghold of Chinese women badminton champions. Let us not forget that PV Sindhu, who won a bronze in Rio and Tokyo, was originally trained in his academy, among scores of great talent.
Indeed, for a nation which is solely obsessed with a cash-rich IPL and billionaire cricketers, and the clichéd catharsis of fours and sixes and 'death-overs', the great Olympics will always remain an unlearnt lesson. India must learn to respect even those who don't have a medal to show – will they too be left to their unhappy destinies like scores of others? It's time to realise that often the line between victory and defeat is extremely thin.
The fact is, as long as it does not cherish and nourish the likes of Rani Rampal, Deepa Karmakar, Dutee Chand, Vandana Katariya and Hima Das, among thousands of others at the margins chasing an impossible rainbow, this nation of six billion will continue to be 'a nation of losers' – going gaga over a lone gold.