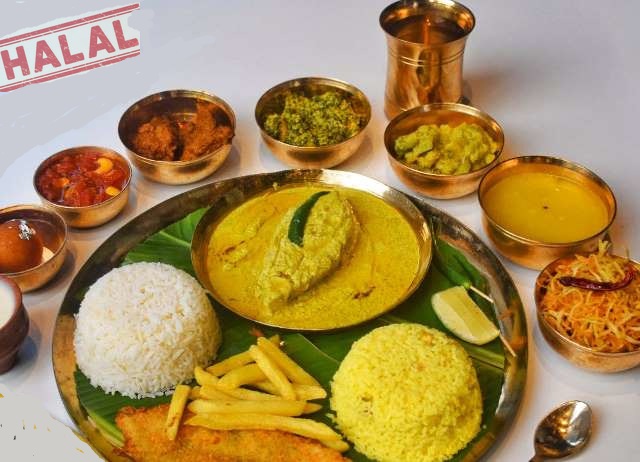 OPINION
OPINION
Halal Hullabaloo – Poisoning The Food
Unless it is famine, like the Bengal tragedy, a scorching, thirsty and parched drought, starvation deaths, pandemic, lockdown and mass migration of the poorest, the landless, the homeless across the tragic highways across big, impersonal and affluent cities — festive seasons in India, almost always, rejuvenate a spirit of subdued, shared spirituality with no great expectations. All the sorrows and strife of the year gone by are forgotten. Even the most humble home is white-washed, doors and windows re-painted, clothes, quilts and blankets are put in the sun, forgotten aluminum trunks are reopened, new dresses stitched for the kids, and a sense of joy and bonhomie spreads its wings in the air and inside the lanes and courtyards, even as spring flowers bloom waiting for 'ashaar', giving a momentary respite from the cruel summer which must surely arrive.
Auspicious Navaratri is one such festival for Hindus, especially for women, particularly in the Hindi heartland, and in states like Gujarat and Maharashtra. It arrives every year with its spiritual and material resurrection, marking a new beginning, bringing communities together, weaving threads of collective catharsis.
That is, for them, auspicious time once again. When it comes to the Hindi heartland, the politics of religion and hate will therefore be brazenly masterminded and unleashed with its full pulsating force, targeting, as a ritual, the Muslim community, while the Christians must await their turn. Religion, xenophobia and hate, they seem to be contradiction in terms. Not anymore in the New India under the current regime, with the Hindu Rasthra as the only principle of hope, especially since the summer of May 2014, when 'acche din' truly arrived for an aspirational India waiting for a manufactured prophet.
Since then it has been vicious, breathless and relentless, in a hyperbolic spiral which moves in a sinister and diabolical half-circle, as predictable as the dirty waters in a gutter which keeps rotating in its own filth and its own quagmire.
Auspicious? You must be joking!
Mob-lynching as a public spectacle, love jihad, Romeo squads, Valentine Day violence on young couples, 'mandir wahin banayenge' with the prime minister of a secular State, himself, performing the inaugural rituals, the ban on hijab for Muslim school girls in Karnataka, the ban on halal in Karnataka, Ghaziabad, Gurgaon, even parts of Delhi; the metaphors keep changing to remain the same. From the communal Citizenship Amendment Act to laws hounding inter-faith marriages, it is once again back to square one. The New India has now been decisively pushed back into the retrograde abyss and ghetto of a morbid and mythical past which never existed, not even in ancient times. And there is no respite.
Halal meat, which Muslims eat due to religious reasons, has been banned unceremoniously and with no rhyme or reason, in Karnataka, which has now been turned into a new hate laboratory of polarizing Hindutva, modeled on the post-2002 Vibrant Gujarat, though, despite a State-sponsored genocide which, largely, went unpunished. That it lacks rationality and hits traders, both Hindus and Muslims, as much as meat-lovers, both Hindus and Muslims, and other communities, is as clear as sunlight. The pandemic and lockdown, with its mass unemployment, death, despair and economic distress has already stressed out a large section of people in India, including traders, small and big restaurant owners. Festive times are the rare occasion when they can pitch in for some extra earnings. But, who cares, surely not the dynamic agents of change in a secular, modern, pluralist democracy whose prime minister has travelled all over the modern world promising a vibrant democracy in India.
What people think, decide, eat, dress, feel, listen, read and write, how people and the young choose to love or marry, now, comes in their domain. All should follow their Fascist doctrine and code of conduct.
ALSO READ: 'The Halal Row Is Causing Losses, Creating Fear'
Remember with clarity what the Nazis did to the Jews in Europe before the beginning of the Holocaust. Soon, they will want to desperately ban particular streets for the Muslims and Christians, no public parks or cinema halls for them, no railway stations or train journeys for them, no collective classrooms or public institutions can be shared with them, no private business or economic activity for them, do to them exactly what the Nazis did to the Jews. Tell them to wear a prominent, coloured sign on their chests to depict their goddamned identity, like the Star of David which the fascists imposed. Tell them that they are second class citizens, and it would be so nice if they could be deported to the heavenly gas chambers and concentration camps of Auschwitz. Tell them, behave, or else!
On April 4, South Delhi Mayor Mukesh Suryaan stated categorically, "During the auspicious period of Navratri, devotees of Goddess Durga, observe fast for nine days with a strict vegetarian diet, abstaining from the use of non-veg food items, alcohol, and also certain spices. The area in the city is also coloured in consonance with the festival… The sight of meat being sold in the open or near temples makes them uncomfortable… Their religious belief and sentiments are also affected when they come across meat shops or when they have to bear with the foul smell of the meat on their way to offer their daily prayers to the goddess. Moreover, some meat shops dump waste in gutters or beside the road, which the stray dogs feed on. It is not only unhygienic but also an appalling sight for passersby."
In Bengal, in Durga Puja, and in pandals all over the world, meat is cooked in multiple recipes, creating delicious dishes and snacks, right next to the goddess, even as women dance during the hypnotic artis during the evening with ghantas and dhaak, while music, songs and dance follow in the true spirit of a winter festival. In Delhi, seasoned connoisseurs graciously invite seasoned chefs to display their art in the Durga Puja Pandals, even while they try their hand on the special Bengali biryani, with boiled eggs and fat, round potatoes, something unique in the history of Biryanis.
Youngsters across the metros and in small towns have always had a secular taste for food. It was not the politics of food which they have celebrated over the years; it is the special delight in savoring delicacies from across the cultural and religious divide: pork, beef, fish, mutton, lamb, Indian, middle-east, Pakistani, Bangladeshi, continental, intercontinental. Who cares a damn if the meat is halal or haram or jhatka! And, why not?
Now, Chaitra Navratri – which marks the beginning of the Hindu lunisolar calendar – is being used to consolidate hate politics in Madhya Pradesh and Rajasthan where elections will be held in 2023. In Ajmer, Rajasthan, RSS cadre in hordes, in the holy city of sacred Sufi symbolism, chanting inflammatory slogans, duly observed the rituals of an auspicious festival in a shared space. In the same vein, in Karauli, a similar horde attacked a mosque which led to clashes. In Madhya Pradesh, the slogans become crass, cacophonic songs.
This is how the RSS celebrates the auspicious advent of the Hindu New Year in modern India. This is how we should, too, follow their footsteps. One step back, two steps backward.