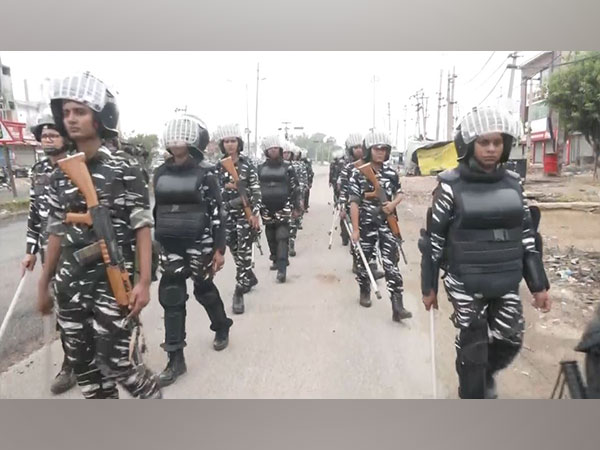 LM NEWS 24
LM NEWS 24
Haryana: Paramilitary Forces Conduct Flag March In Nuh Amid Curfew
Paramilitary forces on Thursday conducted a flag march in Nuh after a curfew was imposed in the district following the clashes between the group in the state.
Streets were deserted in the district amid the curfew imposed in the area.
A local said that the public is facing issues in procuring ration items from the shop.
"We are facing trouble when it comes to procuring ration items. There is an atmosphere of fear around. We are not sending the children outside. We are very scared at night as well, don't know what will happen," a local told ANI.
Another local who deals in the sale of vegetables said that their income has been affected since customers are not coming for the purchases.
"I deal in selling vegetables but for the past 2-3 days the sales have been affected…If customers don't come, how will we earn a living? Since nobody is coming, the vegetables are getting spoiled. We are very troubled," he said.
Meanwhile, six deaths have been confirmed in the violence in the Nuh district of Haryana.
Haryana Chief Minister Manohar Lal Khattar said that a total of 116 people have been arrested in connection with the violence on Monday in Nuh that claimed the lives of six people including two Home Guards.
As the conditions in Haryana's Nuh, Faridabad and Palwal districts and in three sub-divisions of Gurugram remain critical and tense, the state government on Wednesday announced that mobile internet services will remain suspended in these districts till August 5.
Clashes between two groups broke out in Nuh on Monday afternoon after a religious procession passing through the district came under attack, leaving two home guards dead and dozens of people — including around 20 policemen — injured in the frenzy of violence that followed.
Meanwhile, the state government has decided to immediately shift the battalion headquarters of the 2nd IRB from Bhondsi to Nuh.
"The state government has decided to immediately shift the battalion headquarters of 2nd IRB from Police Complex, Bhondsi to district Nuh to meet imminent operational exigencies of maintaining law and order, peace and security," an official notification said.
Following the incidents of violence in Nuh Haryana Chief Minister Manohar Lal Khattar on Wednesday said that no accused will be spared and strict and justice for the victims and their families will be ensured.
Meanwhile, state home minister Anil Vij said that social media played a significant role in fuelling the violence in Nuh. (ANI)
Read More: http://13.232.95.176/