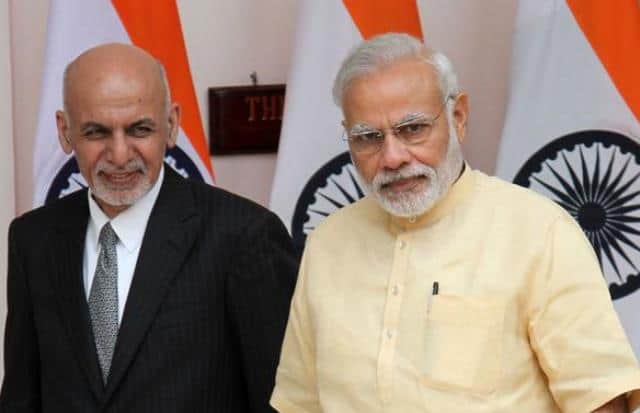 OPINION
OPINION
Has Trump Plan Edged India Out Of Afghanistan?
<![CDATA[
Whatever be the outcome of the US-Taliban peace dialogue, Afghanistan is certain to remain the deadliest conflict zone of the world in 2019
A minor casualty ahead: Screening of Indian films in Kabul cinemas. 'The End' does not herald the typical triumph-of-good-over-evil. The do-gooder, now dispensable, can only hope to hum "kabhi alvidaa na kehna."  
There is nothing filmy about India being cast aside after 18 years of investment in goodwill and $3billion in development of the Afghan people who have no say in the way outsiders are hurtling towards a "peace agreement" to end a long-drawn conflict, whatever that costs.
There is a strong sense of déjà vu. India was close to the Soviets in the 1980s. When they quit Afghanistan and eventually disintegrated, India earned some opprobrium and went 'friendless'. And the West withdrew triumphantly, leaving behind the mess.
India is now with the government in Kabul that the West helped create and supported, but is ready to ditch. With differing interests, all players seem keen to help the United States extricate itself. For, President Donald Trump must "get the boys back home" in time for his re-election bid next year.
How can you solve this conflict when its fundamentals are ignored? The players don't want to await outcome of the Afghan presidential polls scheduled for September 28. They are ready to push the Ashraf Ghani Government towards mortuary.
All those who root for democracy want to sidestep this democratic exercise. How is democracy served when an elected government is given no role in the peace parleys at the behest of one of the participants? Isolated, India opposes it. But none of its concerns cut much ice with any of the players – democrats or otherwise. Even former President Hamid Karzai, an old Delhi-ally, is with the peace dialogue.
Afghanistan is the second-largest recipient of Indian foreign aid over the last five years. Although it launched its 'soft' diplomatic drive with free distribution of Lagaan film cassettes, India's popular transcends Bollywood films. It set up infrastructure, including hospitals, roads and dams, and contributed to building of institutions, training of civil servants and students in Indian universities. New Delhi's support to Karzai and Ghani insured India's primary investments and attracted others. Will all this go in vein?
Everyone is suing for peace with Taliban who are calling the shots, literally, holding talks even as they kill civilians, including school children. At their meeting at Doha recently, "all participants agreed" to bring down civilian casualties in the country to "zero" and to ensure the security of schools, hospitals and markets. Afghans would say: Thank You, Taliban, and Thank You, negotiators, for this mercy.
The players' line-up is impressive – only they are not impressed with India's role. Trump once asked India, China and others in the region to send troops – in effect, to pull his chestnuts out of fire. Some of his apologists are now blaming India for not taking the offer.  
India gets hyphenated with Pakistan by the way the US plans to withdraw from Afghanistan, leaving Islamabad as the principal policeman and guarantor of peace and stability. This is despite knowing well how Islamabad performed that role earlier.
Russia was once an India ally and so was Iran. China is now firmly a Pakistan ally. All of them are convinced that the threat from the Islamic State (IS) is greater than Al Qaida or anyone else. British, the original imperialists who failed to rule Kabul from Calcutta (now Kolkata) and New Delhi want to stay relevant. Saudi Arabia and the UAE are bailing out Pakistan from its economic stress as Mr Trump's proxies.  
Trump will be hugging Imran Khan in Washington next week. Eighteen months back, while still unsure whether to quit or not from Afghanistan, Trump had condemned Pakistan's "lies and deceit" in fighting terrorism. His rant was about Pakistan not preventing — actually nurturing – Taliban and the Haqqani network that attack American interests in Afghanistan. The Haqqanis are not mentioned — not publicly at least. Presumably both 'good' and 'bad' Taliban are being engaged and their mentor Pakistan is on the talks table.
Never really out of American calculations, Pakistan enjoys a win-win situation. It has moved away from America's threatening embrace to China's calculatedly welcoming one. It is riding piggyback on China that matters, not just with regard to Afghanistan, but globally.
India is clearly isolated but it has itself to blame. It has failed to anticipate that the US would leave Afghanistan someday and for that it would need Pakistan. One is waiting to have a glimpse of its contingency plan. At least, some behind-the-scene contacts with those who are vary of Taliban and their Pakistan sponsorship. 
India has had two priorities in Afghanistan: To prevent Pakistan from setting up a friendly government in Kabul again, like in 1996 with the Taliban of Mullah Omar and, secondly, to avoid the return of jihadi groups that which could strike in India. On both fronts, India is losing ground.
India has been telling its domestic audience and anyone who cares to listen that Pakistan is being 'isolated' because of its terror credentials. But today, on Afghanistan at least, Pakistan is a key facilitator. The US, Russia and China meeting last week 'invited' Pakistan to discuss the peace moves in Afghanistan. None from Afghanistan, especially the Ghani Government was present – so scared everyone is of Taliban.
Al Qaida was the reason the US invaded Afghanistan. It is passé today. The Islamic State (IS) is the new global specter. That the Qaida chief Aiman Al Zawahiri recently renewed calls to his followers to inflict punitive losses on the Indian authorities in Kashmir and elsewhere should worry only India. And India would naïve if it expects anyone else to help it beyond harsh warnings and heavily-worded resolutions.
Proximity to Moscow, by hindsight, was never so debilitating. Today, India's hands are tied down by proximity with the US. Indeed, two pillars of India's regional foreign policy are shaken because of the American strategy in the region — the relationships with Iran and Afghanistan.
One big casualty is Iran's Chabahar port through which India connects with Afghanistan's western flank and to Central Asia. A non-starter due to American hostility towards Tehran, it gained momentum after Obama's rapproachement. But after its reversal by Trump (meant to spite Obama, we are now told) New Delhi has had to admit that it cannot further develop Chabahar when shippers and cargo handlers are kept away by US sanctions on Iran.
Whatever be the content of the Peace Agreement, still in works, it is clear that Afghanistan will remain the deadliest conflict zone in the world in 2019, far surpassing the levels of violence witnessed in Syria, Yemen, Iraq, and other hotspots.
There will be no victors this time – it will be a victory-less withdrawal, whatever the icing on the "peace cake" now being baked. Every player knows this, but won't admit — that you are likely to leave behind a mess, again. It could entail another round of the Great Game in future for control of this hapless nation.
The writer can be reached at mahendraved07@gmail.com