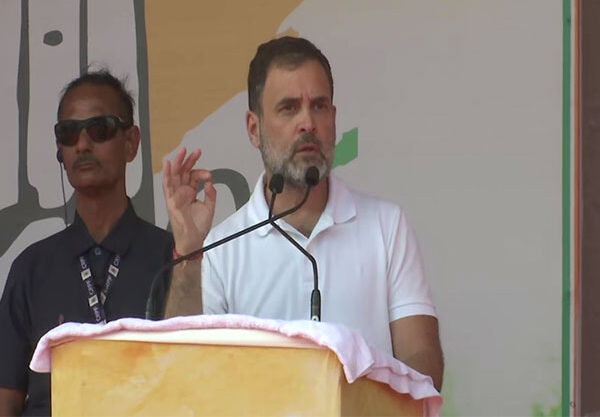 LM NEWS 24
LM NEWS 24
He Wears Suits Worth Lakhs: Rahul Takes Jibe At Modi
Congress leader Rahul Gandhi on Friday took a dig at Prime Minister Narendra Modi in poll-bound Madhya Pradesh and said "PM wears suits worth lakhs of rupees but I wear this white t-shirt only."
Addressing a rally at Satna, Rahul said "I heard PM Modi's speech, he used to say everywhere that I belong from the OBC community in every speech, he became prime minister by saying this repeatedly. On one day, he wears at least 1-2 suits worth lakhs of rupees. Have you seen Modi ji repeating his clothes ? I wear this one single white shirt. Do you know why caste disappeared from his speeches as I started speaking about caste-based census. Since I started speaking about it, Modi started saying that there is no caste in India."
He also announced that the first step of the Congress government formed in MP will be to conduct the caste-based census.
"As soon as Congress government is formed in MP, our first step will be to conduct caste-based census statewide and as soon as our party comes to power we will do the survey of caste-based census nationwide. Till the caste-based census is not done, the backward class won't be able to contribute. A few days back during the campaign in Chhattisgarh, I met few farmers. I asked about the rate of their land. I was astonished to know when the farmer said that I don't know the rate of my land," Rahul Gandhi said.
The Congress leader alleged that the government takes GST from poor people and hands over all the money to big businessmen.
"Big industrialists do not provide employment. Small traders who run small and medium businesses, who are into small and medium scale manufacturing, who run shops, these people provide employment. There used to be lakhs of small units, who gave employment to our youth. When the BJP and PM Modi government came into power, they started an attack on these units. They attacked small traders, and small and medium businesses with demonetization and GST. GST is not a tax. It is an attack on farmers, small traders and businessmen. It is a weapon to finish small traders," he added.
"GST is given by OBC, Adivasi, backward class and poor people of general category. The government takes GST from poor people and hands over all the bank money to big businessmen like Adani, and Ambani," Rahul Gandhi said.
The former Congress President accused the BJP of plotting to overthrow the Congress Government that was formed after the 2018 state elections.
"Big industrialists, billionaires, PM Modi and Shivraj Singh Chouhan came together and stole our government from you because they knew that the Congress government of Madhya Pradesh will not work for Adani, it would work for farmers, labourers and small shop owners. I have clearly told the CMs of Karnataka and Chhattisgarh and I will say the same for MP that whatever money the BJP government has given to Adani, the same amount should be given to the people of the state. Modi Ji's control is in the hands of Adani," he added. (ANI)
For more details visit us: https://lokmarg.com/