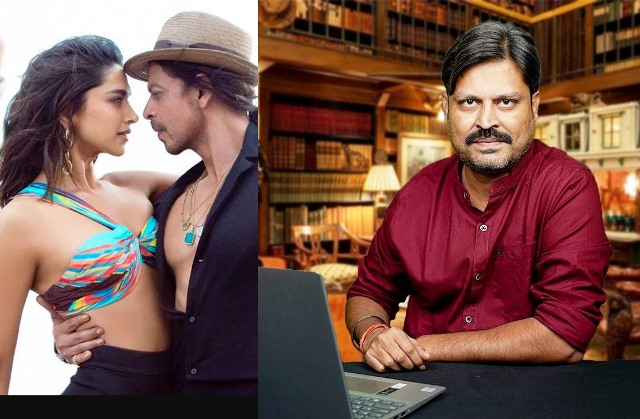 LOK ISSUES
LOK ISSUES
Hindutva Gang Hates SRK Because He Represents A Plural India
Vyalok, a Lucknow-based film buff and critic, debunks the controversy over Shahrukh-starrer 'Pathaan' and raises other problematic issues related to it
The current controversy over the movie song, Besharam Rang, reminds me of an old interview of Shahrukh Khan. The 'boycott culture' was not very prevalent then but it was emerging. The interviewer asked King Khan if was afraid of his films drawing boycott calls over sentiment of a particular segment.
Shahrukh, in his typical disarming smile, responded: "I have a lot of admirers in India. Uncountable. You may call it my arrogance but my admirers would outnumber my haters at any point of time. Second, this boycott thing is a good excuse for anyone who makes a bad film and fails at the box office. I know if my film is not good, it will be a flop."
This is the straightforwardness and confidence of Shahrukh that makes the Hindutva brigade jealous of him. Just look at his stature. Shahrukh is one of the most widely identified Indian actors worldwide. Shahrukh is the brand ambassador of Dubai. He represents India's composite culture and tolerance. And that is what riles the Hindutva groups. Clearly, vulgarity and saffron robes were not the real reason behind the protest calls; you can dig out far more vulgarity with similar robes all over the Internet and in popular movies.
His measured response in the face of the Pathaan song controversy – when he talked of positivity –speaks volumes of his maturity as a celebrity. Previously too, he has kept himself calm and composed amid controversies related to his family and films. There are many film actors who have pandered to the political powers that be for commercial gains and support but not Shahrukh.
ALSO READ: 'Boycott Culture Won't Work, Nor Will Vulgarity'
Having said that, I would like to add that I did find the Besharam Rang song problematic for reasons other than vulgarity. This pertains to the image of Shahrukh. Allow me to quote from another interview of King Khan with TV anchor Rajdeep Sardesai. In that interview, Khan admitted that he was a slave of his image as projected on the silver screen. This is disconcerting. Do we need to ask Shahrukh why is he still carrying on as an actor with a co-actor half his age? SRK is capable of handling the Hindutva brigade and cancel culture, but he must fight his own demons too.
In the said song, In Besharam Rang song, he appears to be an apology for his past self. Vaibhavi Merchant's choreography is trying too hard but fails to capitalize on the magic Shahrukh-Deepika couple. Must he resort to this nonsense to remain the 'King of Romance'?
And it is not only about Shahrukh. All Bollywood actors above 55 years of age need to rethink their roles as they age. Hindi writer Nirmal Verma wrote that "aging is a graceful process". Even Amitabh Bachchan did not understand this point until his company was doomed and he had to reincarnate himself with a white beard in KBC.
Look at Hollywood. Leave Anthony Hopkins, Al Pacino, Robert De Nero, etc, and even actors like Bruce Willis, Matt Damon and Ben Affleck are choosing roles to suit their age. But here, the Hindi Hero is not ready to come out of his Armani suit and six-pack obsession! And then we raise our eyebrows when just one Hindi film gets listed in the Top-10 list of 2022!
If not Hollywood, our Hindi heroes can look closer home at the South superstar Rajinikanth. When he is not on the screen, he can be seen in a kurta-pajama with a bald head. This is not just his simplicity, it is a statement that Rajini Thalaliva sells dreams on the screen. In real life that façade is off, gracefully.
As told to Abhishek Srivastava
Read more: https://lokmarg.com/