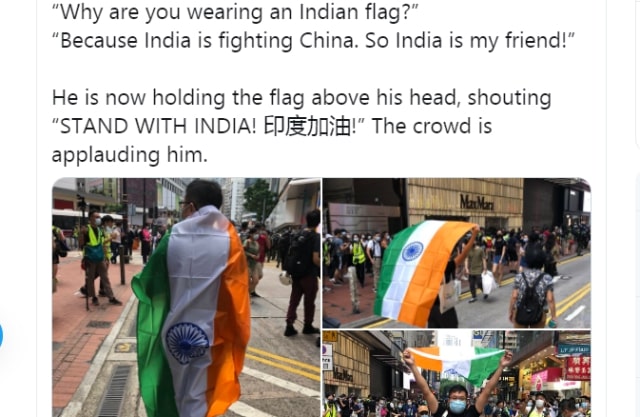 LM NEWS 24
LM NEWS 24
Hong Kong Protester Holds India Flag To Spite China, Cheered
On the founding day of People's Republic of China, a National Geographic photographer and journalist posted a series of comments on social media site with pictures of protesters in Hong Kong decrying Chinese oppression of democratic norms.
One of the pictures that caught the fancy of Indian users carried a protester wrapped in Indian Tricolour, and telling the blogger that he is cheering for India "because India is fighting China."
The media post was an instant hit with Indian users and it garnered over 10,000 impressions within hours of posting of the pictures on the micro blogging social media site.
In her post, Laurel Chor, the NatGeo journalist asked the protester, "Why are you wearing an Indian flag?" To which the protester replied, "India is my friend, because India is fighting China." According to Chor, the protester was holding the flag above his head and shouting 'STAND WITH INDIA' which was being lustily cheered by the crowds on the street.
The journalist also recorded many incidents on Hong Kong streets where she exposed how Chinese police, with the help of plainclothes officers, were detaining protesters in surreptitious manner and carting them away in medical ambulances to keep street protests subsided.
She wrote that despite heavy police presence the resilient Hong Kong crowd kept their protests going on the sidewalks and Yee Wo Street, filming the movement. She also wrote how she was asked to clear the way by a police loudspeaker when her crew tried to film the searching operation of civilians by policemen near Ying Kong mission.
China marks its founding on October 1 with a holiday and choreographed festivities, but after last year's events were marred by clashes in Hong Kong, China has imposed sweeping security measure in the territory.