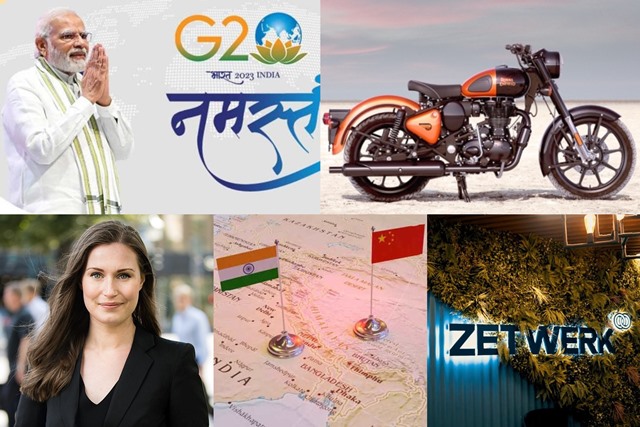 THEBUZZ
THEBUZZ
How Modi Can Gain From Xi's Absence at the G20 Summit
This weekend even as the G20 Summit, hosted this year by India, got going in Delhi, a global news network's website had a photograph from the 2019 summit of the grouping, which is an intergovernmental forum comprising 19 countries and both the European Union (EU) and African Union (AU). In the photo, a beaming Prime Minister Narendra Modi is seen holding hands–with Russia's president Vladimir Putin to his right, and China's president Xi Jingping–and posing for the photograph. That photo op will not recur in Delhi during the summit this year because both Putin and Xi absented themselves from the annual summit that is hosted by a rotating presidency.
Putin's not going to India because there is a warrant accusing him of war crimes in Ukraine, issued by the International Criminal Court, and he faces arrest if he travels abroad. For the same reason, he missed the meeting of the BRICS (a grouping that includes Brazil, Russia, India, China, South Africa and some recently added new members) last month in South Africa.
Xi's absence is a bit more perplexing. China has not officially proffered any explanation but there are several theories doing the rounds. First, that Xi, under whom China's rift with the West has greatly intensified, may be disillusioned with the existing global system of governance and structures that he sees as dominated by American influence. He may be prioritizing multilateral forums that fit into China's own vision for how the world should be governed.
Second, Xi may have decided to skip the meeting because he wants to rebuff India. Relations between China and India are not smooth because of the ongoing border dispute on the north-eastern perimeter of India. Xi may also want to avoid meeting other Western leaders because of their disapproval of some of China's issues, notably its friendship with Russia and the support it is extending Putin during his offensive against Ukraine that is going on for the past 19 months.
Third, and probably least likely, is that he may be facing domestic crises such as potential health issues, or economic and political challenges.
Indeed, at last month's BRICS meet, Xi skipped a commerce session at which other heads of states of the grouping were present, and, instead, sent his commerce minister to read out his speech.
While the absence of those two biggies, who together form the biggest adversarial alliance against the West, might rob the summit of its incendiary potential, there are other biggies that are in attendance. They include US President Joe Biden, UK's Prime Minister Rishi Sunak, France's Prime Minister Emmanuel Macron, and Japan's Prime Minister Fumio Kishida.
Xi's absence has disappointed US president Biden, who would have liked to have had some face time with Xi over a long list of differences that his country has with China. Biden would have wanted to discuss with Xi several pressing global issues, such as climate change, pandemic response, and nuclear non-proliferation. Biden may face more challenges in persuading China to cooperate on these issues, especially if China views them as interference in its internal affairs or sovereignty.
Yet, for Modi, Xi's absence might offer an opportunity to shine brighter at the summit. With Xi not around. Modi can pitch himself as the leading light of the South, a region whose inequality vis-a-vis the North has been widening. And while the rift between the West (read: US and its allies) and the East (read: China and Russia) has become sharper, India occupies a unique position that Modi can leverage.
India is not unequivocally aligned with either Russia & China or with the US. It buys Russian oil, weapons and capital goods. India-Russia trade was estimated to be $45 billion in 2022-23. India has also refrained from strongly and vehemently opposing Russian military action against Ukraine. 
On the other hand, India's relations with the US have also been improving. The two countries share values and interests, such as democracy, and security. They cooperate on various issues, such as counterterrorism, climate change, and countering China's influence in the Indo-Pacific. The US is India's largest trading partner and their bilateral trade in goods and services reached $128 billion in 2022-23.
By pitching his relations with both sides strategically, Modi can use India's unique position to influence the relations between the West and East as well as the North and the South.
With the absence of Putin and Xi, few expect the G20 summit this year to achieve anything huge. Although the theme of the conference is 'Vasudhaiva Kutumbakam — One Earth, One Family, One Future', we should not expect any consensus statement or agreement on any of the grouping's objectives of achieving "international financial stability, climate change mitigation and sustainable development".
As the most important member of the Global South, India enjoys a leadership position among the region's smaller developing countries. This weekend, Modi formally invited the African Union, which represents the 55 countries on the African continent to join G20 as a permanent member. Although this was initiated by Biden last year, it will be formalised under Modi's presidency of the group at this year's summit.
Modi can also leverage India's hosting of the summit as a major publicity move. India's parliamentary elections are scheduled for May 2024 and Modi, now on his second term as prime minister of the nationalist Bharatiya Janata Party (BJP) regime would want to win a third. The image of India hosting and Modi presiding over a gathering of world leaders in Delhi can generate immense political mileage and pride among Indians, who were recently exhilarated when an Indian space mission landed on the moon. Even before the summit got going, India's high-decibel TV news channels were unanimously hailing the event as India's "moment of glory". And through the weekend, frenzied TV anchors shrieked themselves hoarse about how huge this was for India… and, of course, for Modi.
There are other, more mundane, benefits that can accrue from the two-day summit such as India's trade pacts, bilateral talks and cooperation with other countries. Yet, the most important one for Modi could be the value it would add to his and his regime's image and what could, eventually, accrue to his legacy. In the run-up to the summit, Delhi got a massive, cosmetic, revamp of its civic infrastructure–a clean up, if you like. Some of it was controversial–such as the restriction of movement in the capital city area, removal of slums and signs of poverty, and so on. Some politicians have speculated that the Indian government has spent an estimated ₹4,100 crore on holding the summit and that is seven times as much as when Germany spent ₹641 crore during its hosting of the summit in 2017. Even if that is correct, for Modi the cost-benefit assessment of the G20 summit would probably still be agreeable.
Bullet, India's Iconic Motorcycle, is a Prime Example of Make in India
The UK publication, The Economist, recently published an article about how Royal Enflield's Bullet motorcycle, which many consider its flagship model, continues to not only survive but thrive despite the fact that little has changed technologically in the model for decades. The Economist pointed out that while global giant corporations have had to evolve and keep changing their products to stay relevant, Royal Enfield's Bullet, which enjoys a cult status in India's market for motorcycles, seems to be doing great with minimal tech tinkering.
The Bullet, a 350 cc motorcycle was launched first in 1932 by a British company but since 1994 it has been owned by an Indian company and is now part of the Eicher Group. Last week, the company launched its latest iteration of the Bullet. Surprise, it looks almost exactly as it did, say, 50 years ago. There have been tech innovations that have been carried out over the years: the 2024 model combines an old-school design with more modern updates such as double-cradle chassis and fuel-injected engine. Yet, the Bullet's looks and basic appeal remains the same.
Its retro looks have over recent years appealed to markets abroad. It has a niche but substantial market in the US where sales grew more than 90% last year to 5120 units last year. Eicher exports 16-20% of its motorcycles and its overseas sales have been growing rapidly in recent years, particularly in markets such as the UK, Europe, New Zealand and Southeast Asia. In 2022, the company's international volume doubled as it expanded its presence and product range in the international markets, with over 125 dealerships across 60 countries. The Bullet serves as a prime example of India's Make In India campaign.
Finland's Former PM Makes News… Again
Finland is a small country in the Nordics with a population of a bit more than 5.5 million people, not much more than the number of people who live in a borough of, say, Mumbai or New Delhi. So it hardly makes news on the global scene. Yet, because it shares a 1340-km border with Russia, it has become an important region that features in geopolitical discourses that centre around Russia's offensive against Ukraine. Finland also made news when it was recently admitted to NATO (the collective defence bloc of North American and European countries).
There is another newsmaker in Finland and it is Sanna Marin, the former prime minister of the country. Marin was 34 when she became the youngest prime minister of a country in modern times (William Pitt the Younger was 24 when he became prime minister of Great Britain, not UK, in 1783).
She and her Socialist Democratic Party-led alliance made the news also when her tenure coincided with the Covid pandemic and her government's effectiveness in combating its spread was lauded.
Marin acquired somewhat of a rockstar's image (not without some controversies surfacing around her after-work partying) during her tenure as prime minister, making it to the covers of magazines such as Vogue and Time. Her term ended in 2023 after her party lost by getting marginally less votes than her closest rivals. Now, Finland has a rightwing government in power.
But Marin continues to make news. Last week, Marin, now 37, announced that she was resigning from the Finnish parliament and, ostensibly, from politics. She will join the Tony Blair Institute, a think tank and nonprofit that strives to strengthen the centre ground between the right and left extremes of politics and uphold the belief in democracy.
Marin's decision to move on comes at a time when Finnish politics is getting more polarised–currently there is a debate over racist statements by some ministers in the new government–and while she may consider it a personal career progression many believe that she had years of valuable contribution to make in Finnish politics.
Much Ado About Maps
Recently, China again stirred up a controversy with its official maps that have perturbed other countries by their depictions. According to some web sources, China released a new official "standard" map on August 29 this year, which shows its claims over some of its neighbors' territories. Some of the countries that have protested against the map include India, the Philippines, Malaysia, Vietnam, and Taiwan.
India, for instance, rejected China's depiction of its northeastern state of Arunachal Pradesh and the disputed Aksai Chin region as part of China's territory. The Philippines, whose islands and waters are shown as part of China's territory, has similarly rejected the claims. Malaysia has also alleged encroachment of its territory by China in its map, as has Vietnam.
As for Taiwan, China has relentlessly claimed that it is part of China and refuses to acknowledge its independence.
Such posturing through maps showing other countries' territories as part of its own territory are not restricted to China. India too has issued maps that have stirred controversy in Nepal, with both countries laying claim to a region known as Kalapani. India published a new map in November 2019, after it revoked the special status of Jammu and Kashmir, which included Kalapani as part of its territory. Nepal protested against the map and said Kalapani belongs to Nepal. In May 2020, Nepal published its own map, which showed Kalapani as part of its territory. India rejected Nepal's map and said it was not based on historical facts or evidence.
… And Here is Some Good News
As US-China tensions escalate, many global brands are looking to diversify their suppliers away from China. India has emerged as an attractive option, thanks to its large and cheap labour force, its growing domestic market, and its government incentives. For instance, the Modi government's manufacturing scheme, known as Production Linked Incentive (PLI), offers cash incentives to firms in a range of industries, including pharmaceuticals, textiles and electronics.
And while mega projects to manufacture in India might not have taken off quickly (Foxconn, the Taipei headquartered electronics maker, aborted its joint venture with Vedanta group to make semiconductors in India but it could find a new partner), small and medium sized ones have been making a beginning.
Two recent examples: Dixon Technologies, which assembles smartphones for Motorola and Lenovo, and has seen a surge in orders and revenues; Zetwerk, which connects customers and manufacturers within India, and has handled orders from US firms for products ranging from nail clippers to steel frames.
These could be welcome examples of greenshoot ventures for the Make In India programme.