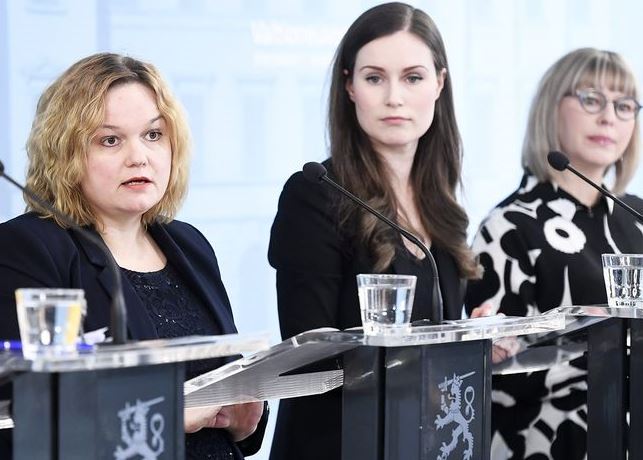 OPINION
OPINION
How Tiny Finland Is Combating Corona Pandemic
(The author is based in Vaasa, a city on the west coast of Finland)
At the time India's Prime Minister Narendra Modi was announcing a complete curfew-like lockdown of the country—1.3 billion people are not allowed to step out of their homes for 21 days—up in the Nordics, Finland's government, a coalition of five parties, headed by Prime Minister Sanna Marin, 34, and her cabinet of mainly young women ministers were huddled together to discuss how to go about locking down Uusimaa, a southern province that, including the capital city of Helsinki, is home to 1.68 million Finns. That number might seem like a drop in the context of India's vast ocean of people but compared to Finland's population of 5.5 million, it's a sizeable chunk.
Uusimaa is the worst affected province in the raging spread of the pandemic Coronavirus (COVID-19) and accounts for an estimated two-thirds of the total of 915 cases (at the time of writing) and five deaths. At an all-party meeting, Marin and her cabinet debated whether shutting down Uusimaa would impinge on the deep freedom, independence and autonomy that Finns have constitutional rights to. The negotiation took time and then, after nearly three days, the Finnish Parliament approved the requisite changes in the law to enable the lockdown for a period of three weeks.
Finland treasures the rights of its people and its democracy is driven by consensus among parties ranging from leftists to centrists to right wingers. The good thing is at the time of national crises, these ideologically opposed parties manage to bury their differences and come together for the greater good of the people. The Coronavirus' spread, like anywhere else in the world, has been an unprecedented crisis in tiny Finland. But a quick resolve to take measures has borne some fruit. The spread of the virus, at least till date, has been limited to some of its 19 provinces, while others have been largely spared its onslaught.
Yet, the measures have been effective. People have been advised to socially distance themselves; not gather in crowds of more than 10; avoid public places and restaurants and bars (most of which have been shut down); and stick scrupulously to personal hygiene such as frequent washing of hands. Self-isolation and quarantine for citizens coming back from abroad has been recommended and are largely voluntarily being followed strictly. In Finland's cities—small as well as big ones—you see hardly any people on the streets but shops are stocked with food and other essentials. In the initial weeks, some panic had set in (not unlike in many other places in the world) and people were frenetically shopping for food, toilet paper and other items of daily use. But once they realised that supplies were not going to disappear that panic abated.
Finland and India can never be compared. Besides their incomparable sizes of population, Finland is a rich country. Per capita income (in terms of purchasing price parity) in Finland is over US$45,700; India's is 7,060. Finland's free universal healthcare, free education, and social security system is among the world's best. And, to boot, in the past two years, the country has ranked as the happiest nation in the world in a survey that is adjudged as credible. But then Finland is also a scarcely populated country: 19 people per square kilometre; contrast that with India's 420 inhabitants per square kilometre. Also, that average figure is weighted by the cities. The fact is that nearly 74% of Finland is under forests.
Such demographic advantages help when a crisis such as Coronavirus hits. Finnish hospitals and health-care centres are well-equipped. Food supplies are adequate and there is, at least till now, no reason to fear a collapse of those essential services. Statistical models suggest that in the next four to six months the virus could mean that 11-15,000 Finns could be hospitalised, but the authorities are trying to take measures to stagger the possible spread so that it would ensure that no more than 900 people. The Uusimaa lockdown is a step in that direction.
Like in many other countries, the Finnish army is also on standby. Finland has compulsory conscription for young men (for women it is voluntary) and if needed conscripts and other trained personnel could be summoned to help in the containment measure that the virus' spread would require. An example of the quick response: as soon as the death toll and incidence of infections increased, the government swiftly doubled the healthcare system's intensive care facility.
But there are other scares. The virus scourge could contract the nation's economy by 5%. Finland has a GDP of US$ 251.9 billion that has been growing at an average of just under 3%. But the virus' impact has already cost 100,000 jobs and that puts pressure on the social security net. Moreover, it is vastly different from India in terms of its population distribution by age: the average age of its population is 42.5 years (in India it is 26.5) and 1.2 million of its 5.5 million population is above 65. As many as 1.46 million Finns are entitled to pensions. Already, the Finnish Pension Alliance, Tela, has said that the coronavirus-related fall in the markets has wiped out Euro 20 to 30 billion off pension firms' investments. This could put pressure on sovereign debt and also perhaps affect people's individual budgets.
The coronavirus' impact in Finland (as in the rest of the world) could impact its economy and its citizens for a prolonged period even after the pandemic subsides. A couple of days back the Finnish government announced a Euro 15 billion package to prop up the economy by helping businesses and individuals and this could adversely affect state debt. But as Prime Minister Marin said that was a secondary consideration. "We are not thinking primarily of how much additional debt the state will have to take on," she said.