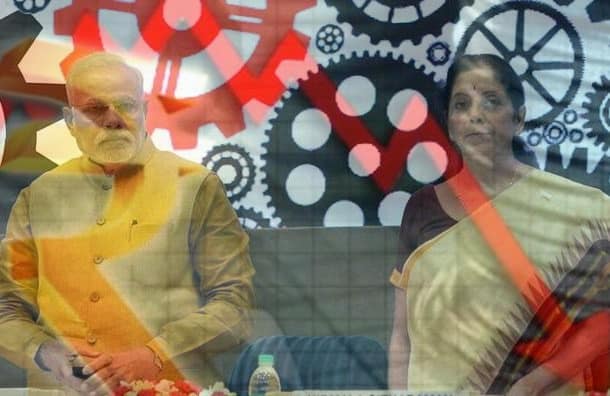 OPINION
OPINION
How To Pull Indian Economy Up By The Bootstraps
<![CDATA[
Boosting consumer spending; incentivising investment in manufacturing; and pro-active wooing of foreign capital are three things crucial to jump-starting India's economy
When former Indian Prime Minister Manmohan Singh made some dire observations on the state of the Indian economy recently in a video statement, it wasn't surprising that a Bharatiya Janata Party spokesperson would quickly label him as being "a puppet" who was being used by people behind the scenes (read: Congress leaders). Such facetiousness is not unexpected of BJP spokespersons whose flippant one-liners serve little purpose than to make a mockery of the very people who utter them. Dr Singh is an accomplished economist with a distinguished career—besides being prime minister for two terms, he has been India's finance minister, governor of India's central bank (the Reserve Bank of India) and has headed the erstwhile planning commission. When Dr Singh speaks (and he rarely does) on the economy, it would be wise to listen.
In his statement, released to the press and aired on news TV channels, Dr Singh attributed the Indian economy's travails—slow growth; lack of investment; demand, and jobs—to an "all-round mismanagement" by the Modi government. In the last quarter, GDP growth had sputtered to 5%; the manufacturing sector's growth had dropped to an abysmal 0.6%; and companies had to resort to large-scale lay-offs (in the auto sector alone, an estimated 350,000 people are estimated to have lost jobs).
Dr Singh called the poor state of the Indian economy a manmade phenomenon and blamed a number of decisions that were taken by the Modi regime during 2014-2019 for the economic debacle, particularly actions such as demonetisation and a haphazardly-implemented Goods and Services Tax (GST) regime.
While the Modi government, now into its fourth month in power after it was re-elected should heed voices such as Dr Singh's, here is a road-map that could significantly help in getting the economy back on tracks.
Reviving consumer demand. There are no sure-fire quick-fix solutions to boosting consumer spending but a number of factors can be made to act together, complementarily, to increase consumer confidence (currently at a low level in India) and make people fork out for consumer products. Chief among them is the interest rate. India's monetary policy has in the past six years been weighted towards tackling inflation, which spiralled out of control in 2013. However, inflation rates in recent years have been moderate—and they now hover at levels lower than the 4% that the central bank thinks are normal. This could be a cue to reduce interest rates in order to boost demand and consumer buying.
Selective tax cuts on goods and services, property, and other indirect forms of taxation could also help in boosting spending and, thereby, mitigating the resulting loss in revenue from tax cuts by the increased volume of transactions.
Increased government spending is yet another factor that can have a multiplier effect on the economy and lead to a rise in overall spending. The government has recently been handed a windfall of Rs 1.76 lakh crore by the Reserve Bank of India but as of now there is little public awareness of what it plans to do with that. Could it not be channelled into government spending and, therefore, create ripples of upbeat consumer confidence all-round?
Increasing domestic investment. One of the Indian economy's biggest problems is that its manufacturing sector has remained sluggish for a prolonged period. Industry contributes less than 30% of India's GDP, while the services sector contributes nearly 55%. During the Modi regime 1.0 several big plans, including the "Make In India" scheme, were flagged off. But this has led to little in terms of outcome. Partly the decline in the manufacturing sector's growth is on account of the travails of small and medium sized enterprises, which were hit hard by demonetisation and the complexities of the new GST system. While demonetisation cannot be reversed, it is possible for the government to take a close look at GST and see whether it can be further simplified.
Lower interest rates too will obviously boost manufacturing as will the measures to increase consumer demand. The central government could also work with states to see how each of them could incentivise domestic investment in manufacturing—either by proffering tax reliefs or other incentives. Japan's manufacturing boom in the post-World War II era was catalysed by its powerful Ministry of International Trade and Industry (MITI), which worked closely with different Japanese industries to grow markets for Japanese products—both domestically as well as globally. India has the NITI (National Institution for Transforming India) Ayog. It replaced the earlier Planning Commission and works mainly as an advisory think tank. It may not be a bad idea to make NITI work like MITI did in Japan during the 1960s and 70s.
Encouraging foreign investment. India liberalised its policies on foreign direct investment (FDI) in 1991 and since then, in absolute terms, FDI has increased year-on-year. But in recent years, despite the government's attempts to attract more foreign investment—both direct as well as through equity infusions—the growth rate of FDI has faltered. A good measure of FDI growth is by looking at foreign investments as a percentage of gross fixed capital formation (GFCF). And here's the bad news. Gross FDI as a proportion of GFCF has actually dropped sharply in India: from over 32% in 2008-09 to a little over 8% in 2018-19. The government may tom-tom the "success" of its Make In India and other incentives but the numbers speak volumes.
Recently, foreign investment was opened up for the coal sector. And foreign investment limits were relaxed for retail businesses and for online media. However, those may not be enough to boost FDI significantly. India's coal has lower calorific value than in many other countries; besides, although India has the world's fifth largest coal deposits, global concerns about fossil fuel and its environmental effect have dampened the enthusiasm of multinational energy giants in expanding their coal businesses.
The need of the hour could be to actually form industry-government alliances in India that could target specific groups of foreign investors by way of roadshows where the objective should be to seal deals and hammer out incentives such as tax rebates. What India needs now is more than a flurry of announcements. The government-industry alliances could be sector-wise, or even as initiatives by separate state governments with leading businesses in their respective states. What India needs now to boost the economy is not a flurry of announcements at hyped-up press conferences, but focused and single-minded action.