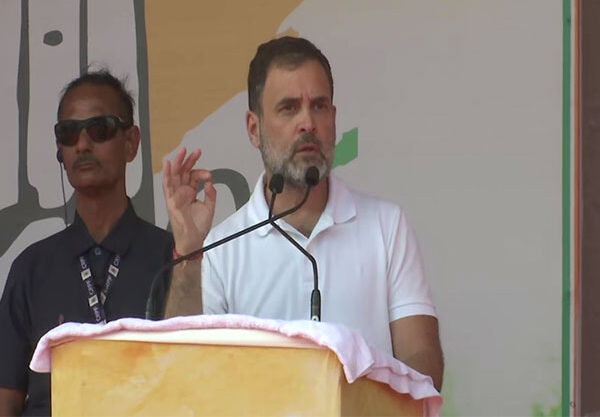 LM NEWS 24
LM NEWS 24
Huge Debt Of Businessmen Written Off, Farmers Harassed Due To Policies Of Centre: Rahul
Congress leader Rahul Gandhi on Sunday said that Congress is not in favor of the notion of two distinct Indias, wherein the debts of affluent businessmen and industrialists are forgiven and on the other hand farmers are being harassed by banks based on the policies of Prime Minister Narendra Modi.
Rahul Gandhi outlined the party's commitment to an inclusive India and criticized the disparities created by the debt relief for the wealthy and the challenges faced by farmers.
Addressing an election rally in Dausa, Rahul Gandhi said, "Congress Party gave you seven guarantees. We want an inclusive India. We don't want two different Indias. There is one India where lakhs of debt of businessmen and industrialists are getting written off. Then there are farmers who are harassed by banks due to policies of PM Modi."
Rahul Gandhi further accused PM Modi of adopting an opportunist approach in dealing with the issues and challenges faced by backward castes.
"PM Narendra Modi says that there is no caste; there are only poor. When the time came to give rights, then there is no caste and when it is time to promote fighting, then there are OBCs and Dalits," he said.
Earlier today, PM Modi targetted five years of Congress' rule in the poll-bound state of Rajasthan and said that its leaders have "spent in running each other out".
Addressing a congregation of people in Rajasthan's Churu district, the Prime Minister said, "Nowadays, the whole country is filled with enthusiasm for cricket. In cricket, a batsman comes and scores runs for his team. But there is such a fight among the Congress party that these people are busy running each other out."
Rajasthan is set to hold elections on November 25.
The counting of votes for the Rajasthan Assembly will be held on December 3.
In the 2018 assembly elections, the Congress won 99 seats, while the BJP finished at 73 seats in the 200-member House. Gehlot took the oath as CM with the support of BSP MLAs and independent legislators. (ANI)
For more details visit us: https://lokmarg.com/