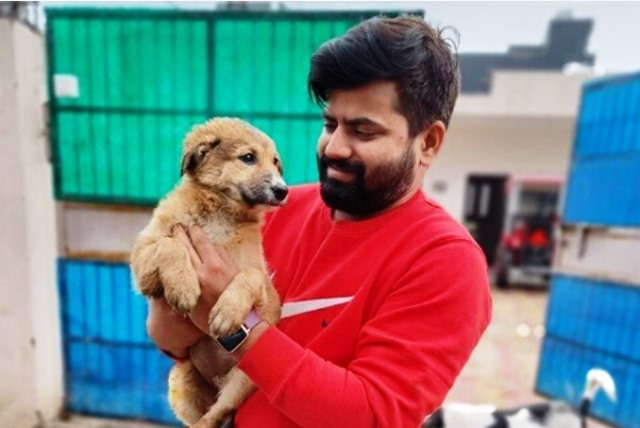 LOK ISSUES
LOK ISSUES
'Humans Must Come Out To Help The Voiceless In A Flood-Like Situation'
Vidit Sharma, a Noida-based animal rights activist, says all compassionate humans must come together to rescue stranded animals during a natural calamity. His views:
Flooding can indeed be a devastating natural calamity, and the bravery of those who volunteered to save humans and animals stuck or stranded in water are commendable. Our Animal Welfare Project has been serving the strays of Noida and various locations with dedication and compassion. So, when the rising level of Yamuna recently wreaked havoc on Noida and Delhi floodplains, we extended our support to the animals affected by the calamity, providing them with much-needed relief and care.
It is heartwarming to know that we were not alone in this noble work. There are many other good Samaritans who selflessly and tirelessly worked during these tough times. In a world where humans often take center stage, there exists a devoted team committed to making a difference in the lives of animals.
During such floods, animals often find themselves in life-threatening situations, trapped in rising waters and in urgent need for rescue. Our team has been working to ensure that post-rescue these animals receive the nourishment they require. We have managed to feed thousands of strays daily, distributing food to various locations where these animals seek refuge.
Our work is not restricted to saving only the canine. Cows, a revered specie in our culture, are often left to fend for themselves in urban areas. Recognizing their plight, our project has taken up the responsibility of caring for hundreds of cattle. Our team provides these bovine creatures with food and water, aiming to improve their quality of life and promote compassion towards them.
When floods struck the Yamuna floodplains in Delhi and Noida, our hearts went out to the animals struggling to survive amidst the disaster. Our relief and rescue efforts for animals became a top priority. We initiated feeding and rescue operations for both cattle and dogs affected by the disaster.
ALSO READ: Flood Victims Return To Camps As Yamuna Rises
Hundreds of distressed dogs were rescued during the floods and shifted to a safer location. Taking upon ourselves the responsibility to feed and provide support to these rescued animals, we ensured they received the care they deserved in the aftermath of the disaster.
Our project's dedication is evident through the deployment of a special food van that reaches hundreds of strays in various locations. This mobile support unit provides the much-needed nutrition to these animals, ensuring they do not go hungry in their time of need.
Animal welfare is a mission which is very close to my heart. While several organizations tirelessly work towards human welfare, the cause of animal welfare often receives less attention. We recognized this disparity and took up the mission to serve thousands of strays, ensuring they are not forgotten or neglected.
Our Project stands as a shining example of compassion and dedication towards the voiceless creatures who share our living space. Through feeding the strays and taking care of cows during flo situations, we strive to make a significant impact on the lives of these animals. As we continue our mission to serve the animals in need, we call upon others to join us and become a part of this noble endeavor. Together, we can create a brighter, more compassionate world for all beings, big and small.
As told to Deepti Sharma