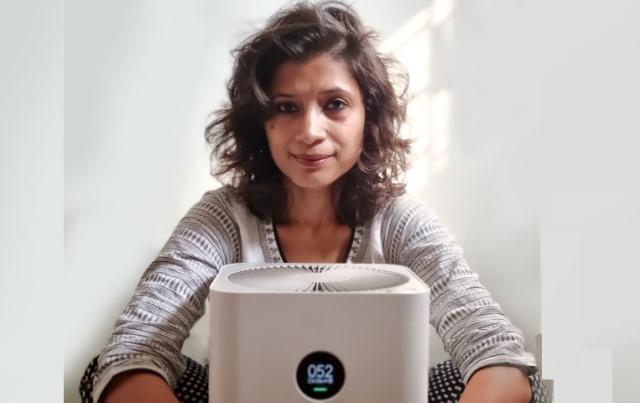 LOK ISSUES
LOK ISSUES
'I Am A Pollution Refugee, Forced To Migrate From Delhi'
A Delhi citizen all her life, Priyanka Gera was forced to leave a well-settled living due to worsening air quality in the city. Gera says she has lost hope of seeing any improvement
I grew up in Delhi. I was a pure Delhiite until the birth of my daughter when I could no longer ignore the air pollution in Delhi. My husband was perpetually anxious about her wellbeing. We bought an AQI monitor and put air purifiers at every room in our house.
During winters we didn't send her to pre-school on most of the days because the AQI used to be severe. We would escape to a hill station around Diwali. Then came a point when we no longer wanted to adjust our lifestyle according to pollution levels.
We started wearing N95 masks in 2018-19 while venturing out. Now masks are mandatory due to the pandemic and I find it funny that people still won't wear masks despite the Covid guidelines, leave alone the poor air quality.
As the situation got worse by each passing year, in 2019, we took the tough call to leave our families, social circle and well-set careers and move to Bangalore for the sake of a better environment. Most people can't do that or won't do that – leave their well settled lives because of a danger that they don't think is clear and present. So, they tell themselves various things to live with it, most vague of these reasoning is that somehow, you'll develop strength or a kind of immunity in your body to adapt to pollution as if it were some ordinary flu germs. Yes, it's true, I have heard this from so many people in Delhi!
Having lived in Bangalore for two years have done just the opposite. Now, every time we come to Delhi to visit our families, we get unwell. I wake up coughing every single day. No, it's not Covid-19, it's another lung killer that we choose to ignore – pollution!
I don't know why most people are not anxious about the pollution affecting quality of their life. People like us are exceptions, who are willing to uproot themselves because we've lost hope that it can ever improve here.
Surely the government and agencies have been aware of the potential crisis since decades, that's why CNG was introduced and Metro was planned. All industries have been sent out of Delhi. The problem is not just Delhi, it's very much there in the neighbouring states too.
Government action is but all 'reaction' – nothing much is being done proactively. It takes the Supreme Court to give ultimatums to Delhi Government to take steps, now construction has been halted, schools are shut etc.