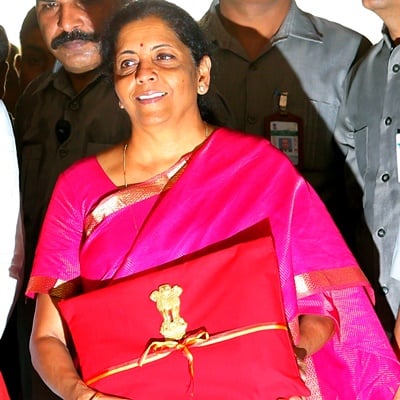 LM NEWS 24
LM NEWS 24
I Am Aware Of The Issues Of Middle Class: Sitharaman
Ahead of the Union Budget, Finance Minister Nirmala Sitharaman said she "identifies" herself as middle class and also understands the problems faced by that section of the people.
"I belong to a middle class and identify myself as a middle class so I can understand them. Modi govt has not levied any new tax on the middle class in any budget so far. No tax levied on people who earn a salary up to Rs 5 lakhs," Sitharaman said, in an interaction with RSS publication 'Panchjanya' on the theme 'Baat Bharat ki' on Sunday.
These remarks came days before the Union Budget for 2023-24. The government is in the process of finalizing the Budget document to be presented on February 1.
"I can understand the pressures of the middle-class section of people. I identify myself with the middle class so I know. The government has ensured no new tax is imposed on them, launched metro services in 27 cities (for better mobility)," she said.
In addition, she noted that requisite funds were being released for the development of 100 smart cities, which she said will help people who migrate to big cities for business and employment.
"Will these initiatives not improve the standard of living? Yes, I have not directly transferred money into the pockets of the middle class but these facilities (are helping them)," she added.
Moreover, on the matter of freebies by political parties, she said parties should make provision in their Budget for the freebie they wish to promise, taking into account the financial condition of their state.
"The question is not what is a freebie? The question is whether the promises made by political parties before elections can be fulfilled considering the financial condition of the state. Political parties should allocate in their budget for the freebie they promise," she said in Hindi.
Moreover, speaking about how India came out of Fragile 5 economies, she said India's economy has undergone significant changes since 2014, which has led it now become the fastest-growing economy in the world.
The term Fragile 5 was coined by a Morgan Stanley analyst in 2013 and refers to a set of five emerging countries, including India, whose economy was not doing well then. The other four countries were Brazil, Indonesia, South Africa, and Turkey.
"In 2013, India was among the 'Fragile Five' economies of the world. However, since Modi govt came to power in 2014, India's economy has undergone significant changes that have led to it now being the fastest growing economy in the world," she said.
The formal exercise to prepare the annual Budget for the next financial year commenced on October 10.
Budget 2023 is likely to be the last full budget of the Modi government in its second term with the next Lok Sabha elections due in April-May of 2024. (ANI)
Read more: http://13.232.95.176/