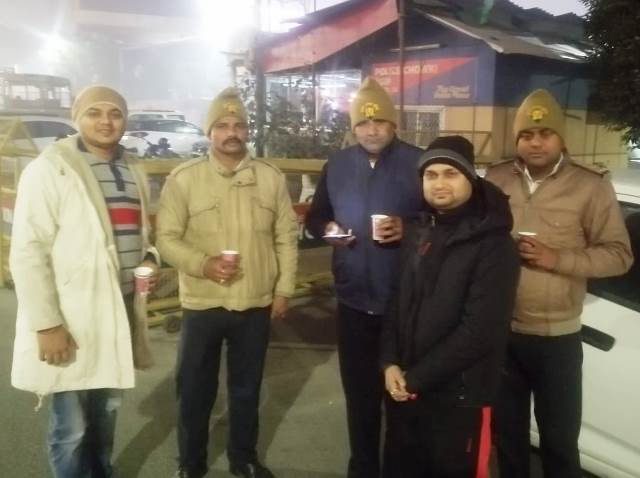 LOK ISSUES
LOK ISSUES
'I Celebrate New Year Eve With Cops On Duty'
When revelers hit the streets to celebrate New Year Eve, Ajeet Pandey, 33, from Noida has chosen to serve piping hot tea to policemen on duty. He sees it a humble gesture to acknowledge a thankless policing job
Five years back, I was returning from a New Year Eve's party with my wife from a friend's house in Noida. I was barely three kilometers from home when the one of the tyres of my car flattened and I pulled over. As luck would have it, even my spare wheel turned out to be punctured.
Stuck on a Noida road at one o'clock in the night with one's wife is not exactly a pleasant thought. Suddenly, out of nowhere, two policemen on a patrol bike approached us. As we explained them our situation, they immediately called for assistance and got our tyre fixed. One of them, in his late forties, suggested me to always double check the spare tyre if venturing out at night with family. I thanked them wholeheartedly and went home.
That was the time I realised how important a policeman is for our society and how difficult their job is. These must be sipahis, constables, ASIs (assistant sub inspectors) and sub inspector level officials who do not earn a fat check from their job but forego all festivals in the line of duty and we the residents of this metropolitan city, remain thankless.
At that moment I decided that I will visit policemen who are on duty at every festival. The next evening, when revelers were on the streets of Noida on January 1st 2015, I prepared three flask full of tea, packed up 100 paper-cups, a dozen biscuit packs along with some chips and drove around the city for hours. I randomly visited policemen who were working late in the bone-chilling weather and offered them piping hot tea.
I was amazed to see the reaction from the cops. They were happy and grateful with one cup of hot tea and some biscuits. Actually, they were happy that the residents of this city thought about them. It was a small gesture but it won hearts of the cops and I too returned satisfied with the act.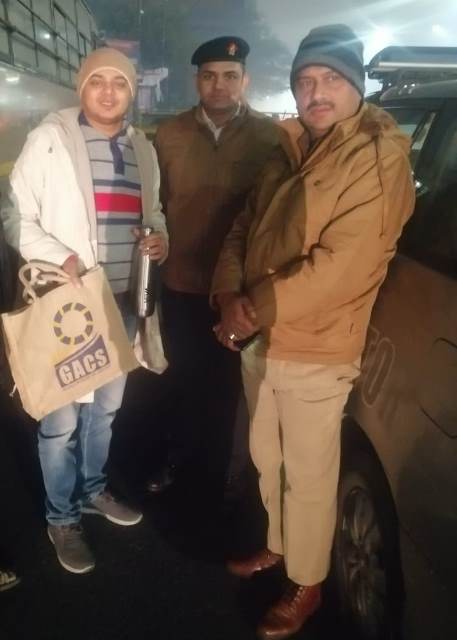 Since then, I visit policemen on duty at all possible festivals to serve them tea and snacks. This New Year's eve also, I visited many policemen on night patrol with tea and followed it up the next evening too.
If we keep calling the cops with all the bad names that are popular in the culture, how can we expect them to keep us safe? If we thank them at least once a year for their service, it will change the perception of a policeman. If someone is in trouble, the first relief comes in the form of Khaki. This is the truth.
So, why do we shy away in thanking them? Why can't we celebrate our festivals with those spending nights on the streets to keep us safe? This is a very small gesture and if all of us start following this, there will be a drastic change in policing and police- people relationship in India.