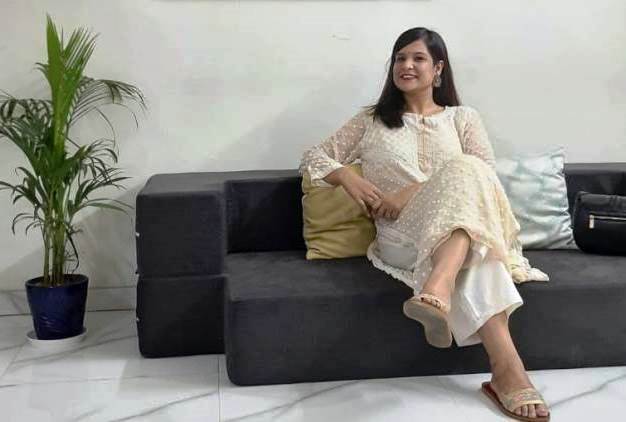 LOK ISSUES
LOK ISSUES
I Celebrated My Diwali With Nebulizer & Medicines
Megha Diwedi, 27, a resident of Greater Noida West, says that Diwali, once her favourite festival, has turned into one of her biggest nightmares
As I was gearing up for the festival lights this year, the slight nip in the air had started weighing down the pollutants. Northern India couldn't keep away the dreaded smog that envelopes during this time of the year, with several cities reporting 'very poor' or 'severe' air quality starting October 2022.
On October 24, the Diwali day, around 8 pm I began to cough heavily, with trouble in breathing and redness in the eyes. In panic, my husband rushed me to the nearest hospital where we saw a rush of patients at the emergency with respiratory conditions, infections or allergies triggered by air pollutants.
I was diagnosed with bronchitis, and advised to stay indoors with four times of nebulization daily and several other medicines. So, this was my Diwali, 2022 struggling in the hospital to breathe.
I hail from Uttarakhand, a hill state with crisp air and zero pollution. During my childhood days, Diwali was the biggest festival of the year and preparations were made on a mega scale. I have rich memories of Diwali amid lush green surroundings when after the evening pooja, children will gather around to burst the firecrackers. We played with burning snakes, phuljharis and chakris.
Now the same firecrackers give me a shudder. Media reports says Delhi-NCR has witnessed a spike in cases related to chronic obstructive pulmonary diseases from mid-October this year. And the reason is worsening air amid stubble burning and firecrackers. There is a ban on both activities but the violation continues with impunity.
ALSO READ: 'Diwali, Farm Fires Bring An Annual Nightmare'
Add to this industrial emissions, vehicular pollution and construction dust, and you get the recipe for a health disaster. Experts say that exposure to the air which we breathe in NCR can trigger anxiety attacks among cardiac and respiratory patients; among the healthy persons, it can cause intermittent wheezing, sore eyes and headaches. The irony is we all know this, yet year after year we face the same situation. Political leaders are busy playing the blame game, the public be damned.
There is a lot of construction around the place where I live. There is a four-storey hospital coming up at one side; a two-storey market right next to it and an under construction school on another. Every day we end up coughing our lungs out, itchy eyes due to the immense amount of dust and other kinds of toxins in the air. At times, I wonder when there will be an end to it; when I will be able to breathe the air of childhood days!
Every day in the news we read about Delhi-NCR's air quality getting worse at an alarming rate. Yet our government only pays lip service to it; outdoor activities in schools remain unabated; construction sites still functional. Seeing all this I feel like running away to my hometown. Alas! I have purchased my dream home in this concrete jungle, my livelihood is in this city and that means I am doomed to breathe this poisonous air every day.
As told to Deepti Sharma