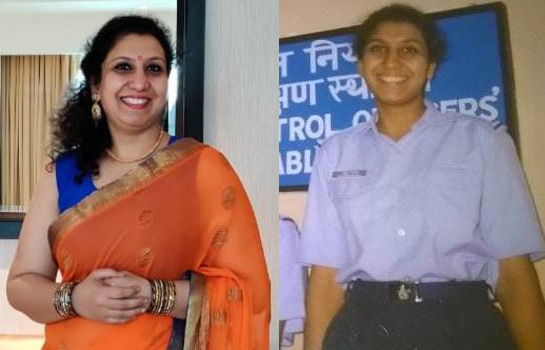 LOK ISSUES
LOK ISSUES
'I Didn't Face A Single Instance Of Sexism In Air Force'
Madhur Handa Dubey, among the first women batch to join Indian Air Force ATC, is happy to see lady officers like Mawya Sudan taking up the role of a fighter pilot now. She recounts her days in uniform
I was raised by an officer and a gentleman. My father served in the Indian Army for many years and thus we knew how to be treated right. My mother was a Professor in Khalsa College, Patiala, when militancy was at its peak. I saw the same fearlessness in her eyes that I saw in my father's. I inherited that courage and it finally found expression in the Indian skies. For 11 long years: from 1996-2007.
I was pursuing my PhD in Zoology when the government decided to induct more women in the Services. They opened up the ATC (Air Traffic Control) Branch to women in mid-nineties and I took the SSB Exams.
When I cleared my exams, I saw proud tears in my father's eyes. He had wanted a son only if to see him serving the nation in uniform. So when I, his second child, cleared the exam, his happiness knew no bounds that someone in the family would carry his legacy forward.
I was among the three women who had been selected from a pool of 123 candidates. The rigorous selection process, the tough interview rounds and the discipline was a heady mix. So it was a huge morale booster for me when I cleared the interview round. Finally after a few days I cleared the medical round too.
We were the first batch of women who were inducted in the department. There were nine men and 34 women who would help control the Indian skies.
During training we matched the men neck and neck in all the activities and we were never treated sub-par by anyone. We were praised at every single step of the way if we did good work, just like the men. Our safety was fully taken care of. I try hard to recall but I can't remember a single instance of gender discrimination or sexism at my workplace.
This doesn't mean that I am decrying or negating the experiences of other women who might have gone through it, for example Gunjan Saxena. I find her story valid, but I find my own story just as valid too. I think stories of discrimination, sexism etc should never be clubbed together. Each woman's story in each sector is valid. Corporate settings can be grounds for as much discrimination as the forces.
After hanging up my uniform I started working in corporate settings and my experience has been good here as well.
In Air Force, there were times when fighter pilots told me that they found my voice soothing and it helped them keep their calm even more during highly-tense situations. My husband, who is currently serving as a test pilot in the Air Force would attest to that. Women are definitely an added welcome to the forces. The high point of my career was when I handled the movement of the fighter planes during Operation Parakram (2001-2002). I am so proud of having served my nation all these years without fail.
I got married while I was in the Air Force and had my children too while on duty. But I kept working till my due date both the times and no one had to cover my shift during mornings or late nights. The only change I wish is they had better infrastructure. I had to climb seven-eight flights of stairs during my pregnancy to get to my office. It would have been nice to have a lift.
As more and more women are being inducted into combat roles (the number of women officers has increased three-fold in the last 6 years), I feel very happy. A lot of my relatives and friends' kids have joined the services and many more are planning to do so. With youngsters like Mawya Sudan from Jammu & Kashmir leading the way, we can be sure that the skies are truly opening up.
As Told To Yog Maya Singh