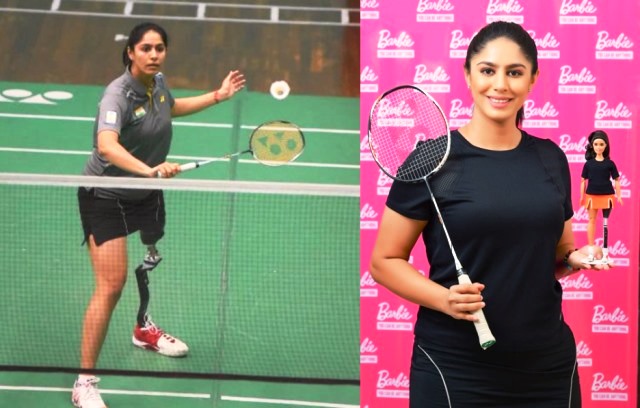 LOK ISSUES
LOK ISSUES
'I Don't want Segregation; I Want Access & Acceptance'
Manasi Joshi, the reigning Para Badminton World Champion who has a Barbie doll modelled after her, narrates her journey and the challenges ahead
I was 22-year-old when I met with a horrific road accident. I was fresh out of college and working as a software engineer. Like any callow youth, I wanted to work hard, earn a decent living in Mumbai, go for higher studies and settle down. The accident changed it all.
While recovering in hospital, I accepted the new reality. Thanks to the support from my family and friend, I didn't get into a self-sympathy phase. I understood that it was a struggle but people fight and I will move on with it too.
Playing badminton also helped. I had played the racket game since my school days to the corporate world. I was undergoing the rehab then and playing the sport helped me balance better, move swifter. It also took my mind off a few issues which I had started worrying about.
My first faceoff with reality came post-recovery. As I resumed office, I noticed that people's perception had changed; I was viewed as a lesser person because I lost a leg. I understood that this is how I would be treated in future, and this needed to be changed.
My hours on the badminton court extended. One thing led to another and I started participating in corporate level tournaments, followed by state level championships. I also started posting my pictures on social media and made new friends. Some of these friends encouraged me to move up in competitions. Eventually I played my first Nationals that was held in Mumbai and won a silver medal. In 2019, when the last Para Badminton World Championship was held in Switzerland, I bagged the Gold.
It is not easy to be a para athlete, reach to your highest level and still keep on fighting for your rights. The victory gives only a onetime push: we are written about; rule the social media for a few days; and eventually it dies down. The able-bodied athletes are recognized through the year, have sponsors and ministry supporting them. Para athletes aren't so lucky. At times most struggle with finances for basic training.
I have always been an opinionated person but today I have the privilege of voicing my opinion. If I have a disability, I do not need segregation; I want inclusion, access and acceptance. I demand change in social attitude, affordable high-end equipment and aids, equal opportunity in education, employment and healthcare. They say these are apples for you. But other people are getting mangoes, and I too want mangoes.
I don't want to say 'I wish I had accessibility'; I demand that accessibility. If I cannot go to a particular venue it means I am not allowed to access it. And that is not my failure, it is the failure of the so-called 'abled' who could not get that arranged.
I want to live in a world where people with disability are not living on social security but as taxpayers to the state. Of course, we don't have social security anyways. People with disability are an invisible minority which is never spoken about because they are not considered a vote bank.
Not all is lost, though. Last year a Barbie doll was modelled after me. When I received the one-of-a-kind doll mode, I was filled with gratitude for the manufacturer. I realized it is not a conversation starter but a conversation supporter. It gives young girls hope to be limitless, to chase their dreams. This is how we start inclusion… by encouraging young children to believe in it.
As an athlete I want to reach to a level where no one faces any kind of discrimination in sports. Currently it so happens. My journey in the field of para sports has just begun. I want to grow and become better. I want to be a contributor to the disability rights movement in India in whichever way I can.
As Told To Mamta Sharma