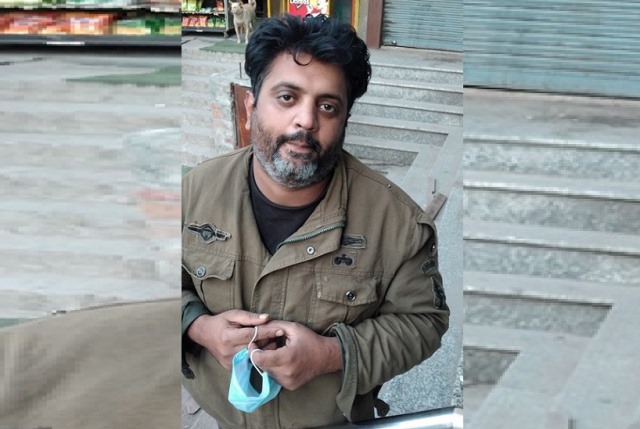 LOK ISSUES
LOK ISSUES
'I Know Little About Economy, But I Am Managing Fine'
Naveen, 39, who sells mobile accessories in a South Delhi locality, says there are hardships in life but he is happy and has no worries
Is the Indian economy in a crisis? Are thousands of people jobless? Is there hunger and poverty in large areas of the country? I don't know. It could be true. As for me, I have no complaints and I am happy with the economy and my life, and I have no great expectations or deep regrets. I live a humble life and I am able to manage.
I live in a simple DDA flat with my mother and relatives. Life has not been easy. However, I am able to cope with it all.
Standing here on the stairs, for long hours, shouting out to customers, selling my stuff, this is my comfort zone. Some ignore me, some buy my stuff. No one bothers me, and no one tells me to go away. I feel comfortable here, and many regular customers know me. I have no desire for a shop or a permanent job – as of now this work is fine for me.
I come here at 12 noon and stay back till late evening, even after dark. Most days I am able to make enough money, though it's almost 2 am today and I have not had a single customer. Sometimes, in fact, many times, people buy my mobile accessories. Some buy many plastic glasses in one go. I sell one glass for ₹5. If they buy 50 glasses, it comes to ₹250. In that case, I earn around ₹30 or more. I make enough to survive with my mother.
ALSO READ: 'Govt Claims On Economy Do Not Reflect In My Kitchen'
During the lockdown, thousands of people suffered. There were no jobs. Shops were shut. There was a universal crisis. However, I suffered no such crisis. I set up my make-shift shop outside my humble house and business was not so bad even during the pandemic and the lockdown. The cops were kind to me, and the area officers know me since I have been a child. So no one created any trouble for me. I was able to make some earnings even during that period of crisis. So, let other people say whatever – I really did not suffer so badly during and after the lockdown. I am happy with my little earnings.
I don't have big dreams. Of course, I too have aspirations like everyone else, but I am not really chasing the money to become a crorepati. I would be happy to continue standing here and selling my stuff in the days to come. Little is enough for me.
Do you want to take my picture? Let me tell you, I don't want any publicity (he wears his mask to block the picture). However, if taking my picture benefits you in some way, and helps you in your job, you are welcome to click my picture. (Takes his mask off). Thank you.
As told to Amit Sengupta
Read more: https://lokmarg.com/