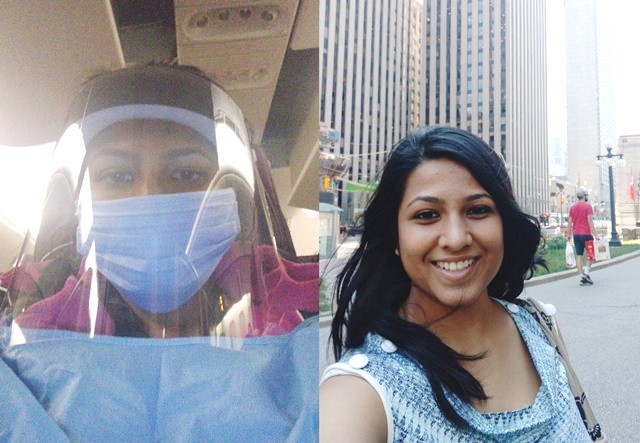 LOK ISSUES
LOK ISSUES
'I Moved To A New Country Amid Covid-19'
Sneha Agrawal, 28, had barely decided to settle down in Canada when Covid-19 struck with its full might. Agrawal recounts her relocation and the challenges it brought
Every year scores of people settle across the globe in search for a 'better' quality of life. Moving to a new country can be overwhelming and challenging. And a pandemic can add new risks to the journey. Yet, I decided to brave it with a leap of faith.
In normal times, one could seek help from a stranger in a new country. But Covid-19 ensured that I would have to figure out most things on my own. This included learning to use hi-tech equipment in your-apartment hitherto not used, like over-sensitive fire alarms, and operating state-of-the-garbage chutes. But thank God for YouTube tutorials.
Let's start from the beginning. In February 2020, I received an invitation to settle as a permanent resident in Canada and I too joined the list of the prospective immigrants. I had an 11-month window to convert the invitation into settlement. While I was mulling over this, Covid-19 was declared a global pandemic and international borders were sealed.
Initially, I was hopeful that the lockdown would barely last for a couple of months, but I was wrong. As days passed, more people found themselves in the grip of Covid-19. For me, the time was running out. Although the Canadian government assured that it would provide visa extensions to those who could not travel due to the restrictions, it also listed the category of visa holders that were exempted from the restrictions. Luckily, I fell under the exemptions.
I had two options – wait for the normalcy to return or use the available opportunity and land in Canada. For me, the option for a soft-landing (allows you to confirm your PR status and return to the home-country) was unavailable as only chartered flights were operating. And, one had to undergo mandatory 14-day quarantine upon landing.
As I came across the information on special flights to Toronto via Qatar Airways, I booked the tickets. I was still unsure of how I would comply with the mandatory self-isolation norm which required me to provide a fool-proof quarantine plan to authorities which included a residence proof and a blueprint of how I shall ensure food-supply.
Meanwhile, air tickets were flying off the counter. After many attempts, I managed to grab the ticket for July 29. I had 20 days to wrap my life in India and also found an accommodation in Canada to quarantine. I would have booked a 'bread and breakfast' but the prime condition of self-isolation required me to find a non-sharing space.
Though I did receive a few feedbacks that some of the bread & breakfasts were renting their space for quarantine but they mostly fell beyond the desirable budget due to additional cost of hygiene expenses.
After struggling through a set of over-demanding landlords, I found a suitable arrangement that not only complied with the pre-requisite for the quarantine but also fell in the budget. Between the packing and paperwork, another task was to ensure food and medical supply to see me through the quarantine.
Delhi International Airport, from where I were to board the flight, had set in place unprecedented sanitizing and security checks. The luggage was sanitized, and body temperature checked. But officials were efficient and processes swift.
My flight was completely booked. We were provided with a face shield, masks, gloves and a sanitizer. We were asked to wear face shield throughout the journey. Incidentally, this included a 10-hour layover at the Doha airport before boarding a connecting flight to Toronto. While all precautions were adhered to by the airline, every sniffle and cough inside the plane gave me a chill.
Even during the layover at Doha, while I would have gladly spent the time browsing through the retail stores in the transit area, I chose to quietly acquire a seat close to my boarding gate to spend the night. Finally, as the planed touched the Toronto runway, I said my prayers.
At the airport, the officials were quick at assisting the passengers through various formalities including the immigration where I had to lay out my thorough plan for quarantine. I stepped out of the airport, after a 28-hour long journey, with my 72 kg luggage and looked for cabs. Though I had read reviews on how easy it was to book cabs using the airport WiFi, I realised that only the credit card payment was being accepted due to Covid-19. Registering your Indian credit card for an international transaction would mean additional cost. After trying my luck with a couple of app-based cab services, I managed an Uber. Phew!
The ride from the airport to the apartment was relaxing. The driver and I chatted our way discussing the pandemic. As my quarantine began, the first few days were spent in trying to keep up with the time zone and figuring out the gadgets inside the apartment and garbage chutes in the corridors, to dispose of the piling trash.
The first week also landed me in a catch-22 situation where I had to make the tough call deciding on a call to evacuate the building over a suspected fire.
During my quarantine for 14 days, the apartment's balcony became my constant companion. I spent most of my time gazing at the outside world. As I prepare to set out my foot outside into the streets of Toronto, this entire experience has filled me with a newfound confidence and courage to take on what lies ahead.