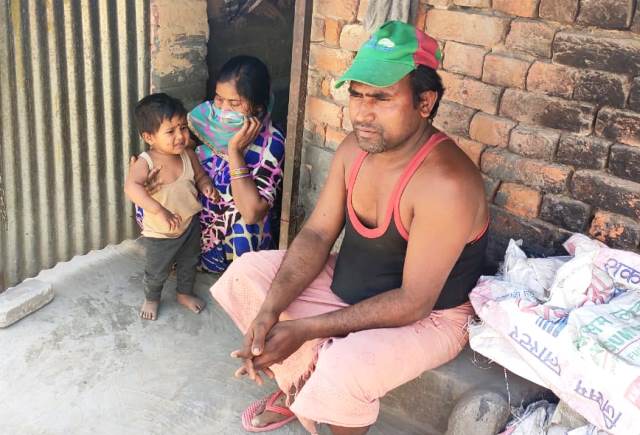 LM NEWS 24
LM NEWS 24
'I Want To Go Back Home, Uncertainty Here Is Killing'
Rameshwar Sahu, 29, lives in a tin shed with his wife Janki and one-and-half-year old child. A daily wage mason, Sahu is jobless since the Coronavirus lockdown was announced. Sahu seniors often go to bed hungry in order to feed the infant properly.
I belong to Bilaspur (Chhattisgarh) and want to go back home as soon as possible. But I am stuck here (Greater Noida) with my wife and our one and half year old child. It had only been six months since I got the job to work as a mason at a construction site here.
For the last three months, my wife and I were able to work consistently for 25 days a month. Together, we earned around ₹800 each day. We thought that we will work hard and save enough money for our child but our lives and dreams came crashing down with this virus outbreak.
When the lockdown was announced, I wanted to rush home like many others. So I went to my contractor the next morning but he said he had only ₹1,000 to spare for me and advised me to buy ration by that money. Going home, which is too far, with merely ₹ 1000 in hand was not a good idea. Especially when we have a young child.
My family is completely dependent on local residents and police to provide us food. There are many like us who are stranded and queue up before community kitchen every day. Life of a daily wager is tough. Seemingly, we can earn `20,000 a month, but that is not a fixed income. We earn money for days we work. If the work is stopped for a day, there is no earning. Payments are often delayed.
I am thankful to some groups of local residents who are helping us with raw and cooked food. But in the initial days, nobody was there to help and we faced hard time. We don't know for how long this will go on and when we will resume our normal lives.
The uncertainty is killing. There are thousands who live in the shanties waiting either to restart their job or go home. The only thing that stops them from going home is donations from some local residents who always refill the ration after a week.
People often ask why these labourers are going home. If they are so poor, what will they eat there? They don't understand that we live in a close-knit society in villages. We have our own houses, small piece of land on which we grow vegetables. There is family and extended family members to help. But here, we live in cramped houses, with no food security and without any money. Without help from local apartment dwellers, we could not have even survived thus far.