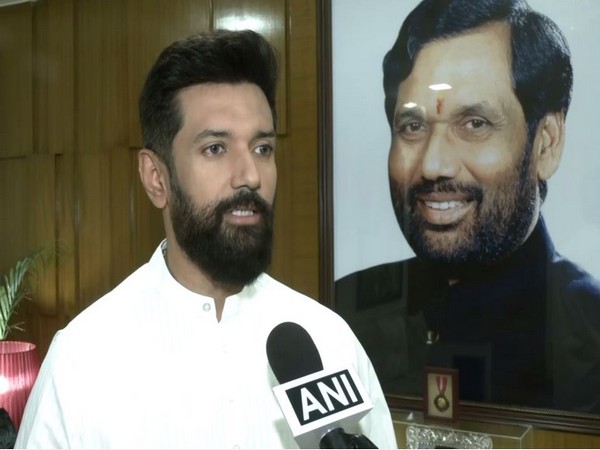 LM NEWS 24
LM NEWS 24
I Will Contest LS Polls From Hajipur: Chirag
Lok Janshakti Party (Ram Vilas) president Chirag Paswan on Tuesday said that he will contest the next Lok Sabha polls in 2024 from the Hajipur constituency in Bihar.
"I definitely say that I will contest the Lok Sabha elections from Hajipur only. It is not right to share the talks that took place with the BJP on a public platform but it is certain that Lok Janshakti Party (Ram Vilas) will contest the Lok Sabha election from Hajipur," Chirag Paswan told ANI.
"I don't think that there is a big challenge in Bihar because the credibility of Nitish Kumar ji has come under question mark due to change of alliance regularly" he added.
Chirag Paswan further told ANI, "The alliance which Nitish Kumar will be a part of only suffer losses".
Meanwhile, present Hajipur MP and RLJP chief and Union Minister Pashupati Kumar Paras said, "His (Chirag's) claim of contesting from Hajipur is baseless. I would like to advise him that he should not betray the people of his constituency and contest from his present seat."
Ahead of the NDA meeting today, Lok Janshakti Party (Ram Vilas) chief Chirag Paswan says, "All is well in NDA. Talks were going on for a long time. We had some concerns and discussions were held over it. Our aim is the 2024 Lok Sabha and 2025 Bihar elections."
Notably, Lok Janshakti Party (Ram Vilas) leader Chirag Paswan on Monday joined National Democratic Alliance (NDA) after meeting with BJP National President JP Nadda and Union Minister Amit Shah.
"Met Shri @iChiragPaswan ji in Delhi. They have decided to join the NDA alliance led by Hon'ble Prime Minister Shri @narendramodi ji. I welcome him to the NDA family," Nadda tweeted.
On Saturday, Nadda wrote to Chirag Paswan, inviting him to the National Democratic Alliance (NDA) meeting that is scheduled to be held on July 18, the LJP (Ram Vilas) informed through a tweet.
The Bharatiya Janata Party is to held a meeting with 38 parties of the National Democratic Alliance (NDA) in the national capital today to mark the completion of nine years of the Modi government.
Meanwhile, the 2nd day of the mega opposition meet was held in Karnataka's Bengaluru today.
The first day of the Opposition party's meeting started with the dinner meeting hosted by Karnataka Chief Minister Siddaramaiah on Monday. (ANI)
Read More: http://13.232.95.176/