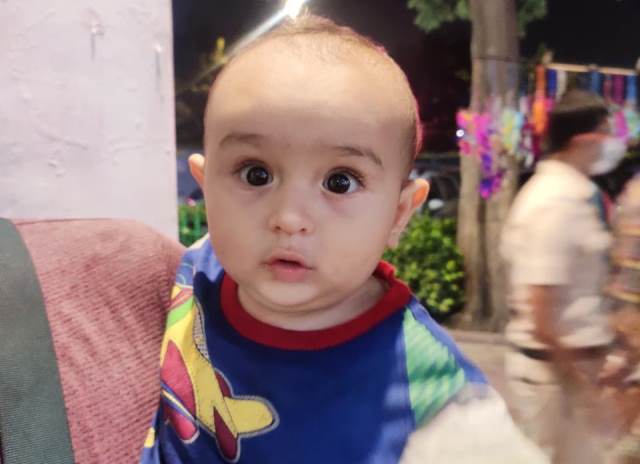 LOK ISSUES
LOK ISSUES
'I Wish Syria To Be As Safe For My Kids As Delhi'
Syrian national Mohammad Abu Yusef, 30, who came to Delhi for his wife's treatment, got stranded after lockdown was imposed and international flights suspended. His savings gone, Yusef is living on charity
I landed in Delhi nearly a month before the lockdown was imposed for medical treatment of my wife. Due to a bomb explosion in Syria, her ear had damaged and she had been facing difficulties in hearing. But right after the treatment was over, Indian government announced the lockdown in March. International flights were suspended and I got stuck here with three kids and a wife to take care of.
I have three children. Yusuf, the eldest one is four-years-old, Sham is two-years-old and the youngest Ahmad is eight-months-old. During the treatment, I had taken a one-room accommodation on rent near Apollo Hospital in Jasola area. As days turned into week, and months, and global travel remained in suspension, all my savings dried up.
Syria is a conflict zone. Sporadic fights keep erupting and there is not a moment of peace in people's lives. We had planned to not to return Syria after the treatment and seek refuge in any other nation. But due to the lockdown we are stuck and we don't know when things are going to be normal. All the countries who accept refugees have shut the asylum grants due to the raging pandemic.
I cannot speak fluent English and cannot understand Hindi, which has turned out to be a major problem in finding work. With limited ways of communication, I am unable to express things and seek help. Every time I sought work, I was offered charity. Indian people are generous, and thanks to their help my children never had to sleep hungry as we got enough donations to see us through. The neighbours are helpful and people often ask if we need any help, but uncertainty looms over our future.
I am totally depended on the charity here. To arrange money for food, we often go to the areas like Connaught Place where privileged people come for shopping. In simple or sign language, ask for food and money to pay rent.
I don't know for how long we can do this. I don't have any television at home but I get to read news through my mobile phone. I am really disappointed with the recent violence in Oslo. The residents of Syria need refuge to escape the violence. Such incidents will harm the entire population of war-torn countries in the middle-east seeking refuge in European nations.
Contrary to the middle-east, I found India a really peaceful country. Without any fear, I can travel to any corner of Delhi with my kid and my wife, who is always wears a burqa. I have not noticed any sign of discrimination or persecution of minorities here. It is truly a land that celebrates equality and freedom. I am grateful to this country and the residents of this city for being generous to my family. I hope our homeland will be like this sometime in future.
(Yusef refused to be photographed but allowed his son's picture to be used)