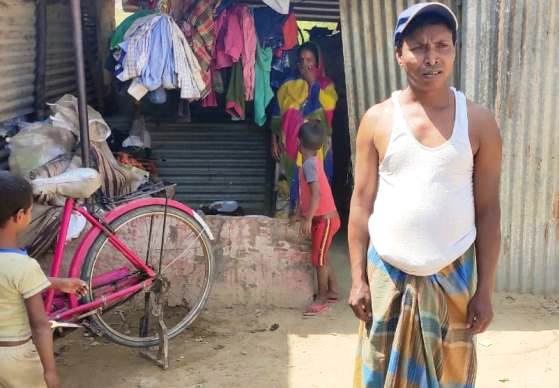 LOK ISSUES
LOK ISSUES
'I Wish To Work But Lockdown Has Made Me A Beggar'
Mehtab Ali, 34, a construction worker, lives in a makeshift shanty of Greater Noida West. Jobless after the lockdown, Ali is forced to live on charity
I came to Greater Noida five years back with my wife and two children in search of better livelihood. Life was not easy in West Bengal. We migrated to Greater Noida with the help of a local contractor, who provided construction labour to several builders.
My only dream is to send both of my children to school and give them a respectable life. I don't want them to become a labourer like me. Both my wife and I worked in the construction projects here towards that goal.
But as the market (real estate sector) dwindled, so did our income. Sometimes, projects were abandoned due to various reasons. We had little savings but were somehow making two ends when this lockdown was announced.
In less than ten days, we had run out of ration and our savings. Many of our fellow workers had left on foot but we cannot imagine reaching our native place with two young children.
Now we are totally dependent on the doles from the well-meaning residents in nearby apartment, police and the government which are providing basic supplies to the poor who have stayed put.
We don't want anything for free; we want to work and earn money; after all that is why we came here all the way from our hometown in West Bengal. There's nothing more heartbreaking than watching our children go to sleep hungry.
There are some community kitchens providing food packets here but they don't give more than one packet to one person. A family of four cannot survive in such a small quantity of food. We need ration and fuel to cook. That is all we need as of now.
We don't know what the future has in store for us. Will the contractors and builders give our jobs back after the lockdown? For how long will this lockdown will continue? The builders are rich people. We are the ones who built their projects with hard labour but in these difficult times they have abandoned us.
If we continue to live like this, we will be termed nothing more than beggars. We are labourers but we have self esteem. We don't want free food. The government must think about people like us. There are thousands like me who are left with nothing after they become jobless in one stroke.
When the strict lockdown was imposed, the police initially hounded some local residents who were trying to distribute ration. If the locals don't help us fearing the cops, then who will? The situation is critical for us. We didn't go home after the lockdown like thousands of daily wagers as we have small kids and our home is too far to be walked on foot. But if we are forced to live like this, we will have no other option than walking back home with our kids.