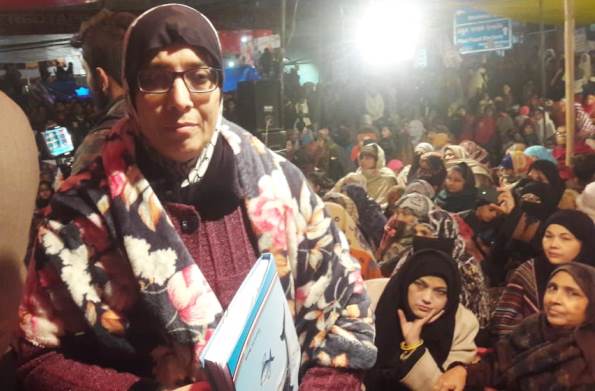 LOK ISSUES
LOK ISSUES
'If Amit Shah Can't Budge On CAA, Shaheen Bagh Won't Either'
Shaheen Kousar, a 44-year old protester at Shaheen Bagh, tells LokMarg why Muslim women have come out to resist Modi government's move on Citizenship Act and National Register of Citizen
Yes, I am Shaheen from Shaheen Bagh. And I, along with many other women, have resolved to take this battle forward with my faith and inner strength. The Modi government has to listen to what we have to say about CAA-NRC. Is the government wondering as to why the Muslim women who did not take to streets even when the Triple Talaq Bill was brought in, have now come out in such a strong manner? Because now the very existence of our children and our own existence and this country's social fabric is at stake.
Our protest site is located near NH-24 and is known as the Shaheen Bagh Highway. While some people are complaining that our protest is affecting traffic, many other people from other parts of Delhi are coming to us and interacting with us and telling us that they support us.
It is heartening to see that people from all religions are showing their love and support to us. It's not like we don't feel cold and tired. We go home only for 4-5 hours every day. But till the time we are at the protest site, people who have their residence near the site have opened their homes (including their kitchens and washrooms) for us.
People used to say that in big cities people don't even interact with their neighbours, but look at the beauty of it, how people are now trusting complete strangers because they believe in a common goal. To put it succinctly, the warmth of human interactions isn't letting us feel the cold.
Moreover, we are protesting in an organized manner. We have divided duties among ourselves. Some people are responsible for food, others for sanitation, and a few others for security. Thankfully the organisation of the protest has been so good that no untoward incident has taken place. Is bar aar ya paar wali bat hai (This is a do or die situation). If our Home Minister isn't ready to go back an inch, then we are also staying put here.
Also Read: 'Mothers Are At Shaheen Bagh To Save Their Children Future'
It's not like we don't understand the nitty-gritties of what an act like CAA entails deep down. Having to manage chilly weather, biting winters coupled with rains, police batons, household work as well as office work, nothing is going to weaken our resolve that the government take this act back.
Amit Shah as well as our Prime Minister Narendra Modi have said it is just about giving citizenship to people (except Muslims) from three countries. Fine, but then what are these detention centres being prepared for? It is for those inside the country who won't be able to prove their citizenship. The government is giving confusing signals whether detention centres exist or not. This time we aren't going to take things at face value.
If they can hurt unarmed and vulnerable students in Jamia and JNU, who is to say that things are going to be better later on? The NRC exercise in Assam showed there were only 19 lakh people who couldn't prove their citizenship, then the government brought in CAA. Now they are talking about NPR (National Population Register).
I am a director at a school and by God's grace, like many other women, I have been able to manage my home, my professional life as well as coming to the protest site. We are doing all this for our nation, for our children and we hope God will keep providing us with the strength to carry forward. If the kids can be strong and fearless in the face of brutality fir to hum bhi beraham aur tang-nazar logon ke samne aawaz utha hi sakte hain. Magar hum wo aawaz shanti se uthana chahte hain. (if students can show their resistance to police brutality, we too can raise our voice against a suppressive, and narrow-vision regime. But we want to raise this voice democratically and peacefully). Our resolve should speak volumes.