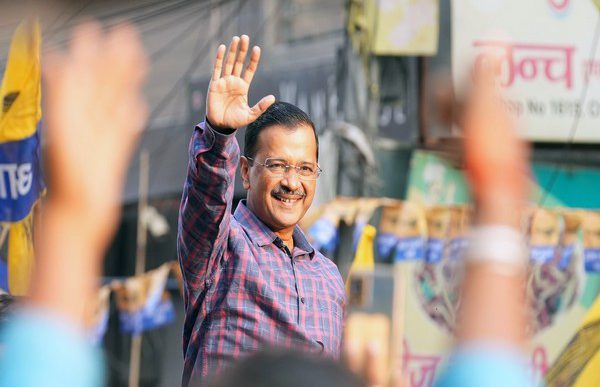 LM NEWS 24
LM NEWS 24
If Sisodia Joins BJP Today, He Will Be Free Tomorrow: Kejriwal
Delhi Chief Minister Arvind Kejriwal on Wednesday attacked the BJP-led centre over the arrests of Manish Sisodia and Satyendar Jain and said that if Manish Sisodia joined BJP today, he will be released tomorrow.
While talking to ANI, Kejriwal said, "Two people who brought laurels to India have been jailed by the PM. The excise policy was just an excuse, there was no scam. PM wanted to stop good work in Delhi. Manish Sisodia was arrested as he did good work in education. Satyendar Jain was arrested as he did good work in health."
"If Manish Sisodia joins BJP today, won't he be released tomorrow? All cases will be withdrawn. If Satyendar Jain joins BJP today, all cases will be withdrawn and he'd be released from jail tomorrow. The issue isn't corruption but stopping work and sending CBI-ED after the opposition," he added.
In a major rejig in the Delhi cabinet necessitated by the resignations of Deputy Chief Minister Manish Sisodia and Satyendar Jain, Chief Minister Arvind Kejriwal has sent the names of Aam Aadmi Party MLAs Saurabh Bhardwaj and Atishi to Lieutenant Governor VK Saxena to be elevated as ministers, sources said on Wednesday.
The development comes after Sisodia, who headed 18 departments, and Jain, who has been in jail for months in a money laundering case, stepped down as ministers.
Sources on Tuesday had said the departments held by Sisodia will be redistributed to senior AAP leaders Kailash Gahlot and Raaj Kumar Anand.
"Sisodia held 18 departments, some of which will now be handled by Kailash Gahlot and the rest by Raaj Kumar Anand," a source said on Tuesday.
Sisodia was earlier arrested by the CBI in connection with the Delhi excise policy case.
Sisodia was arrested on Sunday in an ongoing investigation of a case related to alleged irregularities in the framing and implementation of the new excise policy of the Delhi government.
On Tuesday, the Supreme Court refused to entertain Sisodia's plea challenging his arrest in the excise policy case.
A bench headed by Chief Justice of India DY Chandrachud said the top court is not inclined to entertain the petition at this stage, suggesting that Sisodia move the Delhi High Court.
"We cannot interfere in the matter as it may open the gate of people approaching the top court in every such matter," the bench observed.
Delhi's Rouse Avenue Court on Monday sent him to CBI custody for 5 days.
The CBI had also quizzed AAP leader Jain in Tihar Jail in connection with alleged corruption in the implementation of the now-junked Delhi Excise policy.
Jain is currently lodged in judicial custody in connection with a money laundering case registered by the Enforcement Directorate (ED).
Recently, the CBI and ED made several arrests for alleged corruption in the implementation of the Delhi Excise Policy. (ANI)
Read More:http://13.232.95.176/