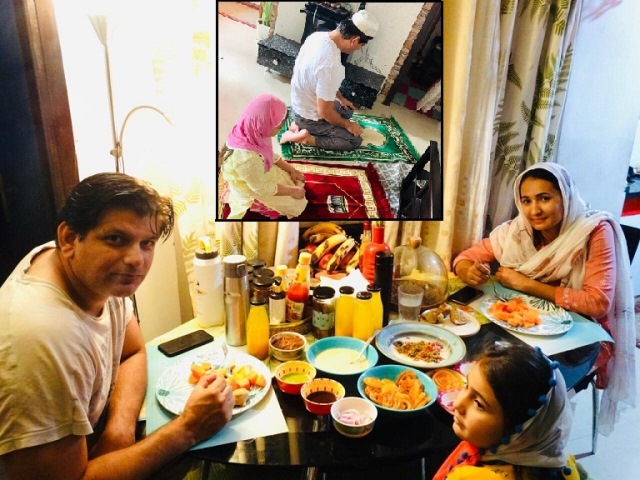 LOK ISSUES
LOK ISSUES
'Iftar Without Friends Is Dull, But Safety Comes First'
Azeem Khan lives near a Covid-19 hot spot in Greater Noida, UP. Khan says Iftar is no longer a cheerful event but one must follow social distancing. He prays for Covid-19 warriors this Ramzan
Ramzan, the holy month of Muslims around the world, is about praying, reflecting and breaking fast with one's social circle, close friends and extended family. This year has been an unprecedented one though. While we have been fasting as usual, praying at the mosque and social gathering are prohibited due to the outbreak of Coronavirus pandemic. Clearly, these restrictions have taken off the festive spirit of the holy month.
During Ramzan, every Muslim fast throughout the day and look forward to organise a grand Iftar (breaking of fast) and invite friends and our extended family home in the evening. The Iftari we had last year was an awesome gathering. With so many friends and family around, we enjoyed the family feast. Many of my non-Muslim friends also routinely organised iftar parties where we broke bread together over light banter and catching up with one another.
However, this Ramzan is different. We stay at an area which is very close to a Coronavirus hotspot. The pandemic has triggered a sense of fear among all the residents. From Sehari (the morning meal, before the day-long fast) to Iftari, we keep inside our houses. Since I have a young daughter at home, we are not inviting friends from within gated housing society either. Family safety always comes first. Besides, it is for general good. All of us need to practise the laid-down guidelines to defeat the pandemic.
No matter how dull the celebrations are going to be, we are not taking any risks. We are praying at home. I consider that one good thing from this lockdown is that we are getting to spend all the time in the world with our family. We stay inside, cook food at home to keep minimal contact with other people. We are playing indoor games and watching movies together. The lockdown has given us plenty of time to think and reflect in this holy month.
I have made it a rule to keep Corona-warriors in my daily prayers. Every day we watch news channels to stay updated and read online news as well. We hope that this trying times will end soon. Till then, there is little else than enjoying lockdown with our family. The entire world, irrespective of nationality and community, has come together in the fight against this pandemic. And this collective spirit will defeat the disease. Insha Allah!