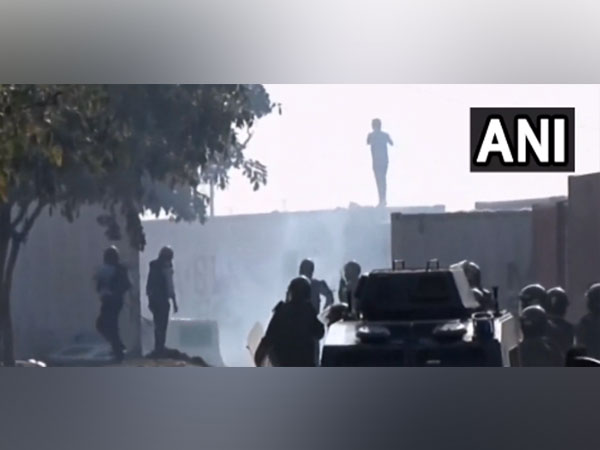 LM NEWS 24
LM NEWS 24
Imran's Motorcade Enters Islamabad After Toll Plaza Spat
Pakistan Tehreek-e-Insaf (PTI) Chairman Imran Khan's motorcade has entered Islamabad after a brief interruption at the federal capital's toll plaza, where capital police barred some of the former prime minister's security vehicles from entering the city, reported Geo News.
PTI chief Khan is to appear in Toshakhana case in Islamabad today. Meanwhile, containers have been placed around judicial complex and Section 144 has been imposed in federal capital as PTI supporters have gathered around the judicial complex.
A district and sessions court in the federal capital will shortly take up the Toshakhana case against Khan — who was ousted in April last year — amid a high-security alert in and around the Federal Judicial Complex in G-11, reported Geo News.
Khan will appear before Additional Session Judge Zafar Iqbal in the case after he issued the former prime minister's non-bailable arrest warrants as he had repeatedly refused to show up, with his counsel citing "security threats".
The PTI chief, embroiled in several cases since his ouster, left for Islamabad from his Zaman Park residence in Lahore to appear before the court — after skipping several hearings.
On the way, three speeding cars in the Khan's escort overturned around Chakwal's Kallar Kahar; however, no one suffered serious injuries in the accident. The passengers were reported to be PTI workers from Hafizabad, reported Geo News.
Ahead of Khan's arrival at Islamabad's Judicial Complex, the area has been put on high security to ensure law and order and avoid any untoward situations — as happened last month.
There is a heavy security presence in Islamabad, Pakistan. Former Pakistan PM Imran Khan is scheduled to appear before a court in Islamabad in connection with the hearing into the Toshakhana case.
But as Khan was en route to the capital, the Punjab Police resumed an operation at the PTI chief's residence, broke into his house, and arrested several party workers in the act, reported Geo News.
In response, the former prime minister said it was "clear" that despite having gotten "bail" in the cases lodged against him, the Pakistan Democratic Movement-led government intends to arrest him.
"Despite knowing their malafide intentions, I am proceeding to Islamabad & the court bec[ause] I believe in rule of law. But ill intent of this cabal of crooks shd be clear to all."
"It is also obvious now that the entire siege of Lahore was not about ensuring I appear before the court in a case but was intended to take me away to prison so that I am unable to lead our election campaign," he added.
In another tweet, he added: "Meanwhile Punjab police have led an assault on my house in Zaman Park where Bushra Begum is alone. Under what law are they doing this?"
"This is part of London Plan where commitments were made to bring absconder Nawaz Sharif to power as quid pro quo for agreeing to one appointment," he added.
Earlier, the Islamabad High Court (IHC) earlier today stopped the police from arresting the deposed prime minister in the Toshakhana case — despite Khan resisting arrest for several days.
Under the rules governing "Toshakhana" — a Persian word meaning "treasure house" — government officials can keep gifts if they have a low worth, while they must pay a dramatically reduced fee to the government for extravagant items.
The Toshakhana is under the microscope ever since the emergence of the allegations that Imran Khan purchased the gifts he received as prime minister at throwaway rates and sold them off in the open market for staggering profits.
In October last year, the former prime minister was barred from holding public office after the Election Commission of Pakistan (ECP) found him guilty of unlawfully selling gifts from foreign dignitaries and heads of state.
The 70-year-old cricketer-turned-politician was accused of misusing his 2018 to 2022 premiership to buy and sell gifts in state possession that were received during visits abroad and worth more than Rs140 million (USD 635,000).
The gifts included watches given by a royal family, according to government officials, who have alleged previously that Khan's aides sold them in Dubai.
The gifts included seven wristwatches, six made by watchmaker Rolex, and the most expensive a "Master Graff limited edition" valued at 85 million Pakistani rupees (USD 385,000).
The election commission's order had said Imran stood disqualified under Article 63(1)(p) of the Constitution.
Following the order, the election watchdog moved the Islamabad sessions court and sought criminal proceedings against him — and the PTI chief has missed several hearings. (ANI)
Read More Article: http://13.232.95.176/