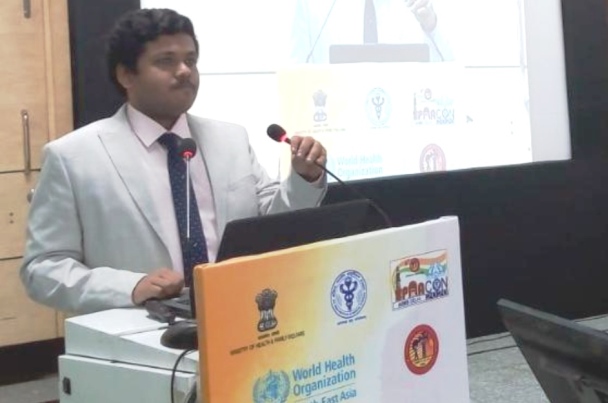 LOK ISSUES
LOK ISSUES
'In Initial Days Of Covid-19, Doctors Lost Sense Of Time'
Dr Arista Lahiri, 31, Sr Resident (Epidemiology) at College Of Medicine & Sagor Dutta Hospital in Kolkata, recounts how healthcare professionals battled the unknown virus and why we can't let the guard down even now
I was fresh out of medical school when the pandemic struck. Even though my field of study was community medicine and thus I was well-versed with the incidence, spread and possible control of diseases during an epidemic/pandemic, yet nothing had prepared us for a crisis of such epic proportions that affected the whole world.
I was posted at the District Hospital in 24 Parganas (North) and had gone to another city to attend a medical conference in January 2020 when coronavirus began to be discussed seriously. Wuhan was already reeling under its impact and slowly the medical fraternity across the world had begun to realise that the virus was soon going to spread much, much farther than China.
In March-end, when the pandemic was officially declared in India, I dedicated myself completely to fighting the unknown virus. We were a four-member team doing 24×7 surveillance of both active as well as potential cases to target and isolate. We were doing everything from data entry to helping Covid patients get admission in hospitals to occasionally going out in the fields to see how the situation was panning out.
For two-three months we had no sense of time, putting in every hour of work that we could and going home only to sleep. We had no life outside work for those several months and no outlet to unwind. We just kept each other motivated and in good spirits.
I was myself scared of the contagion; there were so many people suffering around us. Each day, I pulled myself up and marched on stronger. My parents were extremely supportive and understood my duty as a medical professional.
While the rest of the country was facing only Covid, nature dealt a double blow to West Bengal: cyclone Amphan. I am quite happy with the way our state government handled the crisis. The entire state machinery from the primary to district to state-level worked in tandem. Post-Amphan, there was a shifting of roles and responsibilities and I was asked to be a member of the Covid State Cell in Kolkata in June end.
We had all learnt better by then and were able to streamline our work better. The workload eased off just a tiny bit, though we were still checking in hundreds and hundreds of patients each day. One thing I was happy about was that I was now living with my parents in Kolkata.
Since then I have been working in Kolkata itself doing 12 hour shifts every day. Between my work as faculty at the College of Medicine and my work at the Sagordutta Hospital, I have to travel nearly 40 kms each day. We cannot afford to slack off even now, though we can relax a bit.
Battling the pandemic isn't the job of frontline healthcare workers alone. Community medicine is all about a community's adherence to rules. Even though vaccines have been developed, we need to understand that new strains of the virus might still take over. So masks, sanitizing and social distancing are still our best bets against the virus! I got both my vaccine shots, but I still take all the precautions.