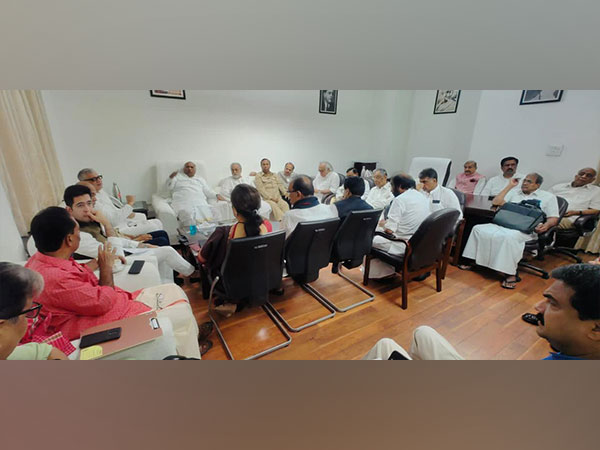 LM NEWS 24
LM NEWS 24
INDIA Alliance Leaders, MPs Who Visited Manipur, To Meet Murmu Tomorrow
The floor leaders of the Opposition's Indian National Developmental Inclusive Alliance (INDIA) along with the 21 MPs' delegation that visited violence-hit Manipur will meet President Droupadi Murmu on Wednesday, informed Congress sources.
According to the sources, the meeting is scheduled to be held at 11.30 am.
The sources said that the leaders will raise the Manipur issue, the Haryana issue and the functioning of Parliament with the President.
The 21-member delegation of the grand Opposition alliance, on Saturday, visited Manipur which has seen ethnic strife and violence since May 4.
Firm on the demand that Prime Minister Narendra Modi should make a statement in Parliament on the Manipur situation, Congress general secretary KC Venugopal on Tuesday sought to know when he will discuss the "serious issue".
The Congress leader said members of the Opposition alliance — INDIA — were ready for a discussion on the Manipur situation, but only if PM Modi attends the session.
Speaking to ANI ahead of the start of the ninth day of the ongoing Monsoon Session of Parliament, Venugopal said, "We are ready for any discussion. We also told as much to the Rajya Sabha chairman. If the Prime Minister comes to the House and makes a statement (on Manipur), we are ready for a discussion. When is he going to discuss this serious issue in Parliament? Why is PM running away from a discussion?"
On whether the government should reach out to the Opposition to end the deadlock in Parliament over Manipur, the Congress leader said, "You have to ask this question to the ruling BJP leadership. When are they going to speak up on these matters? For the past 90 days, Manipur has been burning. Unprecedented incidents (of violence) have happened there."
Taking a dig at PM Modi over his brief statement on Manipur before the Parliament convened for the Monsoon Session on July 20, the Congress leader said, "Prime Minister spoke merely for thirty seconds on the Manipur situation."
Earlier, PM Modi condemned the viral video of two women purportedly being stripped and paraded in Manipur, vowing that the "culprits involved in this heinous act would not be spared".
Addressing the media after meeting the Governor, Congress MP Adhir Ranjan Chowdhury, who is part of the visiting delegation, said, "All 21 MPs handed over a memorandum to her. As we spoke with her over the Manipur situation, she expressed her pain and grief.
"The Congress MP added that they shared their first-hand account of the ground situation and shared their experiences during their two-day visit with the Governor.
"We shared whatever we witnessed and experienced during our visit to the relief centres. She agreed with the suggestions that we put forward," he added.
The BJP, however, termed the Opposition's Manipur visit as a "show off' and "political tourism".
Accusing the Opposition of running away from a debate in Parliament on Manipur, BJP leader Sushil Kumar Modi said, "The Opposition has the right to go anywhere. But, the Parliament is currently in session and the government is ready for discussion (on Manipur). So, why are they running away? For the last seven days, they haven't allowed the Parliament to function."
The 21-member Opposition delegation includes Adhir Ranjan Chowdhury, Gaurav Gogoi, K Suresh and Phulo Devi Netam of the Congress; Rajiv Ranjan Lalan Singh of the JDU; Sushmita Dev from Trinamool Congress; Kanimozhi from DMK; Sandosh Kumar of the CPI; AA Rahim from CPI(M), Manoj Kumar Jha of RJD; Javed Ali Khan of SP; Mahua Maji of JMM; PP Mohammed Faizal of NCP; Aneel Prasad Hegde of JDU, ET Mohammed Basheer of IUML; NK Premachandran of RSP; Sushil Gupta of AAP; Arvind Sawant of Shiv Sena (UBT); D Ravikumar of VCK; Thiru Thol Thirumavalavan also of VCK; and Jayant Singh of the RLD. (ANI)
Read More: http://13.232.95.176/