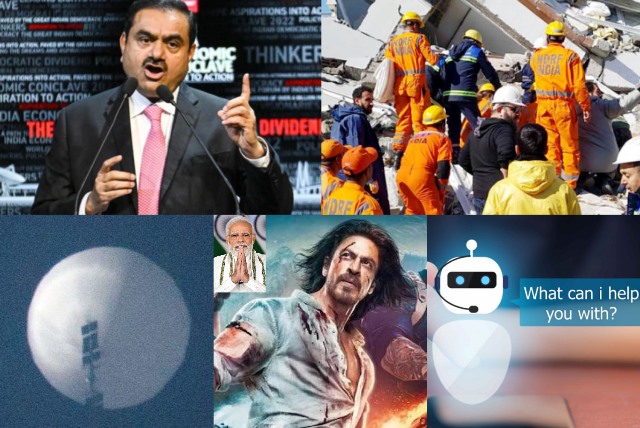 THEBUZZ
THEBUZZ
India And Its Media Find It Safe To Go Soft On Adani
Why India and its media continue to be soft on Adani
The phrase "play out" is (and I checked!) the phrasal verb of play and it usually means: 1. To develop in a particular way; and 2. To happen; or take place. Now, let's examine what India's Economic Secretary, Ajay Seth, may have meant about the crisis surrounding the Adani Group, which is facing allegations of financial manipulation and fraud, when he said that it (the crisis) would "play out". That was how one of India's top bureaucrats was quoted as saying in The Hindu newspaper.
What did he really mean? Did he mean (going by the dictionary meaning) that it would either "develop in a particular way" or would "happen" or "take place". If he meant any of those things (and I am assuming that he was quoted correctly in the reputed newspaper) then, sorry, but he said nothing. Or, did he use the phrase "play out" in an intransitive verb form, which the Merriam-Webster dictionary informs me could mean "to become spent or exhausted". Could the good bureaucrat have meant that? That the crisis around the Adani group would become spent or exhausted or, in other words, die out?
Unfortunately, though that is usually the fate of allegations of financial scams and fraud, particularly those against big Indian companies and conglomerates in India. To borrow a bureaucratic phrase, they "play out". That is, nothing happens. After a short period of controversy and ripples in media and political circles, they die out.
Will that also happen to the crisis that the Adani group finds itself in? It probably will. Last week, a leading Indian newspaper carried a headline that said "Adani-Hindenburg row: SC to hear pleas on 'conspiracy that tarnished India'". That headline says it all. Sanjay Sipahimalani, a writer, tweeted the headline with a comment: "Please note the framing of the headline. When they write a history of the media during this time, it should be titled 'The Handmaid's Tale'". He nailed it.
India's mainstream media have been rather subdued about the Adani affair. Besides in their reporting on the business group's rebuttal (a 400-plus page assemblage of mostly verbiage), there is little insight on the allegations of stock manipulation or obfuscation of debt by the group. In fact, while the tiny activist outfit, Hindenburg Research, was doing its investigation into the group, Indian media was largely celebrating Adani's meteoric growth and ambitions, which The Economist recently called pharaonic. In a recent leader, the publication said "The media are mostly too cowed to investigate the mighty as they once did. Few Indian newspapers would have touched the story about Mr Adani had an American firm not asked the tough questions. Mr Adani himself recently bought NDTV, a news channel that was once critical of the government but is now supine."
Part of the hesitancy to investigate charges against Adani and his empire also comes from the fact that Adani is very close to Prime Minister Narendra Modi, a person that is very rarely put under the scanner by big Indian media groups. Adani, whose business roots are in Gujarat, became close to Modi when the latter was the chief minister of that state. In fact, it is believed that Modi flew to Delhi when he became Prime Minister in 2014 in a plane belonging to Adani. So if the media fight shy of taking on Modi (on any controversy that could involve him) then they probably think it's safer to give his allies a wide berth too.
Could a tragic natural calamity rebuild Indo-Turkish ties?
When an earthquake of unforeseen dimensions hit Turkey, killing an estimated 180,000 people, the world was shocked. Quickly, foreign aid from across the globe started pouring into Turkey to help the country overcome the massive humanitarian crisis that it faces. India too stepped forward to help Turkey.
Launching what it called Operation Dost, India sent assistance to Turkey as well as Syria after last Monday's devastating earthquake that toppled buildings, flattened cities, and buried thousands. The aid comprised medical supplies, medical professionals and search and rescue teams.
The significance of Operation Dost (Dost means friend in Hindi) is that relations between India and Turkey have not been great in the past. Turkey under president Recep Tayyip Erdogan has supported Pakistan's claims in Kashmir and has looked at that nation in its bid to develop nuclear weapons. In the past, Erdogan has often berated India on the Kashmir issue and called for a settlement on the basis of a UN resolution that India considers both dated and untenable.
However, more recently,Turkey has diluted its anti-India stance and also cranked down its support for Pakistan. A few days ago, Turkey snubbed Pakistan's Prime Minister Shehbaz Sharif and asked him to cancel his visit to Ankara because the government was busy with relief and rescue missions. Observers believe that this and the prompt reaction to the earthquake by the Indian authorities could be the beginning of a rapprochement between the two countries.
Was a Chinese balloon spying on North America?
Last week the US declared that it had shot down a Chinese balloon that it believed was used in espionage operations by China over military bases across the USA. US dispatched fighter jets to shoot down the balloon, which crashed into US territorial waters. China, predictably, claimed that the balloon was an unmanned civilian aircraft. Footage on US TV networks showed the balloon falling to the sea after a small explosion.
The balloon was being tracked for a few days and President Joe Biden was under considerable political pressure to order shooting it down.
The action set off a diplomatic crisis after the Chinese foreign ministry said: "The Chinese side has repeatedly informed the US side after verification that the airship is for civilian use and entered the US due to force majeure – it was completely an accident."
The crisis led to the US secretary of state Antony Blinken calling off an official weekend trip to China. China has denied that the balloon was a spying aircraft, and instead said it was a weather ship blown astray.
The incident, however, puts a spanner in the works as far as improvingUS-China relations is concerned.
Modi gets positive about Pathaan
Remember the controversy raked up by pro-Hindutva activists over the Shah Rukh Khan and Deepika Padukone starrer Pathaan? Padukone wore an orange (or a hue of saffron) bikini in a song sequence in the film, which the Hindutva brigade found to be offensive. The film, however, went on to break box office records and provided a huge boost to Khan, a Bollywood superstar whose career had been flagging.
Now, Prime Minister Modi has weighed in with his comments on how the film has fared. Although many of his fanatical followers (in social media troll-speak they are known as Bhakts), have protested against the film, in a speech in Parliament Modi pointed out that cinemas in Kashmir were full during the ongoing screening of Pathaan.
Modi and his government have been at pains to emphasise that things are normalising in the violence-torn state. Cinemas had been reopened in the state after years but the response of the public had been muted. Now, with Pathaan drawing in the crowds, Modi, a canny politician, is capitalising on the move. The HIndutva brigade must be feeling a bit chagrined.
The race for AI chatbots is on
After OpenAI launched its intelligent chatbot, ChatGPT, tech giants such as Microsoft and Google have been racing to develop and launch their own versions of a chat and search engine that closely resembles a near-human nature and abilities. Microsoft pipped Google to the post by launching an enhanced version of its hitherto underwhelming Bing search engine. The new version is powered by OpenAI software and although the jury is out on how good it is, it has at least won the first round against rival Google.
Google, on its part, has announced that it will soon launch Bard, its own version of an AI-driven search and chat interface but when the bot flubbed an answer in a promotional ad, the share prices of Google's parent company Alphabet dived!
The race for who has the best chatbot is not over yet and much action from tech's biggest players is expected in the coming months.
Read More:https://lokmarg.com/