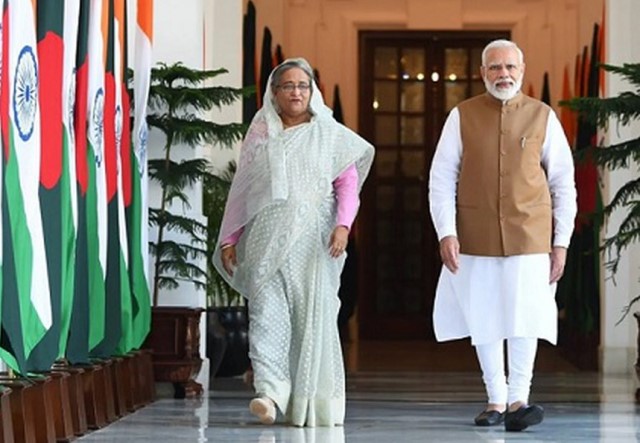 OPINION
OPINION
India-Bangladesh Ties: Shared Interests, Mutual Progress
As it often happens with translation so also with media reporting, speeches and observations made by politicians will not convey what are exactly said. To give one example, a leading Dhaka-based TV channel recently attributed to the Bangladesh foreign minister Dr AK Abdul Momen that during a recent visit to India he made a request to New Delhi that it should do everything that was needed to keep the government led by Sheikh Hasina in power. No denying that a senior politician like Momen will not be making a diplomatic transgression of that kind when in a foreign land specially. Bangladesh would not have been there had India not taken on the Pakistani army in what was then East Pakistan and fought off hostile noises by the then an unfriendly US Administration headed by President Richard Nixon. His principal diplomat Henry Kissinger infamously described Bangladesh as a 'basket case' that underpinned the US hostility towards the liberation war and India's role in that.
After years of political and economic turbulences what Bangladesh has been able to achieve, especially since Hasina's accession to power in January 2009 is remarkable, earning her plaudits even from unexpected quarters. In the pursuit of the goal to emerge from the status of a least developed country to first attain lower-middle-income status and then march forward to greater wealth creation and also to rid society of religious intolerances, extremism and violence, India has steadfastly stood by Dhaka.
India has self-interest in seeing Dhaka continues to do well economically. This country shares the world's fifth largest land border of 4,096 km with Bangladesh along West Bengal, Assam, Tripura, Mizoram and Meghalaya. For many years since the birth of Bangladesh in 1971, India had to live with the problem of Bangladeshis, not necessarily the persecuted Hindus but people of all faiths sneaking on to this side of the border in search of livelihood.
The neighbouring country's economy growing at a clip among the highest in the world since 2010-11 (July to June) with GDP growth registering an all time high of 8.15 per cent in 2018-19 though there was an unavoidable blip in the following year because of Covid-19 pandemic caused slowdown in economic activities and Bangladesh, according to the World Bank, having a per capita income of $2,503 in 2021 against $2,277 for India, the raison d'etre for Bangladeshis to cross the border illegally is no longer there. Moreover, the eastern and north-eastern states sharing borders with Bangladesh have all high rates of unemployment making them unattractive destinations for foreigners to stealthily move in with all attendant risks. Watchers of developments in Bangladesh, including foreign agencies say the transformation of the country's economy is not due to good economic policies alone but also for consciously creating the ideal political environment for their execution.
An overwhelming Muslim majority country with population of around 170 million with many unsavoury past records of persecution of minorities, the Hindus and others forcing many families to seek shelter in India, it required Hasina and her faithful associates of deep conviction and considerable courage to steer the country towards secularism and equal rights for all, irrespective of religion. Hasina recently said: "We want people of Bangladesh of all faiths to live with equal rights. You are people of this country, you have equal rights here, you have the same rights as I have… Please don't undermine yourselves. You were born in this country, you are the citizens of this country." At the same time, she is pained by attempts to give "colour" to any untoward incidents in a way as to show that the "Hindus don't have any rights here. And interventions of the government in such unfortunate occurrences are hardly shown in a positive way."
Like Hasina, her foreign minister Momen has also been a voice of reason, much to the comfort of Indian leaders. Not only did he inaugurate the recent Janmasthami festival celebrating the birth of Lord Krishna at Chittagong, but he will never miss an opportunity to remind people who matter in the two countries not to give any room to fundamentalists "who will be found in both places. Hasina rule has been a blessing for India which no longer is required to spend anything out of common on border vigil."
Friendly relations, according to him, have created the environment for around 2.8 million Bangladeshis come to India every year as tourists and in turn "a few lakh Indians are working in our country." Momen said: "We are very consciously avoiding reacting to any untoward incidents in India – take the case of a particular lady (the reference is to Nupur Sharma's unfortunate remark on Prophet Muhammad that outraged Islamic nations and also saner sections of society in India) there making some avoidable observations that led quite a few countries to rise in protest – so that it doesn't become fodder for the extremists in Bangladesh. You also have extremists in your country. Exercise of this kind of restraint is good for stability."
What Hasina and Momen are saying is as much in order to prepare the right environment for the Prime Minister's Delhi visit from September 5 to 7 when she will be holding talks with Narendra Modi and other leaders on economic, water and defence issues and also to send a message to the opposition Bangladesh Nationalist Party (BNP) led by Begum Khaleda Zia and her son Tarique Rahman that friendship with India is integral to Bangladesh's economic progress and social cohesion. Mind you, BNP and some extremist groups are working to queer the pitch for Hasina's Awami League ahead of the general elections due to be held December next year. BNP remains steadfast in arguing that for elections to be held in a free and fair way, a caretaker government should be in charge and not the election commission (EC) that the ruling dispensation has constituted under Kazi Habibul Awal, an eminent retired bureaucrat.
Effectiveness of EC in conducting elections is challenged on specious grounds that the shots will in any case be called by Hasina government. Interestingly, BNP secretary general Mirza Fakhrul Islam Alamgir gave the game away by saying: "Amidst all political turmoil, elections in Pakistan are held under a caretaker government."
In fact, the Constitution of Pakistan provides for setting up of a caretaker government after dissolution of Parliament to hold general elections. Pakistan defence minister Khawaja Asif recently dropped hints in London that elections in his country would likely be held before the incumbent chief of army staff General Qamar Javed Bajwa lays down office November end. BNP secretary general looking up to Pakistan for ideas naturally is of concern to Awami League. Any attempts to disturb the march towards secularism under Hasina leadership is of concern to New Delhi since the Hindus still constitute close to 8 per cent of the Bangladeshi population. That country's 2022 census report says the fall in Hindu population by 0.59 percentage points to 7.95 per cent in 2022 from 8.54 per cent in 2011 is mainly because of outward migration and lower fertility rate attributable to not marrying at an early age and practice of birth control. In spite of the shrinkage over the past decade, the Hindus are still in Bangladesh in large numbers and New Delhi would want them to live in peace.
Economic backwardness is no less a cause of social tensions than religious insanity. As Bangladesh continues to make economic progress, there is realisation in Dhaka that robust trade ties with India, China and other countries offering it more and more duty free and quota free benefits will be supportive of sustainable growth. India, on its part, has to remain economically active in its eastern neighbour to match China's growing presence there, especially by way of investment in infrastructure projects and supply of defence hardware.
Ahead of her coming to Delhi, Hasina, much to India's comfort has given a go ahead to start formal negotiations leading to signing of a comprehensive economic partnership agreement (CEPA.) Incidentally, even while some other countries, including China are pressing Dhaka for a similar agreement, Hasina administration wants such an arrangement first with India. A joint feasibility study by the two countries says CEPA will give a major lift to export earnings to Bangladesh by 199 per cent and 188 per cent for India. The study further says the expected boost to trade will lead to gross domestic product (GDP) of Bangladesh rising by 1.72% and that of India by 0.8%. New Delhi welcomes Dhaka agreeing that CEPA will be one of the principal issues to be discussed during Hasina visit.
According to UN Comtrade, India enjoys considerable trade surplus vis a vis Bangladesh with its exports to that country exceeding $14bn in 2021 while its imports from the neighbour were worth less than $2bn. Attempts will be made under CEPA to correct the trade imbalance to the extent possible. Bangladesh buys large volumes of cotton and cotton yarn from India for high degrees of value addition into finished garments for exports around the globe. It will be difficult to find a global brand which doesn't procure large quantities from the thriving garment industry in Bangladesh. Indian raw material cotton and yarns made of that sustain garment manufacturers in the neighbouring country.
The continuing growth and success of garment manufacturing and exports came for praise in India's 2021 economic survey saying India can take some lessons from its neighbour and focus on specialising in products where it is competitive. India-Bangladesh talks at all levels as a routine will too have focus on sharing of water of rivers that are common to both and an important source of peoples' wellbeing and sustenance of farming. As many as 54 rivers, including the big ones such as the Ganga, Teesta, Muhuri, Feni and Kushiyara flow through both the countries and water sharing, particularly the elusive Teesta will be discussed by the two prime ministers based on the outcome of proceedings at the Joint River Commission meeting in New Delhi.