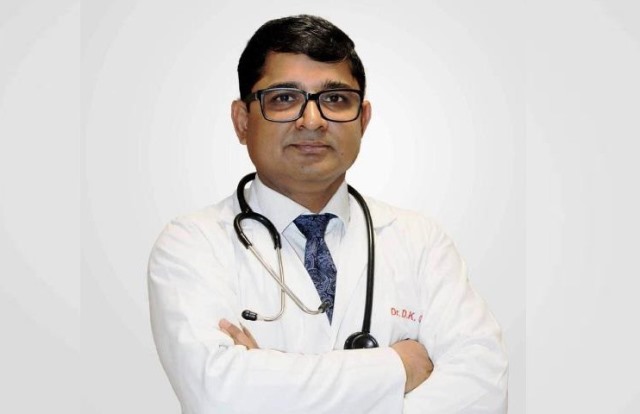 LOK ISSUES
LOK ISSUES
'India Can Tackle Any Covid Wave Now; But A Surge Is Unlikely'
Dr DK Gupta, MD of Felix Hospital, Noida, says while the world is worried about looming new Covid variant, India sits on a sweet spot to fight off any surge
Over the last three years, China has made many false claims with regard to Covid-19, its origin and its spread. Most of these assertions fell flat in reality. Initially, China claimed that the infections did not originate from their country, to ward off the blame for the pandemic. The result of such a denial was that its own people had to bear the consequence.
For their global image, they adopted an unyielding zero-Covid policy and made false declarations. They claimed that their vaccine (Sinopharm) was very effective. But even their allies did not trust them. Its efficacy was questionable, actually terribly low, and as a result we see the current wave of Covid hitting China and the world soon.
Of late, China 'Zero covid' is a flop — people aren't getting basic amenities to fight the infection; hospitals are full of patients; there is shortage of doctors, medicine, blood and oxygen etc. People are now protesting against the government.
Spike of Covid cases in China is worrying for Indians too and there is growing concern if a repeat situation of 2021 second wave is looming. However let me assure everyone that India stands strong. Over 95% of the population has received the primary doses of Covid vaccine and 30% have got a booster. Another wave is unlikely as widespread infection during the previous Delta and Omicron waves has given a large section of Indians hybrid immunity. This will prove vital in fighting a fresh wave of infections.
ALSO READ: 'Post-Covid, A Teacher's Work Has Doubled'
Incidentally, India may be at a better position than most other countries in terms of fighting a new wave or a new variant like BF.7. This BF.7 is a variant within the Omicron family of Variants of Concern (VoC). Many of the mutations seen in earlier lineages appear to be consolidating in the Omicron lineage, which allows it to evade pre-existing antibodies and makes it highly transmissible.
This is not a new virus. It is yet another Omicron family member. Therefore, the symptoms of Covid remain the same — fever, cough, shortness of breath, difficulty breathing, nausea, vomiting and diarrhea. We do expect more variants as different mutations get together.
We are much better prepared than we were during the Delta wave in April-June 2021 when there was low vaccination. I doubt there would be any big waves in India due to reasons mentioned above. This is not to say that we become complacent; we must stay vigilant because vaccines protect against disease not infection. And very large numbers of infections may lead to increases in the numbers of severe disease patients.
I doubt another wave would emerge in India and I am assured that Indians are better prepared than they were in previous waves, in case of another surge. We should stay cautious but not worry too much. This is because over 90 percent of adults in India have received two doses (primary series) of a vaccine, a large fraction of Indians have hybrid immunity, i.e. vaccine plus infection which works well against severe disease.
As told to Deepti Sharma
Read more: https://lokmarg.com/