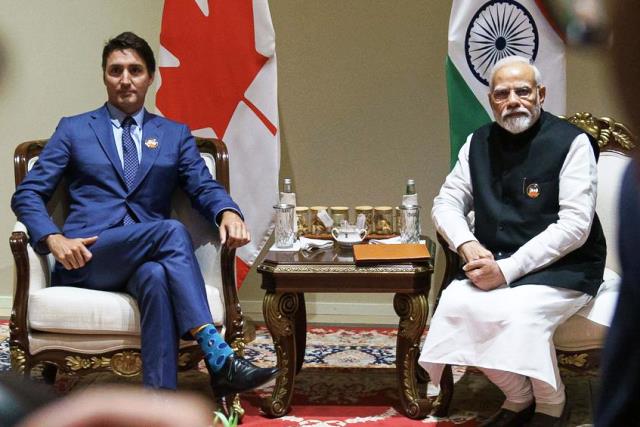 LM NEWS 24
LM NEWS 24
India Canada Relations Face A Setback: Foreign Policy Experts
Stating that is less likely that Canadian Prime Minister Justin Trudeau will change his approach on the Khalistan issue, Robinder Sachdev, an expert in foreign affairs said that it seems that the India-Canada relations will be taking a back seat.
He further said that the Canadian government has expelled the Indian diplomat because India gave a message to Canada to address the Khalistan issue.
Speaking to ANI, Sachdev said, "In my opinion, this move by Canada is a retaliation for India stopping the trade deal between the two nations. PM Modi during G20, told Justin Trudeau to address the Khalistan issue in Canada seriously. India gave a message to Canada by halting the trade deal between the two nations".
"In response, Canada has taken this petty step of expelling an Indian diplomat, by levelling such serious allegations. This has no basis and is completely uncalled for," he added.
He further said that India has sufficient evidence of Khalistani activities in Canada and Ottawa needs to change its approach.
"We have sufficient evidence and proof, we see and hear in the media, that Khalistani elements are extremely active in Canada…The Trudeau government will have to change its approach. But unfortunately, Trudeau won't, and he is the PM of Canada at least till October 2025, so it seems the India-Canada relations will take a back seat," Sachdev said.
Sachdev also raised concerns about the Canadian government taking the "baseless allegation" at the international level which can hurt India's image as well as India-Canada ties.
"The Trudeau government might take some more steps. The Canadian PM Office has said that Trudeau has spoken with US President Joe Biden and UK PM Rishi Sunak on this matter. Whatever difference of opinion is there between India and Canada should be a bilateral matter. Canada should not take across the world this baseless allegation, which disturbs India's image and as well as is not good for India-Canada relations," Sachdev added.
Meanwhile, in a reciprocal move to the expulsion of its diplomat by Canada, India on Tuesday, summoned the Canadian High Commissioner Cameron MacKay and informed him that it was expelling a senior Canadian diplomat.
Canadian PM Trudeau on Monday accused the Indian government of being behind the fatal shooting of Hardeep Singh Nijjar. He claimed that his country's national security officials had reasons to believe that "agents of the Indian government" carried out the killing of the Canadian citizen, who also served as the president of Surrey's Guru Nanak Sikh Gurdwara.
Nijjar, who was wanted in India, was gunned down outside a Gurdwara, in a parking area in Canada's Surrey, British Columbia on June 18. Hailing from Bharsinghpur village in Punjab's Jalandhar, Nijjar was based in Surrey and had been declared "absconder" by the National Investigation Agency (NIA).
In a further souring of ties, this was followed by Canadian Foreign Minister Melanie Joly on Monday said an Indian diplomat in the country had been expelled.
India has, however, rejected the allegations by Canadian PM Trudeau regarding the government's involvement in the fatal shooting of Nijjar. In a statement, the Ministry of External Affairs (MEA) termed the allegations 'absurd 'and 'motivated'.
"We have seen and rejected the statement of the Canadian Prime Minister in their Parliament, as also the statement by their Foreign Minister," said the MEA in an official statement. (ANI)
Read More: https://lokmarg.com/