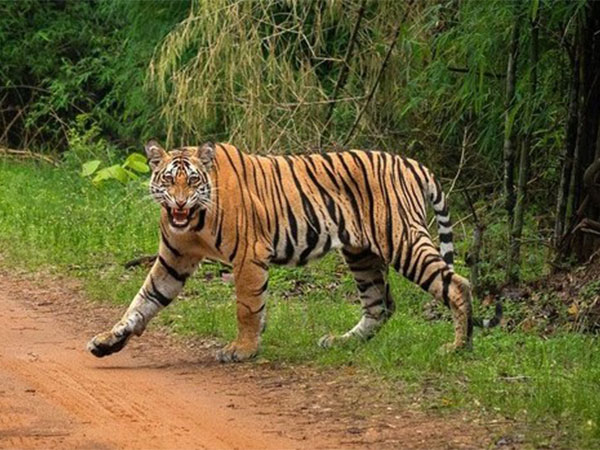 LM NEWS 24
LM NEWS 24
India Has 75% Of World's Wild Tiger Population: MoEFCC
India currently harbors almost 75 per cent of the world's wild tiger population, and now more than 3/4 of the tiger population in the country is found within protected areas, according to a detailed report released by Union Minister of State for Environment, Forest, and Climate Change Ashwini Kumar Choubey.
The report was released on the the occasion of the Global Tiger Day celebrated at the Corbett Tiger Reserve on Saturday.
On April 9, 2022, during the celebration of 50 years of the Project Tiger at Mysusru , Prime Minister Narendra Modi declared the minimum tiger population of 3,167, which is the population estimate from the camera-trapped area.
As per Ministry of Environment, Forest and Climate Change, further analysis of data done by the Wildlife Institute of India, from both camera-trapped and non-camera-trapped tiger presence areas, the upper limit of the tiger population is estimated to be 3,925 and the average number is 3,682 tigers, reflecting a commendable annual growth rate of 6.1 per cent per annum.
India's Biodiversity Key To Growing Tiger Population: Modi
"Central India and the Shivalik Hills and Gangetic Plains witnessed a notable increases in tiger population, particularly in the states of Madhya Pradesh, Uttarakhand, and Maharashtra" the Ministry added.
The Ministry further said that the largest tiger population of 785 is in Madhya Pradesh, followed by Karnataka (563) & Uttarakhand (560), and Maharashtra (444).
"The tiger abundance within the Tiger Reserve is highest in Corbett (260), followed by Bandipur (150), Nagarhole (141), Bandhavgarh (135), Dudhwa (135), Mudumalai(114), Kanha (105), Kaziranga (104), Sundarbans (100), Tadoba (97), Sathyamangalam (85), and Pench-MP (77)" Ministry added.
" India currently harbors almost 75 per cent of the world's wild tiger population" Ministry said.However, certain regions, such as the Western Ghats, experienced localized declines, necessitating targeted monitoring and conservation efforts.
Some states, including Mizoram, Nagaland, Jharkhand, Goa, Chhattisgarh, and Arunachal Pradesh, have reported disquieting trends with small tiger populations.
Various tiger reserves have shown remarkable growth, while others face challenges. Approximately 35 per cent of the tiger reserves urgently require enhanced protection measures, habitat restoration, ungulate augmentation, and subsequent tiger reintroduction.
To preserve ecological integrity, there is need to strongly continue eco-friendly development agenda, minimize mining impacts, and rehabilitate mining sites. Additionally, fortifying protected area management, intensifying anti-poaching measures, employing scientific thinking and technology-driven data collection, and addressing human-wildlife conflict are vital steps to protect the country's tiger populations.
India's Project Tiger has made tremendous progress in tiger conservation over the past five decades, but challenges like poaching is still a threat to tiger conservation. Continued efforts to protect tiger habitats and corridors are crucial for securing the future of India's tigers and their ecosystems for generations to come.
In 1973, the Government of India launched Project Tiger, an ambitious, holistic conservation project, aimed at safeguarding the nation's tiger population and preserving biodiversity. Over the past fifty years, Project Tiger has achieved commendable success, making significant strides in tiger conservation.
Initially covering nine tiger reserves spanning 18,278 km2, the project has flourished into a remarkable accomplishment with 53 reserves spread across 75,796 km2, effectively covering 2.3% of India's total land area.
The first phase of tiger conservation in the 1970s focused on enacting the Wildlife Protection Act and establishing protected areas for tigers and tropical forests. However, the 1980s saw a decline due to extensive poaching.
In response, the government initiated the second phase in 2005, adopting a landscape-level approach, community involvement & support, implementing strict law enforcement, and using modern technology for scientific monitoring to ensure tiger conservation.
This approach not only led to an increase in the tiger population, but also had several critical outcomes that included the designation of inviolate critical core and buffer areas, the identification of new tiger reserves, and the recognition of tiger landscapes and corridors.
The monitoring exercise inculcated scientific thinking amongst forest staff and employment of technology ensured transparency of data collection and analysis. India categorized tiger habitats into five major landscapes based on biogeography and interconnectivity, enabling effective ecological and management-based strategies.
With significant changes in the spatial patterns of tiger occurrence and an increase in unique tiger sightings from 2461 in 2018 to 3080 in 2022, now more than 3/4th of the tiger population is found within protected areas. (ANI)