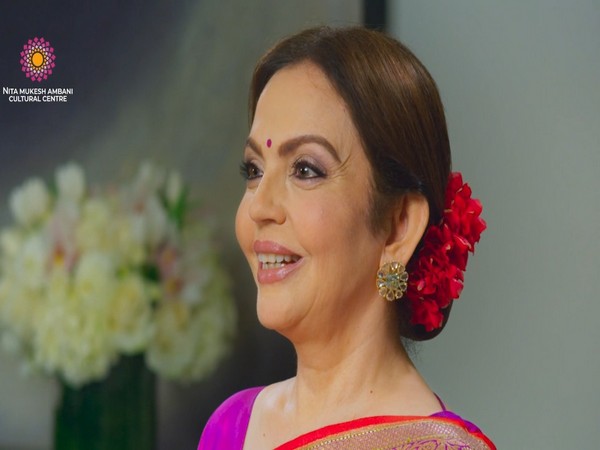 LM NEWS 24
LM NEWS 24
India Is At The Right Place And Time: Nita
India is at the right place and time and its rich culture is attracting people around the globe, according to Reliance Foundation Chairperson Nita Ambani.
Speaking to ANI in New York, where her Foundation has supported an art exhibit "The Tree and the Serpent" at The Metropolitan Museum of Art she said, "This is our fourth exhibit at the MET (museum). We started in 2016 with Nasreen Mohamedi and also at NMACC (Nita Mukesh Ambani Cultural Centre) we have the vision of bringing best of the world to India. So I am kind of delighted to be here and be a part of this large exhibit."
The exhibit "The Tree and the Serpent" is a piece of Buddhist art from the period 2nd century BC to 4AD.
"So I am really excited to be here. India is the cradle of Buddhism and Buddhism is intertwined with Indian ethos."
She said her Foundation is also looking at collaborating with various museums of the world and to bring art to India.
"In last three months after we opened (the NMACC), we saw footfalls of 5,000 to 6,000 a day. Just for two exhibits we had over one and a half lakh people coming. India is at the right place and time now. So much of Indian culture is interesting people around the globe," she said.
India's first-of-its-kind, multi-disciplinary cultural space, the Nita Mukesh Ambani Cultural Centre, was opened around three months ago, aiming to showcase the best of India across music, theatre, fine arts and crafts to the world.
The Centre was named after the founder and chairperson of Reliance Foundation Nita Mukesh Ambani. The cultural centre is housed within the Jio World Centre, located in the heart of Mumbai's Bandra Kurla Complex.
When asked how much influence India has in the West and how it has changed in the past few years, Nita Ambani said she could see the transition in front of her eyes.
"I came here first as a young bride at 21 and today I sit here as a very proud Indian. There has been so much global interest in Indianness and Indian culture and so much appreciation for what India holds. I think our young Indians are leading the way for this change. I met the Indian diaspora at the White House and the excitement of meeting them was palpable. They are doing so well in healthcare, at NASA, at culture, at media and at businesses," she said.
Referring to Indians who are heading international corporations, she said she thinks the confidence on India is "so high". "It's wonderful to see this happening."
At the State dinner hosted by the US President and First Lady Jill Biden at the White House last month for Prime Minister Narendra Modi, Nita Ambani was among the Indians who were part of the guest list.
She said it was wonderful to experience the deepening of friendship between the oldest and largest democracies.
"I think this century is going to belong to the youth of our nation. We have 50 per cent population under 25 and it is young girls and boys that are making India shine and proud, and this meeting is only going to strengthen the relationship between these two countries," she further said. (ANI)
Read More: http://13.232.95.176/