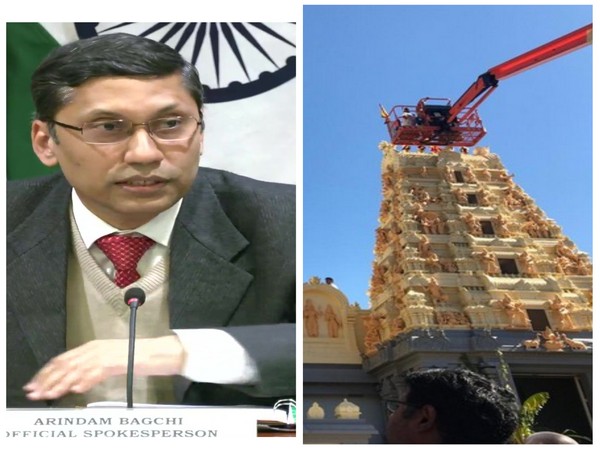 LM NEWS 24
LM NEWS 24
India Raised Vandalization Of Hindu Temples With Australian Govt
India condemned the vandalization of Hindu temples in Australia and said that the matter has been raised with the Australian government in Canberra and asked for expeditious investigation against the perpetrators.
Responding to a media query regarding the vandalization and graffiti being written on Hindu temples, Ministry of External Affairs Spokesperson Arindam Bagchi said, "We are actually aware of the couples of temples that have been vandalised in Australia. We condemn these incidents. If I remember correctly, both of them are actually near Melbourne in Victoria. We strongly condemn this action. These actions have been publicly condemned by Australian leaders, community leaders, and religious associations there."
This statement came after the Shri Shiva Vishnu Temple in Australia's Carrum Downs was vandalised with anti-Hindu graffiti on Monday.
He also said, "Our Consulate General in Australia has taken the matter with the local police. We have requested expeditious investigation action against the perpetrators and of course measures to prevent such incidents in future. The matter has also been taken up with the Australian Government, both in Canberra and New Delhi. And we are looking forward to the action that we have requested."
The act came to notice on Monday, January 16 after temple devotees came for 'darshan' amid the three-day long "Thai Pongal" festival which is being celebrated by Australia's Tamil Hindu community, The Australia Today reported.
Usha Senthilnathan a devotee of Shri Shiva Vishnu Temple told The Australia Today, "We are a Tamil minority group in Australia, a lot of us came as refugees to escape the religious persecution."
On the evening of January 15 2023, Khalistan supporters tried to draw support for their referendum through a car rally in Melbourne. However, they failed miserably as less than two hundred people gathered out of an almost 60,000-strong Melbourne community, according to The Australia Today.
This came a week after the BAPS Swaminarayan Mandir in Australia's Mill Park was smeared with anti-India and anti-Hindu graffiti.
Patel, an onlooker who did not want to reveal his first name, shared how he witnessed the vandalized walls of the temple when he visited the site.
"When I reached the temple today morning all walls were colored with graffiti of Khalistani hatred towards Hindus," The Australia Today quoted Patel as saying.
He added, "I am angry, scared, and dismayed by the blatant display of religious hatred towards the peaceful Hindu community by Khalistan supporters." (ANI)
Read more: http://13.232.95.176/