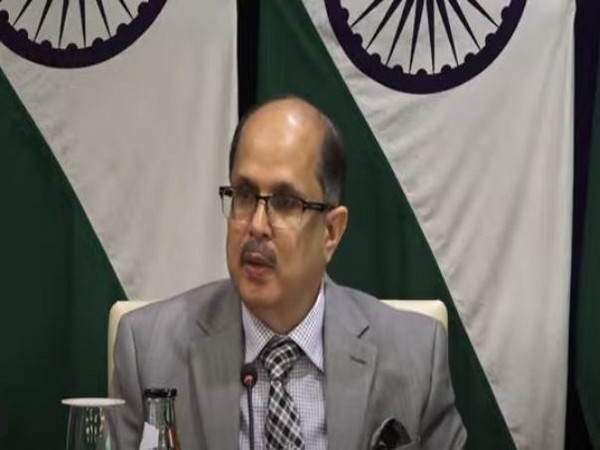 LM NEWS 24
LM NEWS 24
India, Saudi Arabia Agree To Expedite Free Trade Agreement Negotiations
India and Saudi Arabia on Monday agreed to expedite India-Gulf Cooperation Council (GCC) Free Trade Agreement (FTA) negotiations to further strengthen economic cooperation between the two countries.
Secretary of Consular, Passport and Visa Division (CPV) and Overseas Indian Affairs (OIA) Ausaf Sayeed on Monday said India, Saudi Arabia have "agreed to expedite the India-GCC FTA negotiations which they felt would act as a catalyst for further strengthening our economic cooperation between the two sides. They also agreed to strengthen cooperation in the FinTech field and explore trading in the local currencies."
The CPV & OIA Secretary made the remarks during a special briefing on the State Visit of the Crown Prince and Prime Minister of Saudi Arabia Prince Mohammed bin Salman bin Abdulaziz Al Saud to India.
A Framework Agreement on Economic Cooperation between India and the Gulf Cooperation Council was signed on August 25, 2004. The Framework Agreement provided that both the parties shall consider ways and means for extending and liberalizing the trade relations and also for initiating discussions on the feasibility of a Free Trade Agreement (FTA) between them. The negotiations commenced with the GCC.
The GCC is India's largest trading partner bloc with bilateral trade in FY 2021-22 valued at over USD 154 billion with exports valued at approximately USD 44 billion and imports of around USD 110 billion.
Commerce and Industry Minister Piyush Goyal and Secretary General, of Gulf Cooperation Council (GCC), Nayef Falah M. Al-Hajraf held a Joint Press Conference, in New Delhi in November 2022 to announce the intent to pursue negotiations on the India-GCC FTA.
Bilateral trade in services between India and the GCC was valued at around USD 14 billion in FY 2021-22, with exports valued at USD 5.5 billion and imports at USD 8.3 billion, according to a release issued by the Ministry of Commerce and Industry.
GCC countries contribute almost 35 per cent of India's oil imports and 70 per cent of gas imports. India's overall crude oil imports from the GCC in 2021-22 were about USD 48 billion, while LNG and LPG imports in 2021-22 were about USD 21 billion. Investments from the GCC in India are currently valued at over USD 18 billion.
Meanwhile, the Secretary (CPV & OIA) on Monday said India, and Saudi Arabia during the Crown Prince's visit "extended their full support to the early implementation of the west coast refinery projects…The two sides agreed to set up a joint task force to help in identifying and channelling the 100 Billion Dollar investments which were actually promised by the Saudi side…to have a monitoring committee to ensure that the progress in these refinery projects is done as per the plan laid down by both sides."
CPV and OIA secretary Ausaf Sayeed also said that the Saudi Crown Prince had congratulated India on the successful G20 and welcomed the launch of the India-UAE-Saudi-EU infrastructure corridor.
"The two sides expressed their happiness at the launching of the India-Middle East-Europe Corridor…the PM also congratulated the Kingdom on becoming a full member of the BRICS" he said.
In another big announcement the Saudi Ministry of investment said that they would soon open an office of the Saudi Sovereign Fund in India. The announcement was made after a meeting of Commerce Minister Piyush Goyal and Khalid Al Falih, Minister of Investment of Kingdom of Saudi Arabia
After the announcement Piyush Goel said "Gift city officials will be send to Saudi Arabia. Officials from FICCI, Invest India's and Commerce Ministery will open
Investment and trade promotion office situated at Riyadh"
Khalid Al Falih the Minister of Investment of Kingdom of Saudi Arabia said Saudi Arabia will open an office in India for investment facilitation.
"We will send our officials to GIFT City to see the feasibility to open sovereign fund office in Mumbai or Delhi or GIFT City" he said.
The Saudi Crown Prince arrived in Delhi on a three-day visit and stayed back after the G20 Summit for his state visit. Saudi Arabia Crown Prince Mohammed bin Salman Al Saud and Prime Minister Narendra Modi on Monday held a bilateral meeting in New Delhi.
External Affairs Minister S Jaishankar, National Security Advisor Ajit Doval and others were present in the meeting. (ANI)
Read More: http://13.232.95.176/