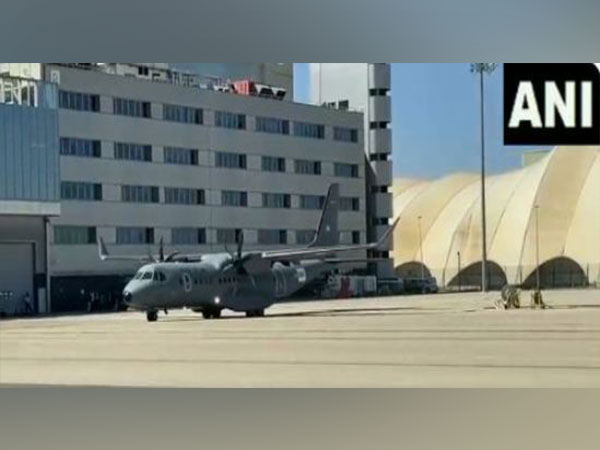 LM NEWS 24
LM NEWS 24
Indian C-295 Takes Off From Spain With IAF Chief
India's first C-295 transport aircraft took off from Seville airfield in Spain with Indian Air Force chief Marshal VR Chaudhari onboard on Wednesday.
Before leaving Seville airfield, IAF Chief Marshal VR Chaudhari took a round of C-295 transport aircraft before flying and entered the cockpit for a sortie.
The Group Captain PS Negi is flying the aircraft with IAF chief onboard to India and will take stopovers at Malta, Egypt and Bahrain before landing at Vadodara air base in India.
Earlier today, the Head of Defence and Aerospace, Airbus, Jean-Brice Dumont gave symbolic keys of C295 aircraft to IAF chief Air Chief Marshal VR Chaudhari.
IAF Chief Chaudhari on receiving the delivery of the aircraft called it as a major milestone for India and said the induction of aircraft would improve IAF's tactical airlift capabilities.
IAF chief Air Chief Marshal VR Chaudhari said, "It is a major milestone not only for IAF but for the whole country. This is for two reasons – first, for IAF it improves our tactical airlift capabilities. For a nation, it marks the beginning of a new era."
"For Atmanirbhar Bharat, after the first 16 aircraft roll out from this plant, the 17th aircraft onwards will be made in India. It's a big step for the Indian aviation industry where we will be manufacturing the first military transport aircraft in the country," he added.
After receiving symbolic keys form the airbus officials, IAF chief marked the occasion as a momentous day and said it is a beginning of a new era.
He said, "It is a momentous day for us, for the IAF in particular and a nation as a whole to be receiving the first aircraft which marks the beginning of a new era, wherein we will be manufacturing 40 of these aircraft in India. This starts a new era where we will be manufacturing military aircraft in India."
Moreover, on the handing over of C-295 transport aircraft to India, Airbus Head of Defence and Aeorapace Jean-Brice Dumont said that Make in India and Prime Minister Modi's Aatmanirbhar Bharat are at the heart of his company and pointed to his team members saying they will have to learn 'Bharat'. 
The aircraft is the first of 16 C-295 that was produced in Spain and the remaining 40 will be made in an Indian facility in Gujarat's Vadodara under a joint venture of Tata and Airbus.
The aircraft is expected to be inducted formally into the service at a ceremony in Hindan around September last week.
The Indian Air Force chief was personally involved in the contract at important stages as Deputy Chief of Air Staff where he was leading the contract negotiations.
Indian Defence Ministry and Airbus Defence and Space, Spain signed a contract for procurement of 56 C-295 aircraft for the Indian Air Force in September 2021. C-295MW aircraft is a transport aircraft of 5-10 Tonne capacity with contemporary technology that will replace the ageing Avro aircraft of the Indian Air Force.
The aircraft has a rear ramp door for quick reaction and paradropping of troops and cargo. Sixteen aircraft will be delivered in flyaway condition from Spain within 48 months of signing of the contract and forty aircraft will be manufactured in India by TATA Consortium within 10 years of the signing of the contract.
This is the first project of its kind in which a military aircraft will be manufactured in India by a private company.
All 56 aircraft will be installed with an indigenous Electronic Warfare Suite. The project will give a boost to aerospace ecosystem in India in which several MSMEs spread over the country will be involved in the manufacturing of parts of the aircraft, according to a press release of the Ministry of Defence.
The programme will provide a major boost to the 'Atmanirbhar Bharat Abhiyan' of the Government as it offers a unique opportunity for the Indian Private Sector to enter into a technology-intensive and highly competitive aviation Industry.
The project is expected to augment domestic aviation manufacturing resulting in reduced import dependence and an expected increase in exports. (ANI)
Read More: http://13.232.95.176/